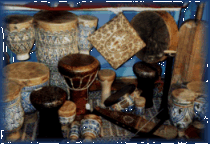 In addition the owner, Abdellatif Bennani, has had 20 years of experience in Moroccan artisan work. He uses Moroccan traditions and incorporates them into modern designs, such as henna lamps produced especially for Gates of Morocco.
Items carried by Gates of Morocco include: tea glasses and pots, brass trays and lamps, carpets, small tables, Moroccan Jewish collectables, wall hangings, Moroccan style cloths and shoes, jewelry, beads, henna lamps, henna tattoo kits and Subsaharan masks and sculptures.
Gates of Morocco can do custom and wholesale orders and help with redecorating rooms and houses as well as renting items for theme parties or film shoots.
Our location is New Hope, PA, a small Colonial town on the Delaware river which is a popular weekend retreat.