The Hautes Alpes and Gorges du Verdon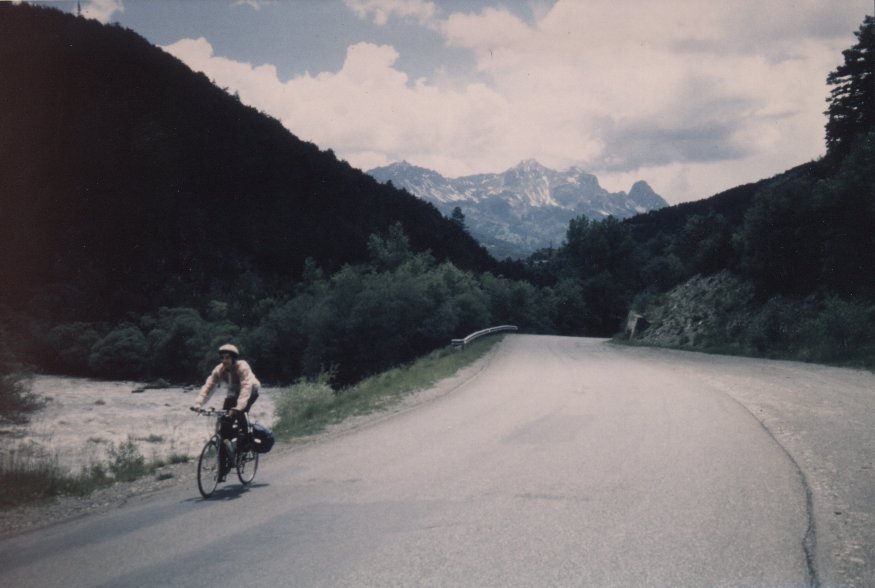 In June, my bicycle and I took the night train from Paris to Briançon and spent the next two weeks travelling south to Toulon. This trip included five high mountain passes and a tour of the Gorges du Verdon.
Briançon—Col d'Izoard—Guillestre, 53 km
Guillestre—Col de Vars—Barcellonette, 55 km
Barcellonette—Col de la Cayolle—Barcellonette, 62 km
Barcellonette—Col de la Bonnette—Barcellonette, 69 km
Barcellonette—Col d'Allos—St Julien du Verdon, 87 km
St Julien du Verdon—Sigale, 60 km
Sigale—Thorenc, 54 km (includes 10 km detour)
Thorenc—Les Cavaliers, 61 km
Les Cavaliers—La Palud sur Verdon—Route des Crêtes, 73 km
La Palud sur Verdon—Cotignac, 99 km
Cotignac—La Farlède (centre SERNAM), 73 km
---
Col d'Izoard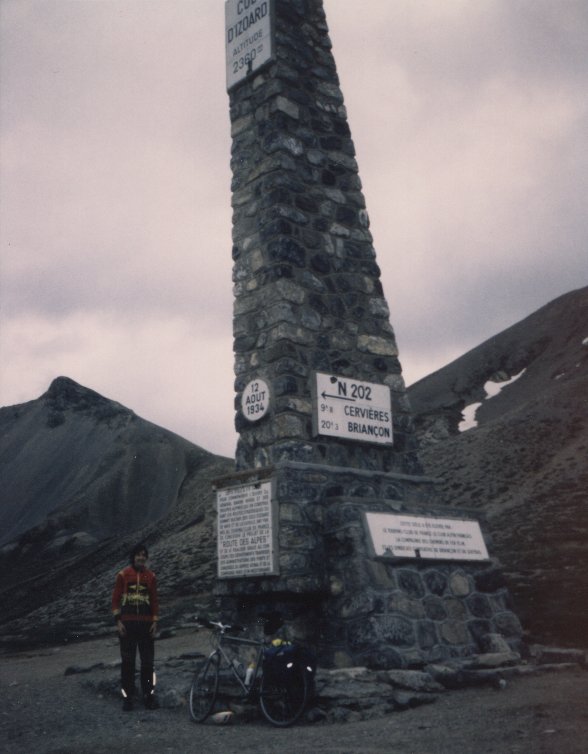 ---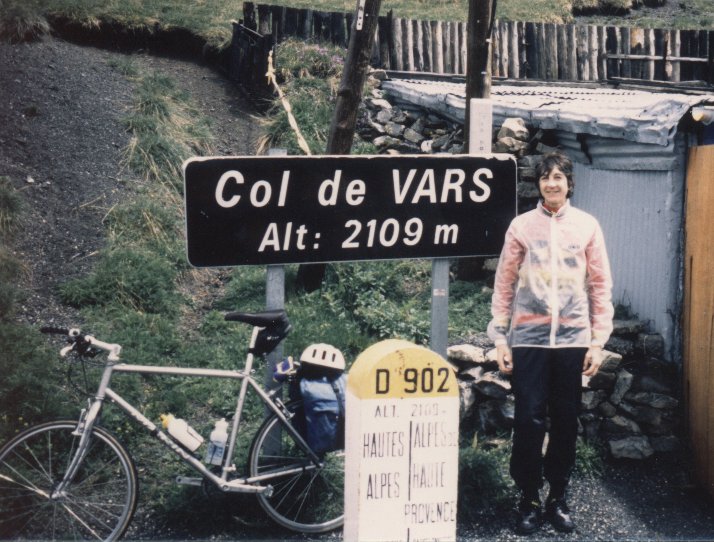 ---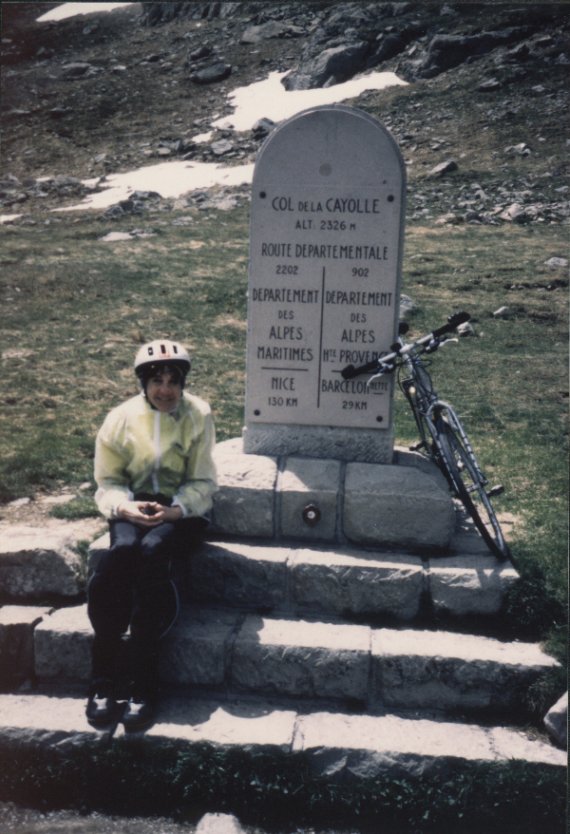 ---
Cime de la Bonnette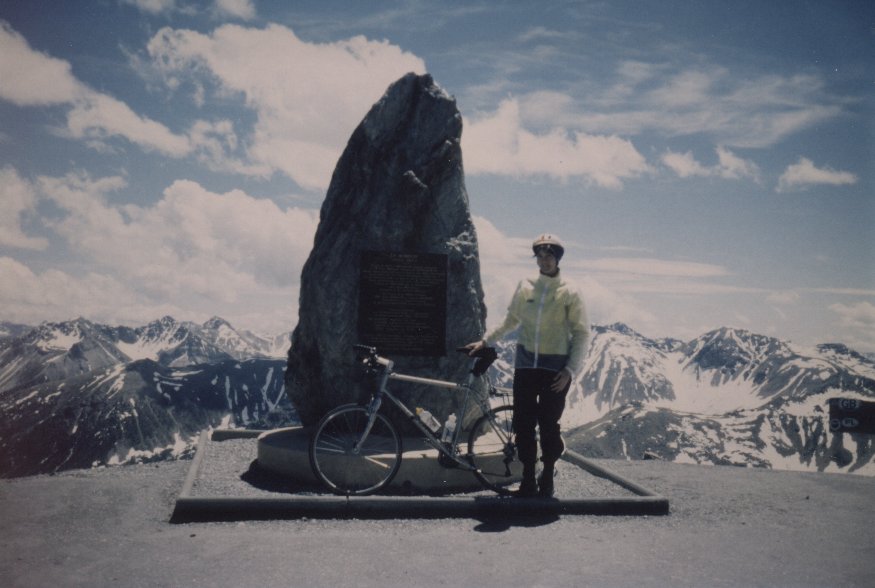 ---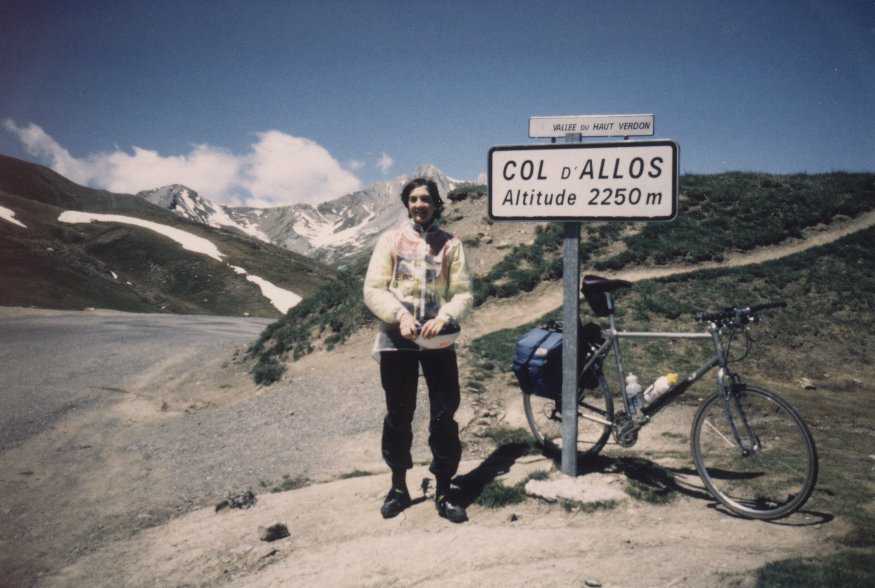 ---
Sigale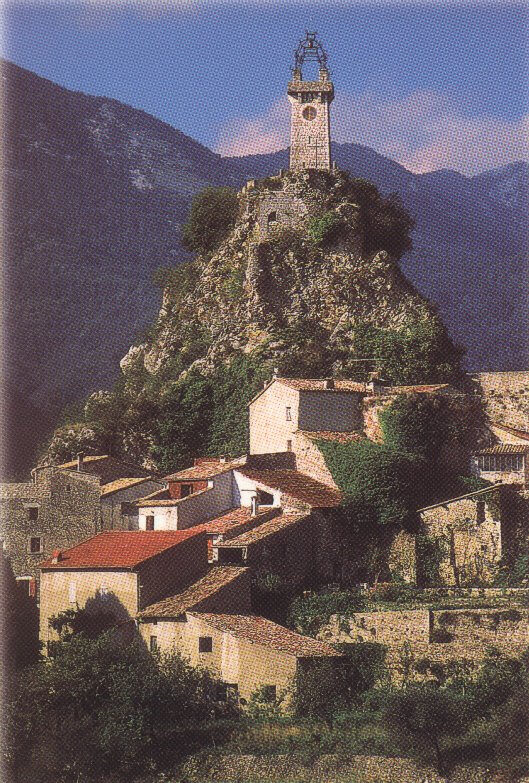 Sigale was not on my original itinerary. I was scheduled to spend two nights at St Julien du Verdon followed by a 96 km ride to Thorenc. There was nothing at St Julien to make it worth spending the day, so I decided to continue by splitting the 96 km into two shorter stages and hoping to find a place to spend the night.
Shortly after I left St Julien, I met up with three French cycletourists who suggested that, if I couldn't find a hotel, I look for a gîte. Gîtes are furnished vacation lodgings where you bring your own bedding and food, and do your own cooking. The cycletourists told me to ask about gîtes at the town hall, and that I could rent bedding, since I didn't have my own.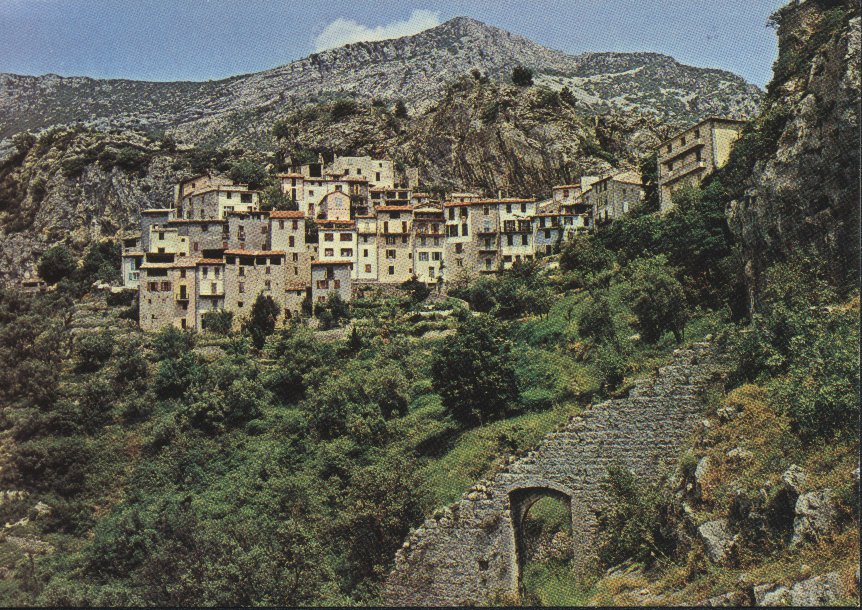 Sigale is a small "perched village" that has a bar-restaurant, no shops, and no hotels. By the time I arrived, I was ready to stop for the night, so I went to the town hall and asked the woman who worked there about renting a gîte for the night. She showed me a picturesque place up a hill under some cliffs. It had a room, kitchen, bathroom with a tub, and a toilet. However, they did not rent bedding. (Advice—if you stay in a gîte, bring your own toilet paper.)
This woman was wonderful. She provided me with sheets, blankets, and soap from her own home. She arranged my meals with the restaurant owner. She loaned me the key so I could climb the hill and visit the tower that dominated the town. The French are, in fact, very welcoming, but I doubt that many Americans experience this because they don't bother to learn the language.
---
Thorenc
Thorenc is "a pleasant cross-country ski station in an alpine setting. It was created at the beginning of the (20th) century by English and Russians, thus has unusual architecture (for France). Today, it is called 'Provençal Switzerland'. If you want to escape city noise, here you will have everything you want." (My translation of the guidebook.) There is no real town, but there are some hotels and restaurants, a general store that includes a bakery, and some buildings of architectural interest. The two nights I stayed there, I met retired French couples who stayed at one of the hotels for a period of time and took day trips in their cars.
---
The Gorges du Verdon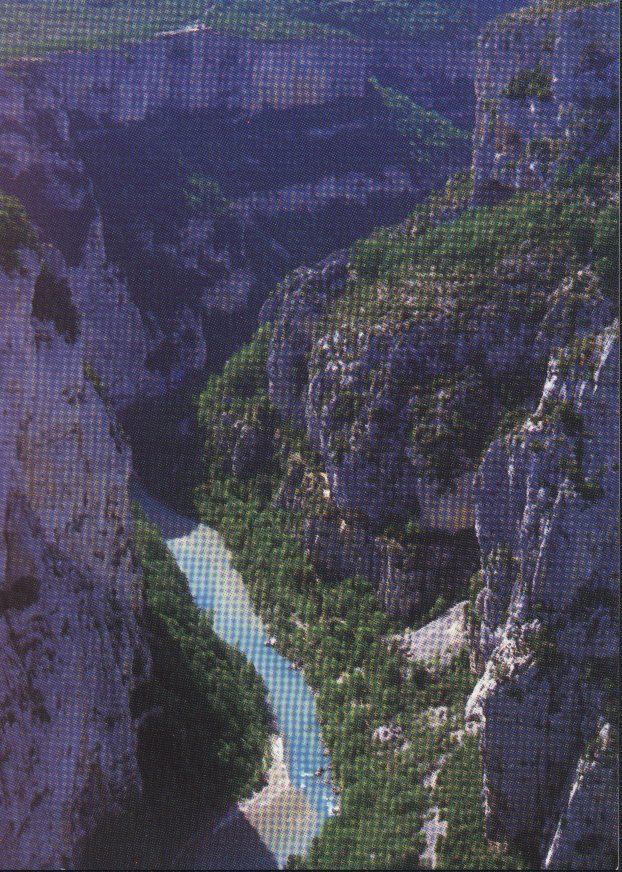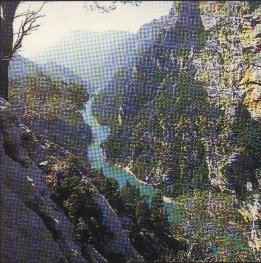 "Without pretending to rival the Grand Canyon of the Colorado, the Gorges du Verdon nevertheless appear as the most impressive in Europe. The spectacle of this gigantic gulf with vertiginous rock walls, in wild nature, is without rival en Europe." (My translation of the guidebook.)
Suggestion—I stayed at les Cavaliers, which has only a hotel. You might prefer Aiguines, which is a town, and is more interesting.
Bicycle Touring in France
The Var
Return to Bicycling à la Française
---
Barbara Leonard