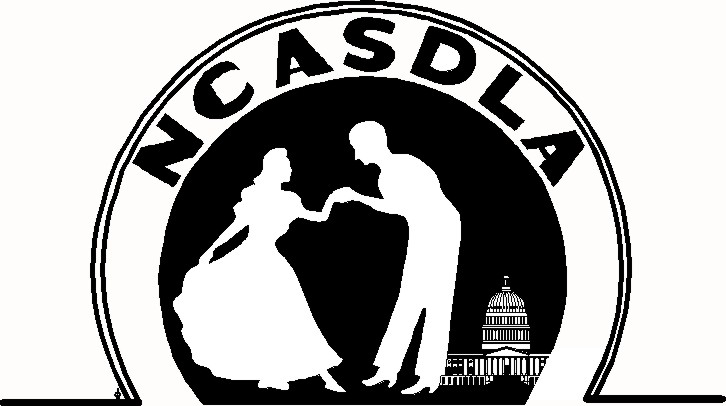 National Capital Area Square Dance Leaders Association
Dance Leadership since 1951
---
–HOME | EDUCATION | EVENTS | LINKS | PRESIDENT'S MESSAGE | MEMBERS | MEETINGS | MISSION | MORE ABOUT US | NEWS | BOOSTER CLUB |
---
A Word From The NCASDLA President
---
center>

Steve Lucius is the president of NCASDLA.
NCASDLA Presidentís Message
October, 2019
Steve Lucius
This message was originally published in the October, 2019 issue of Calls n' Cues.
Another successful Booster Dance is history and we enjoyed dancing to Deborah Carroll-Jones. This year she was accompanied by our own local super cuer, Ken Ryder. If you have been dancing for more than ten years, you may remember Deborah who called the 2010 Booster Dance.
NCASDLA is moving into a new era with the Booster Dance. Since it's beginning, in 1972 this dance has been held annually for an exclusive group of dancers, "The Booster Club." This club has had more than 1130 members. These were dancers that have danced to, and received signatures of at least 25 caller/cuer members. This qualified them for a "25 Booster Badge." We have given out additional badges for 50, 75 and even "100 Booster badges." This dance was set up for them and allowed them a chance to dance to some of the finest callers in the world. Our greatest thanks for all of our boosters! If you were unable to attend this dance, you missed a really fun evening. Both the calling and cueing were first rate.
Times have changed and so has the dancing community. Beginning with this dance, we are making it free to all Square and Round dancers and calling it the "Square Dancer Appreciation/Booster Dance." At great expense to the association, we will continue to bring in super guest callers and cuers on an annual basis so long as the dancers continue to support us by attending.
I wish to thank WASCA for making it possible to link this dance to follow their Delegates' meeting, thus cutting down on the travel requirements to attend both events. The WASCA magazine "Calls 'n' Cues" has been and will continue to be the official notification of this Dance.
We are looking forward to seeing everyone at next year's Dance!
Steve Lucius
President of NCASDLA
---
---
---
This page last updated Oct 27, 2019