This The Tube Amp site owned by Brent Jessee Recording.
[ Previous 5 Sites | Previous | Next | Next 5 Sites | Random Site | List Sites ]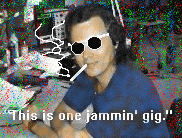 ---
Looking for Vacuum Tubes?

I have a good selection of tubes for sale, most new old stock, some used, all tested and good. Radio, TV, antique, audiophile, industrial and transmitter types are all represented. Every tube I sell is hand selected and tested just prior to shipping. I can offer special selection by brand, construction, or matching, and I guarantee each tube. I also guarantee the lowest prices on the Internet. If you buy from me and find a lower price for the same brand and style of tube elsewhere on the 'net within 30 days, I will refund the price difference. Tubes are hotter than ever these days! In spite of an overall increase in tube prices due to supply and demand, I still take pride in the fact that my prices are lowest.....GUARANTEED!
You can view my MAIN tube price list by clicking here and check them out!
You can see my stock of audiophile tubes by clicking here and check them out!
You can see my stock of antique and collectable tubes by clicking here and check them out!
NEW FEATURE! INSTANT ACCESS TO THE HOTTEST SELLING TUBES STOCK LISTS!
This list has grown from 500 types to over 1200 since I first posted it on the Internet! Your tube inquiries via e-mail has grown from one per week to over 20 a day and climbing! Thanks! I personally answer every e-mail I get, so, send me e-mail with your tube needs and I'll e-mail you back how to order. $6.00 priority mail, $8 UPS shipping for up to 20 tubes in the USA. Shipping rates to other countries available upon request. Allow 5-7 days delivery, although in the US it usually takes less than 7 days.
Got RealAudio? Click here to hear THE TUBESHOW, a short talk show with Pam Pentode and her sidekick Larry, who is a computer made entirely out of vacuum tubes! Now on episode two, hear the latest! For episode one, click here.
Read the latest installment of "Speaking of Tubes....." right here! Updated, Issue number four, featuring NOS TUBES: NEW OLD STOCK or NASTY OLD STUFF?!
---
Looking For Vacuum Tube Stereo?

We now proudly carry high-end, brand name amps and hi-fi accessories that are sure to appeal to discriminating tastes. I have personally evaluated the items we offer for sale, and have chosen only those that fit in well with the finest vacuum tube or solid state systems. These items range from stereo headphones to whole system power conditioners and surge supressors.
We also carry antique and vintage vacuum tube units. These include amplifiers, preamplifiers, tuners, tape recorders, and other vacuum tube hi-fi components. All have been completely restored, retubed where necessary, aligned, and tested. All carry our standard vacuum tube warranty. Check this page out for classic tube stereo units and one-of-a-kind tube rarities!
---
I am a real pack rat when it comes to electronics and related items. I also love garage sales. To help me move some of my overflow, here is my idea of an Internet garage sale. It's full of cool stuff at a nice price, and it's open every day and night! I've got classic antique vacuum tube radios, hi-fi and video stuff, and some really offbeat items. Park your browser in front and click here to enter the garage!

I can do just about anything you want with audio or video. Send me your master tape and I can edit it to your specs, clone it, duplicate it until the cows come home, and transfer it from one format to another, digital or analog. You can view my Professional Services rate sheet byclicking here and check them out! Send me E-mail with what you need, and I will send you ordering information.
I can supply just about any remote ever made. These are all original equiment remote control hand units, NOT universal or cheap replacements! Just click on the icon here to go to my remote control page.
You don't even have to leave this page to find anything you want on the World Wide Web! Yahoo! and I can lead you right to it. Just enter the keyword or words of what you are searching for in the space below, and click the Search button. Happy hunting!