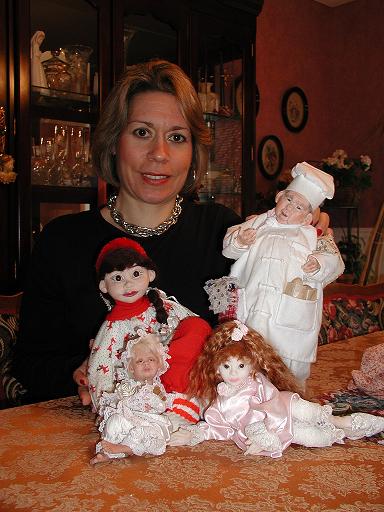 Biography for Cheryl Riello
---
Education and Background:
Cheryl Riello is a sociologist and has a degree in business. She has been studying art for over 20 years. She has studied at the Creative Arts Workshop and the John Slade Ely House, in New Haven, Connecticut. She has attended many workshops, seminars and classes experimenting with different mediums of art, including painting, drawing, pottery, jewelry making and soft-sculpture.
Ms. Riello's study of three-dimensional visual art combined with her interest in using different materials for sculpting has led to her creation of an incredibly "lifelike" collection of hand-sculpted people, crafted from a combination of one or more materials, including Super Sculpey, Polyform, Cernit, Fimo and Paperclay. All of the dressings are hand-sewn and elaborately detailed. Ms. Riello uses antique fabrics and trimmings as often as possible.
List of Publications and Achievements:
Hamden Arts Commission
2013: Appointed Hamden Arts Commissioner

Founder – Hamden Crafters
Member - Hamden Quilters
Member - SCBWI (Society of Children's Book Writers and Illustrators)
1985-1995 - Member and volunteer for New Haven Arts Council

1995: Sculpting Dolls In Super Sculpey, Jones Publishing, Inc., N7450 Aanstad Road, P.O. Box 5000, Iola, WI, 54945
Phone: (715) 445-5000, Fax: (715) 445-4053, ISBN Number 1-879825-20-1

This book, for beginners and advanced dollmakers, gives step by step instructions for making 4 dolls as well as provides the reader with the skills to create more elaborate dolls. It has 80 pages and 160 illustrations, most of which Ms. Riello photographed.
Contests and Challenges:
Art Doll Quarterly: Answering the Challenge: Celebrity Look-Alike Dolls, Summer 2006 issue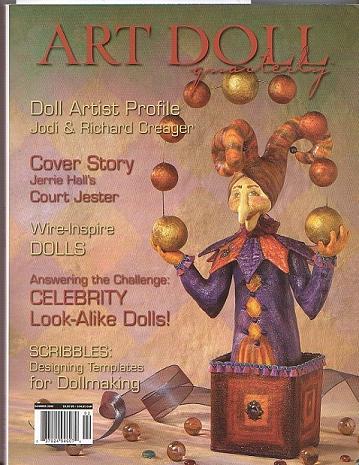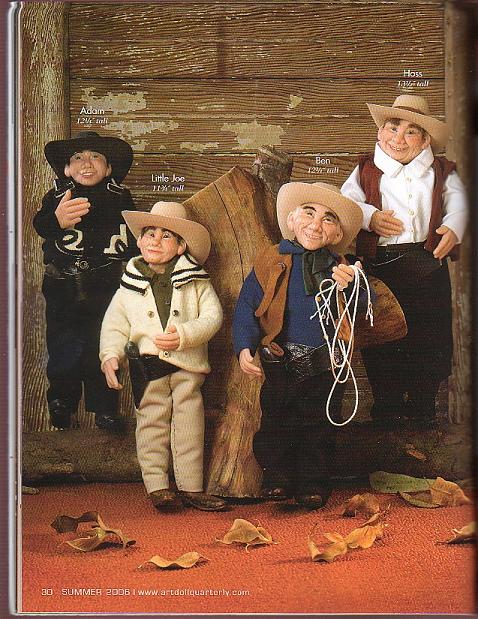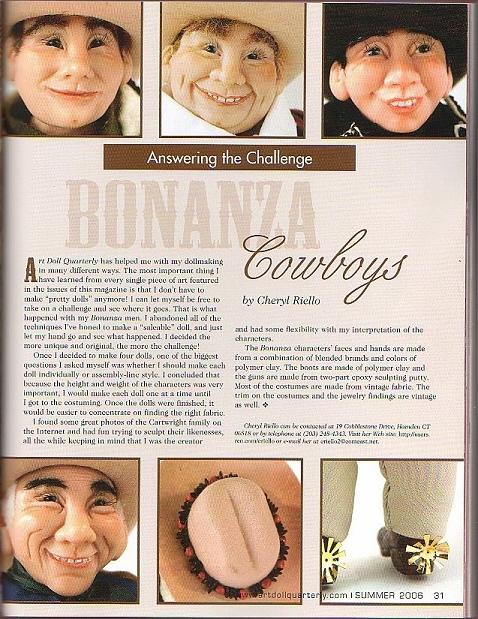 Commercial Commission:
February, 2010: A-1 Toyota, Woodbridge, CT
Grand Opening of New Building: Soft-sculpture doll commemorating one of the deceased owners
International Magazines:
Nov/Dec/Jan 2014: "Ralph & Justin," Art Doll Quarterly
January 2010: "Emma and the Antique Quilt", Contemporary Doll Collector
Aug/Sept/Oct 2008: "Crackle-Finished Green Man", Art Doll Quarterly
Summer 2006: "Bonanza Cowboys", page 30, 31, "Answering the Challenge: Celebrity Look-Alike Dolls", Art Doll Quarterly
Winter 2006: "La Fille Souliere", Page 114, Show & Tell, Art Doll Quarterly
Oct/Nov 2005: "Meet Mrs. G.", Page 9, Doll Magazine (The International Doll Collectors' Magazine)
Aug/Sept 2005: "The Cartwrights of TV's Bonanza", Doll Gallery, Doll Magazine (The International Doll Collectors' Magazine)
Fall, 2002: "Making a Mold from a Sculpted Head", Dolls in Miniature Magazine
March, 1997: "Another Innovative Dollmaker", Readers Speak Out, Dollcrafter
Feb/March 1997: "Caralynn," Debut, Contemporary Doll Collector
August, 1996: Booksigning, "Update, In The News", Dollmaking Crafts and Designs
July, 1996: "Jolie", Fresh Faces, Dolls, The Collector's Magazine
February, 1996: "Fimo Jewelry", Dollmaking Crafts and Designs
Dec/Jan 1995: "Chenille", Debut, Contemporary Doll Collector
November, 1995: "Joyful Carolers", Fresh Faces, Dolls, The Collector's Magazine
November 1995: "Super Sculpey Santa", Dollmaking Crafts. and Designs
August 1995: "Kitchen Witch," Dollmaking Crafts and Designs
Aug/Sept 1994: "Mr. Yubin and Grandpa Tyler", Debut, Contemporary Doll Collector
March, 1994: "Ricci and Kirby", Gallery, Contemporary Doll Magazine
Sept/Oct 1994: "Customized Clown," Dollmaking: Projects and Plans
February, 1994: "Madam Bouveau", Fresh Faces, Dolls, The Collector's Magazine
November, 1993: "Miss Isabella", Fresh Faces, Dolls, The Collector's Magazine

Articles and Exhibitions:
December 12, 2002: "Artist Masters Unique Craft", Quinnipiac University Newsletter "Intercom"
February-March, 1999: Exhibit: Miller Memorial Library, Hamden, Connecticut
November, 1998: "Into The Dollhouse With Cheryl", Hamden Journal
December, 1997: Exhibit. Featured Artist, "Christmas In The Mansion, Lauralton Hall, Milford, Connecticut
November, 1995: Exhibit: Miller Memorial Library, Hamden, Connecticut
October, 1995: "Dollmaker Leaves Her Worries Behind", The Hamden Chronicle
1995: "One Artist's Evolution", The Victorian Mercantile
1995: On-Line Library, "One Artist's Evolution" and photograph, Crafts Forum, CompuServe
February, 1995: "Oh You Beautiful Doll," The New Haven Register
1992 to 1994: Paddywhack's Attic, Essex, Connecticut
1990: Webb Gallery, Woodbridge, Connecticut
January, 1989: "Fun and Fantasy for the Holidays", Wave Gallery, Shubert Performing Arts Center Complex, New Haven
October, 1988: Solo Exhibit of over 100 sculptures, Wave Gallery Annex, Shubert Performing Arts Center Complex, New Haven
May, 1988: "Yale People", Yale Weekly Bulletin and Calendar

Instructions and Classes:
Demonstrator, new and current arts and crafts materials, "American Art Clay Company", Indianapolis, Indiana
Instructor, Arts and Crafts, Hamden and Cheshire Adult Education
Instructor, Arts and Crafts classes at "Craftworks", Orange, CT; "Michaels", Newington, CT; "Walmart",Wallingford, CT; "Frank's Nursery and Crafts"; Orange, Milford, Branford, CT
Instructor, Arts and Crafts classes at Parkville Senior Center, Hartford, CT
Instructor, Afterschool programs in the Connecticut public school system 2/99

---
Home