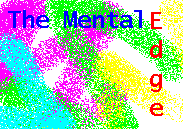 The Mental Edge
Sport Psychology
---
Welcome to the Mental Edge! Sport psychology is an emerging field in the worlds of psychology and athletics. For many elite-level, professional, recreational, and even youth athletes, successful performances, cannot simply be reduced to superior physical performance. Concepts such as mental imagery, goal setting, motivation training, and relaxation are the basis for strong mental preparation whether it be for a team or an individual sport, for a coach or an athlete. Perhaps you have heard the phrase, "Winning is 90% mental and 10% physical," or you have considered incorporating imagery to enhance your performance, but you still do not understand everything you would like to know about sport psychology.

Well in that case you are not alone. Even if you are comfortable with the concepts, you can gain important insights from a sport psychology consultant. The Mental Edge is a source of valuable information whether you are a coach, an Olympic athlete or even a weekend warrior. There is no sport too obscure, or person too good to benefit from the proven concepts of sport psychology. The Mental Edge has provided in depth information for coaches and athletes in all realms of athletics including figure skating, wrestling, basketball, rowing, tennis and field hockey, to name a few. Additionally, we have provided sport psychology seminars for schools including MIT, Boston College, University of Virginia, Cornell University, Worcester Polytechnic Institute, and Boston University.




As the primary consultant, I have spent a good deal of time writing and lecturing about the principles of sport psychology. I co-authored a handbook of sport psychology fundamental for figure skaters. Additionally, I have written articles and a book regarding the importance of mental preparation in the sport of rowing. My book is entitled, Preparation for Success: A Rower's Guide to Mental Training.

If you would like to know more about this field, or are in need of a sport psychology consultant, or would like information about our available services, feel free to contact Sandy Dupcak, Psy.D..
Other Sport Psychology Links