Home
E.G.'s Bio
FLOYD MCDANIEL
Photo Gallery
Modeling
Favorite Links
Contact E.G.

Floyd McDaniel
"My Dad, My Mentor, My Best Friend!"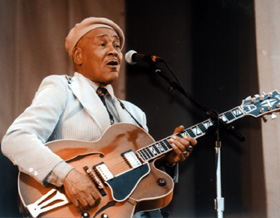 Nicknamed "Butter McDaniel" by Billie Holiday for his incredibly smooth chord progressions, Floyd McDaniel played a vital role in the development of the international jazz and blues scene. Multitudinous articles; even a PhD. thesis, have been dedicated to this legendary singer/guitarist who entertained concert audiences and nightclub crowds worldwide for more than 60 years.

Mr. McDaniel was born and raised in Athens, Alabama and moved to Chicago in 1923. He began his music career at 15 years of age, playing with a washboard band and singing blues on the streets of the Chicago. He fell in love with the Windy City and made it his home. In 1933, he joined a group called the Rhythm Rascals. He later became the leader of the Cotton Club Tramp Band in New York City from an invite by Cab Calloway (Calloway had seen him perform at the Chicago's World Fair). Around that time, his playing influenced his good friend, T-Bone Walker. Next, he joined the Four Blazes, a famous jump blues combo that later became the Five Blazes and recorded for Aristocrat in 1947 and United/States in 1952-53.

Along with such great names as bassist Thomas Braden and pianist Ernie Harper, Mr. McDaniel fused jazz with R&B, which proved an ever popular attraction on America's east coast during the 1940s and 1950s, and laid the foundaton of Rock and Roll. After the Blazes' dissolution, Mr. McDaniel continued to work as a session and live musician. In addition, he operated two extremely popular night spots -The Skylight and the Skylight II- on Chicago's South Side for approximately 20 years. He sang back-up vocals for Sam Cooke for a period before joining one of the numerous line-ups of the Ink Spots for over 10 years. In the 1980s, McDaniel joined forces with Dave Clark, a veteran tenor saxophonist, to form Mr. McDaniel's final group: The Blues Swingers. The Blues Swingers recorded for Delmark Records in the 1990s. The above photo shows Mr. McDaniel performing at the Chicago Blues Festival in 1995, just a few short weeks before his passing on July 22, 1995 — only one day after his 80th birthday! Mr. McDaniel was loved by many. As one man put it, he was a "humorous and happy man; a kind hearted human being who had so much love to give. It was a joy and honor being around him." Although sorely missed, he lives on in the hearts of those who loved him in his lyrics, recordings and legend.


Links to Floyd McDaniel Articles:
A Discography of the Four (or Five) Blazes
Floyd McDaniel; Delmark Records Review
The Blues Reviews
Four Blazes Review
Floyd McDaniel, a Chicago Bluesman