Edd Ashe's 1980's painting of Shrdlu's Band Brother Jump
gigging at the Marbledale Pub, Marbledale, CT: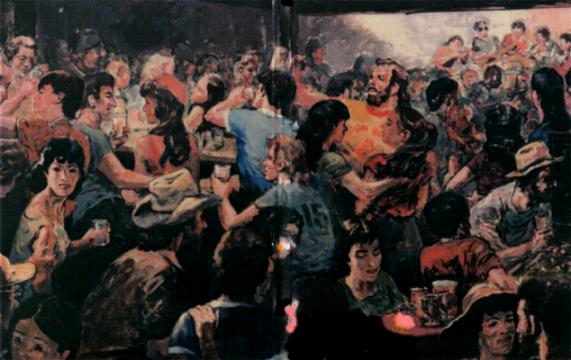 Edd Ashe's 1940's Cartoon Art Links:
Cartoon Link
Comic Artville
Mark Hunt and Guy Fortune comics

Below is a reprint of a Danbury-News Times article on Edd Ashe: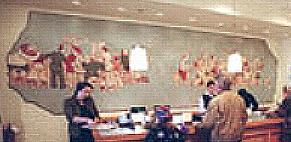 Artist Edd Ashe's painting for a Westport, Connecticut, tavern
pictures patrons eating, drinking, singing, posing,
picking a pocket and even giving someone a hotfoot.
Photo by Stephanie Kouloganis


Treasure Behind the Wall: Banana Republic's renovation reveals New Milford artist's mural.

Talk About Recycling. A major work by Edd Ashe, the New Milford artist who drew the popular feature "The Ashe Can" in The New Milford Times for many years, narrowly escaped ending up on the ash heap itself. The work is a mural, covering nearly 200 square feet, discovered two years ago when Banana Republic took over part of a bookstore in Westport and started renovating. Painted 60 or 70 years ago for a speak-easy formerly on the site, the work shows colorful denizens of a restaurant eating, drinking, singing, posing, picking a pocket and even giving someone a hotfoot. After Townley's Restaurant burned down in the late 1950s, Klein's Bookstore expanded into the space and, not appreciating what it had, covered the damaged mural with drywall.

Enter Banana Republic. Five years ago the chain, abandoning the Jeep-and-safari-and-military-surplus image it had promoted since its founding in 1978, started taking over empty historic buildings and making each one a fixture in its own downtown community. There are 40 such outlets across the country out of 300 Banana Republic stores. "The move from mall to Main Street was risky, but it has been a real coup for Banana Republic and the downtowns it's embraced," said Richard Moe, president of the National Trust for Historic Preservation in Washington, D.C., which honored the chain with an award Oct. 22. During renovations at 44 Main St., in Westport, Banana Republic came to realize it had stumbled upon a period painting that says something about the artsy, ambitious town. Edd Ashe's father, Edmund M. Ashe Sr., a founder in 1922 of New Canaan's Silvermine Guild of Artists, had been one of the first of many illustrators to settle in Westport. The Westport Historical Society played a part in the mural's revitalization.

"All that the people in the corporation knew about Westport was that they wanted to open a store here," said Sheila O'Neill, the society's executive director. "We pushed for preservation of the mural, which we had helped identify, at a time when there was talk of covering it up again." The decision to save the mural rather than destroy it was announced on Lincoln's Birthday 1998, two days after the work's discovery and hasty lobbying on its behalf. So, Banana Republic set about restoring the mural cleaning its sooty surface, strengthening the mortar that supports coats of tempera and oil paint and protecting the whole thing with synthetic resin. The result of all this specialized work amounts to a rebirth.

Banana Republic has pegged the time of the mural's creation as the 1930s. It's true that a figure such as the man at the left in the striped green suit seems to hark back nostalgically to the cartoons of John Held Jr., supreme limner of the 1920s flapper era. But, Edd Ashe's son, area musician Shrdlu Ashe, isn't so sure about the dating. "I'd guess it was painted in the late '40s or early '50s," he said, "when my father was in his 40s and we still lived in Norwalk. "Look at the hairdo on that waitress, or on the glamorous actress, who I think is Tallulah Bankhead. Women in the '30s didn't have such manes, so far as I know. And were skirts so short during the Depression?" What's certain is that the drawing skills of Edd Ashe, who died 14 years ago, still look masterfully sharp and sure. His caricatured types are no less memorable than those of Norman Rockwell, even if Ashe wasn't as skilled a painter (his father was). You don't have to go to Westport to see Ashe's work. A copy of a painting he did of the Marbledale Pub, on Route 202 at the New Milford- Washington border, hangs there and is reproduced on the cafe's menu cover. He also did paintings for the Inn on Lake Waramaug, where he co-hosted a weekly radio-cable-TV show. It's the Banana Republic mural that seems destined to be Edd Ashe's memorial, however restored, situated right there on Main Street, in striking contrast to the sleek store with its racks of clothes uniformly in black, beige or gray. "(My father) would appreciate that a mega-corporation is in a dance with the historical society over one of his works," Shrdlu Ashe told a reporter from the Norwalk Hour at that time.

Not to mention the fact that what started out gracing a rowdy tavern now looks down on upscale goods in the most sophisticated of settings. The Danbury News Times. Jan. 6, 2000.