Henry Hample
Bio
First photo with a fiddle,
Santa Cruz, Calif., 1980.
---
Born and raised in New York, Henry Hample came from a close-knit German Jewish family with offbeat musical leanings. His dad performed with symphony orchestras as a musical cartoonist, his grandmother played violin and mandolin, and his mom's family had a long tradition of writing song parodies for weddings and birthdays. Henry started classical piano and cello lessons at age 7, then switched to guitar at age 9 after stating in his 3rd grade memory book, "I plan to be a folk singer when I grow up." On a whim, his dad gave him a fiddle for his 16th birthday, and Henry taught himself to play, jamming endlessly with friends and developing his own hard-edged style somewhere between bluegrass and rock.
Following episodes as a hippie in Vermont and a punk rocker in California, Henry studied English literature at NYU, then received a master's degree in ethnomusicology from Brown University. He played with several bands in New York including Washboard Jungle (which the New York Daily News called "a wonderful four-member band who'll give you and the kids a fun-filled concert featuring rock 'n' roll and down-home folk music").
In 2001, he was thrown out of a Bourbon Street bar for attempting to sit in with their Cajun band, so he resolved to learn Cajun fiddle. He moved to Louisiana in 2007, and now performs regularly with various bands at Fred's Lounge in Mamou, Prejean's Restaurant in Carencro, and many other venues. He has recorded CDs with Ray Landry, Harry Trahan (RIP), Lisa Trahan, Wallace Trahan, and Aaron Chesson. He is a full-time music teacher at the Academy of the Sacred Heart in Grand Coteau, and has also taught music for Louisiana Folk Roots, LSUE, and South Louisiana Community College. In 2014 he received the Excellence Award from the Cajun French Music Association, and he was nominated for their Fiddler of the Year award in 2010.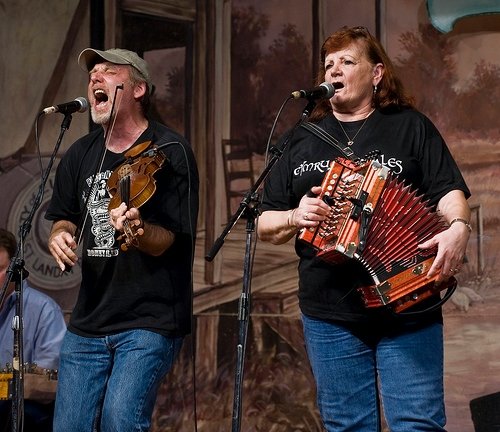 At the Liberty Theater with Sheryl Cormier, Eunice, La., 2009.
---