Music Lessons with Henry Hample
Three of my music students at the Academy of the Sacred Heart, Grand Coteau, La., 2013.
---
"Mr. Henry is an extraordinary guy when it comes to music!" - A.B., age 11
"Mr. Henry is very, very cool!" - L.B., age 8
"He's amazing! He knows how to play every instrument!!" - I.C., age 11
"He's a great teacher because he puts up with my whining!" - C.C., age 9
"I swear Mr. Henry is the best! And I like to bust his chops when he talks country!" - A.C., age 9
"He's a great teacher and a lot of fun! He comes up with the greatest phrases!" - B.C., age 11
"I've had tons of music teachers before and Mr. Henry's the best!" - R.D., age 11
"He's smart and multi-talented. He can make anything sound good!" - G.S., age 11
---
I've taught private music lessons to hundreds of kids and adults since 1980. I'm equally comfortable teaching from books or "by ear." Either way, my style of teaching has always been informal, flexible, and fun.
I currently teach violin, guitar, piano, Cajun accordion, ukulele, bass guitar, and drums. (Other instruments I've taught include 5-string banjo, tenor banjo, mandolin, lap steel guitar, upright bass, autoharp, balalaika, harmonica, recorder, triangle, and voice.) Students can learn Cajun, country, rock, pop, or classical music, or a combination of these.
I teach at my home in Grand Coteau, La. I also teach on Skype (over the Internet). For more information, please email me.
---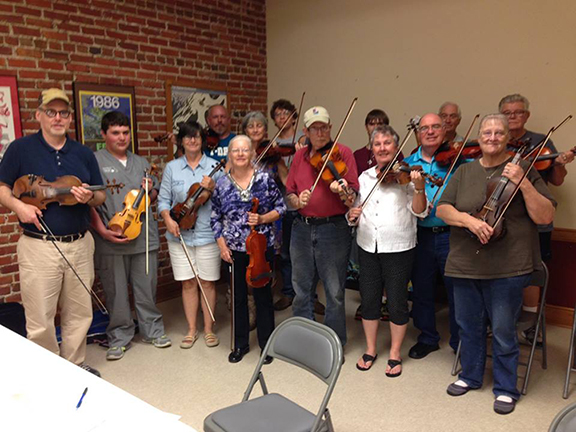 My Cajun fiddle class at the Jean Lafitte Center, Eunice, La., 2014.
---