Universal Application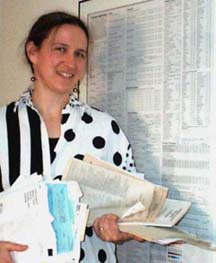 Fill out the gigantic Universal Application and find out if you're one of Us! Or are you destined to remain merely one of Them? This 2' x 3' poster (seen hanging here behind the artist )is a parody of official forms and questionnaires. Great party conversation piece, or hang it on your bathroom wall and you'll never be bored in there again. Have your prospective fiancé or date fill one out—there won't be much you don't know about him or her!
The Universal Application poster came out of my interest in how people define their identity through group membership, as well as my experiences applying to graduate school, applying for financial aid, filling out school health forms, doing taxes, and all the other bazillion forms we have to fill out every day. It was featured in the Works on Paper show at the Cambridge Art Association in February 2002, juried by Marjorie Cohn, Curator of Prints, Fogg Museum, Harvard University. The first print was purchased at the opening reception. Further prints are now for sale from the CAA print bin, and at the gift shop of the Danforth Museum School.
Universal Application
Sample Questions

How often do you pick your nose? ____times per_______
After picking your nose, where do you deposit the results?
OHandkerchief OTissue OSleeve OMouth  OOther(Specify)____________
Do you have perfect pitch?                OYes  ONo
If no, do you have relative pitch?       OYes  OONo
More Sample Questions
The Universal Application is divided into the following sections. Click on underlined sections below for sample questions. Remember, these are just the beginning!!!
Identity
Infancy
Marital History
Housing
Achievements
Family
Education
Employment History
Financial History
Literacy and Culture
Medical History
Personal Grooming
Color
Awards and Honors
Statement of Purpose
Other Personal Information
To see the WHOLE THING,
click here.