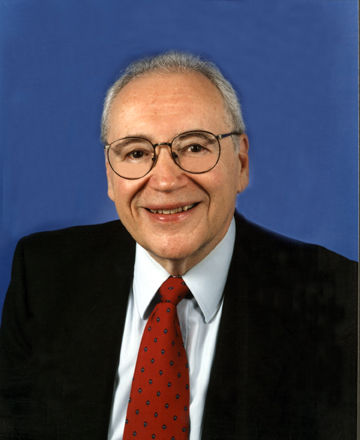 Arthur W. Winston (Nominated by Petition)
For the position of IEEE President Elect 2001
Senior Associate Director
Gordon Institute of Tufts University
Medford, Massachusetts
After a petition by thousands of members worldwide, I have been certified by the IEEE Board of Directors as an IEEE Presidential Candidate. I appreciate this opportunity to tell you something about myself and present some of my views. All the Presidential candidates have the best interests of the IEEE at heart, but my background, experience, and record of accomplishment make me the best candidate for the position.
Most of my professional life was spent in the industrial and corporate world, and it is here that I earned my primary income. My industrial pursuits were accompanied by my genuine interest in education, and led to my association with local universities. I have made substantial contributions in both the industrial and academic environments. I would like to apply my diverse background and experience, including that gained in many years with the IEEE, for the position of President.
I will concentrate on several issues that need addressing.
We are moving into an exciting era where technology is elevating individual human life and creating new opportunities. The Internet is providing us with great potential. However, it is also giving others the capability to provide resources that once were heavily associated with the IEEE. Employees may now gain access to material through their employers and thus rely less on their IEEE membership. Not only must we provide good quality and timely material to our members and the profession, but we must also find other ways to be of value to our members. We must therefore redirect our efforts to serve the membership to satisfy new needs. For example, we should concentrate more heavily on providing application oriented web-based courses to members and other professionals. This may include providing web-based tutorials as a member benefit without additional charge.
A focus on web-based education will also help us in our relationship with industry. Through the efforts of the IEEE Educational Activities - of which I am the past Vice President - and others, we are exploring mutual beneficial relationships with large industrial organizations that have the capability of developing in-house web-based courses. We can utilize some of their material for our members, provide some of our material to their employees, and jointly develop courses of interest. We can be of direct benefit to smaller employers that can use course material but lack the resources to develop them internally. We must regain the support of industry for the employees' participation in IEEE activities.
I have witnessed, over the last few years, that in our efforts to become more efficient and streamlined, we are downplaying the participation and role of the volunteer and increasingly becoming staff driven. The volunteers and their contributions are the strength of the IEEE. We need to be more sensitive to our members and the grass roots of our organization. For example, greater financial controls of local section and society business activities, such as concentration banking and the reduced right to sign contracts by local IEEE leaders, have raised concern among them. The strength of our organization, and what differentiates us from other organizations, is the role of the volunteers. This should not be diminished nor ignored. There are many practical ways of solving the perceived problems of financial control without having "big brother" take over. Better relationship and better communication is required with the societies and regional units. As President, I would work on rebuilding the confidence of local IEEE leadership in corporate management.
I will bring to the IEEE Presidency:
Technical and business management experience
Success in handling diverse and difficult situations
Industry background with associated academic relationships
A proven track record of getting things done
A strong desire to explore greater benefit of IEEE membership
I have the vision, drive and experience needed to lead the IEEE, and I am willing and able to dedicate the time, energy and attention required by this most important position.
Together, we can look forward to an exhilarating future!
I respectfully ask for your vote and encourage you to visit my website, http://www.arthurwinston.com for additional information.
Thank you for your support.
Arthur W. Winston