Edward A. Parrish Receives IEEE Education Activities Award
PISCATAWAY, NJ. 6 December 2000. Edward A. Parrish, P. E., President of Worcester Polytechnic Institute (WPI), Massachusetts, was presented the IEEE Educational Activities Board (EAB) Meritorious Achievement Award in Accreditation Activities at the IEEE Organizational Units meeting held in Tampa, Florida on 17 November 2000.
"This award is very special," said Dr. Parrish, "because my work in accreditation is the most meaningful to me personally of all my volunteer activities."
Begun in 1984, this award is given for outstanding sustained leadership in the development and implementation of innovations in engineering education accreditation. It recognizes the professional responsibility demonstrated by a recipient's contribution to assuring the highest quality of engineering programs.
In nominating him, Sherra E. Kerns, Vice President for Innovation and Research, Professor of Electrical and Computer Engineering at Franklin W. Olin College of Engineering, Massachusetts, praised "the creativity and leadership that Ed brought to the review and fundamental rethinking of engineering accreditation principles."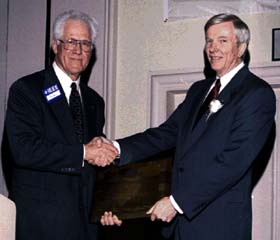 "To see the changes brought about by the new criteria is very rewarding, because they are influencing programs not only in the US but around the world through Accreditation Board for Engineering and Technology's (ABET) international activities. I appreciate the EAB's efforts to recognize those involved in bringing about these changes, and am proud to be included among them." Dr. Parrish is the IEEE representative to the ABET Board of Directors.
Dr. Parrish was co-principal investigator on the pilot study for the implementation of Engineering Criteria 2000 supported by the National Science Foundation. Dr. Parrish assisted in the major transition to an outcomes-oriented evaluation of engineering programs. The new emphasis shifts the focus from what an engineering program offers to what the student actually learns. EC 2000 will not only improve the structure and delivery of information at institutions, but can have far-reaching positive consequences for readying a student for transition from academia to the work world.
Dr. Parrish has had a distinguished career both in and out of academia. He has worked as an investigator for Honeywell Corporation and NASA on signal and image processing. He became President of WPI in 1994.
EAB Vice President Dr. Lyle Feisel presented not only the engraved walnut and brass plaque and its honorarium of $1000, but also the 2000 IEEE Third Millennium Medal to Dr. Parrish for his years of outstanding contributions to the IEEE EAB.