BLUES & BOOGIE
Bobby "Blue" Bland at Sunday Blues & Jazz Club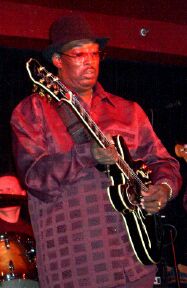 Robert Calvin Bland (photo at left with bassist Loui Villeri in background) was born in 1930 in Tennessee and began his musical career at the age of seventeen in Memphis where he became a member of the Beale Streeters which included such legends as B. B. King, Johnny Ace and Junior Parker. Bland was an innovator of the soul-blues sound and has now at the age of seventy-four reached legendary status. In 1992 he was inducted into the Rock and Roll Hall of Fame and in 1997 received the Grammy's Lifetime Achievement Award.
On December 12th, the Sunday Blues & Jazz Club in San Francisco presented Bobby "Blue" Bland in a Sunday evening concert which brought out almost 300 people who gladly paid the fare of fifty dollars. This booking was a major coup for Producer Velma Landers. Bland on his recent visits to this area in the past has appeared at larger venues or festivals and, in fact, no one could remember how long it had been since he had appeared at a club in San Francisco.
The evening was a spectacular show of great blues with the opening act of Lacy Baker (photo at right) and the Black Diamond Blues Band featuring tenor saxophonist Bobby Webb and vocalist Jackie Payne. Webb was joined by sizzling guitarist Ronnie Stewart and soulful saxophonist Carl Green to get things rolling on "Sweet Home Chicago" and "Honky Tonk." Payne is a crowd-pleaser and his vocal style and charismatic performance was wonderful, especially on the tune "Flyin' High."
| | |
| --- | --- |
| Carl Green (sax), Ronnie Stewart (guitar), Bobby Webb (sax) | Jackie Payne |
Bobby "Blue" Bland arrived on his big tour bus with his band and they got right to work. Since Bland had recently undergone eye surgery, it was requested that no flash photography be used but he looked well and was in great spirits chatting with the appreciative audience.
Bland is a blues ballad stylist with a silky smooth delivery occasionally punctuated by a guttural growl for effect. Sitting on a tall stool, Bland wowed the audience with his delivery of songs indelibly marked with his signature style.
Bland's rendering of the tune "Farther Up The Road" was seasoned with his exquisitely controlled phrasing. His vocal version of "St. James Infirmary" was mournfully articulated. He invited the audience to join in when he sang "Members Only."
Bland ran the gamut of his greatest hits in a memorable showcase presented by this definitive Southern soul/blues vocalist. This evening can only be described as spiritual fulfillment in the great soul tradition.
by Dorothy L. Hill
---
Back to

Contents Page
Jazz Now Interactive

Copyright Jazz Now, January 2005 edition, all rights reserved
jazznow@sbcglobal.net