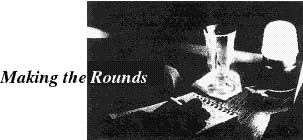 Peter Cincotti Trio at Café du Nord
San Francisco, California
Peter Cincotti's tremendous skills as a pianist, composer, and vocalist belie the fact that he is just 19 years old. The January 28, 2003 performance at Café du Nord left no doubts as to this emerging artist.
Mentored by Harry Connick, Jr. and fully conversant in the piano styles of Erroll Garner, Fats Waller and others, Cincotti consistently rises above the level of pastiche. His aesthetic has little to do with historical re-creation. Rather, it celebrates and reaffirms the power of groove-based music.
In the tradition of the finest improvising pianists, Cincotti recognizes the value of rhythmic contrast. The opening cadenza on How High the Moon, which paid homage to Art Tatum in its intensity, segued to a medium tempo groove that would be heard throughout the evening. With solid support by the acoustic bassist John Webber and the drummer Joe Farnsworth, the trio hit its stride on the Cincotti originals, I Changed the Rules and Are You the One.
And what a wonderful singing voice. Even a little piece from The Muppets television series was delivered with great conviction. Cincotti's professionalism transcended the café's noisy barroom and over-amplified baby grand piano.
This is an impressive, well-rehearsed group, an outstanding performance in a city known for its intense musical competition. We wish Mr. Cincotti the very best for the future.
by James D. Armstrong, Jr.
Editor, Music in Transition
---
Back to

Contents Page
Jazz Now Interactive

Copyright Jazz Now, February 2003 issue, all rights reserved
jazzinfo@jazznow.com