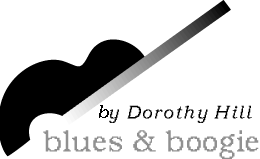 Year of the Blues
The 107th Congress of the United States has designated the year beginning February 1, 2003 as the "Year of the Blues." Celebrations are planned across the country with special shows, blues festivals and educational projects and seminars. The kick-off will be a "Salute to the Blues" benefit concert on February 7 at Radio City Music Hall presented by Martin Scorsese. Check out the web site for more details on planned events at HYPERLINK "http://www.yearoftheblues.org" For local events, check out HYPERLINK "http://www.bayareabluessociety.net/"
Joe Beard and John Mooney
In November, Joe Beard and John Mooney reunited for an acoustic guitar show at Biscuits & Blues. John Mooney was only fifteen years old when he first hooked up with Joe Beard in Rochester, New York. Beard lived next door to Ed "Son" House who became a major influence on the young Mooney and he has combined Son's Delta style with New Orleans R&B to carry Son's tradition into the 21st Century. Mooneyís intense solos on his 1931 National Steel Standard guitar were awesome. Although this was billed as a tribute to Son House, the duo covered tunes such as "How Long," "Baby, Please Don't Go," and "Big Boss Man."
Francis Clay Birthday Celebration
The next evening friends and fans of the legendary drummer, Francis Clay celebrated his seventy-ninth birthday at a sold-out event at Biscuits & Blues in San Francisco which featured the aforementioned Joe Beard with an excellent back-up band and Big Bones filling in on harmonica. Clay arrived in a limousine smartly decked out in a new suit and beaming from ear to ear. The evening was filled with accolades to Clay including a poem written in his honor by San Francisco's official Poet Laureate devora major, and a tribute from the mayor of his hometown, Rock Island, Illinois.
Beard is a superb performer who sings and plays the guitar equally well and this was an opportunity to savor his rich vocals delivered in a mellow style with impeccable timing. Francis Clay sat in on several tunes to the delight of the audience. Due to the enthusiastic response, Beard will return in February and is well worth catching.
New Year's Eve in Las Vegas
One of the wildest places to be on New Year's Eve has to be Las Vegas. The attraction for blues enthusiasts was the Little Milton show at the Alexis Park Resort Hotel where a large contingent from California congregated to party for several days. Opening up the show, Bobby Jonz ("Your Freak is Here") was impressive with his soul vocalizing style. The stunner of the evening was the wonderful vocalist, Joyce Lawson, with the Joe Campbell Band providing a solid, blues background. Lawson's soulful blues-infused vocals kept the audience riveted with tunes such as "Stop Doggin' Me Around." The legend himself, Little Milton Campbell, as usual, was exceptional and brought in the New Year for us in grand style. The next day, a small group of friends enjoyed a soul dinner which featured the requisite New Year's good luck staple blackeyed peas cooked by none other than Little Milton Campbell - screamin' good!
At the Orleans Hotel, one of the clubs featured a blues show with Bruce Conte, former guitarist with Tower of Power. Conte's funky guitar style was impressive on "Only So Much Oil In The Ground" and "Don't Change Horses (in the middle of a stream)." The show also featured a very good vocalist belting out some spirited funk and rhythm and blues.
The best part was yet to come at the B. B. King show at the Las Vegas House of Blues. It was a full house and King was in great spirits with his family and friends surrounding him. I was privileged to watch the show from the side of the stage at a perfect advantage. Opening up the show was Alonzo and the All Stars featuring Aaron Tucker on drums and Leon Blue on piano, both of whom regularly visit the Bay Area usually working with the Phillip Walker Band. King covered all of his standards including "Nobody Loves Me But My Mother" and "Caledonia" during the almost two hour show. King was supported by his big band which has got to be one of the best blues bands in the business with their jazzy arrangements. King concluded the show with an intimate performance of soulful ballads with bass and guitarist. The audience was enthusiastic with a standing ovation during which King threw coins and guitar picks which enticed several ladies to climb up to the stage. This was a magical, unforgettable event.
by Dorothy L. Hill
---
Back to

Contents Page
Jazz Now Interactive

Copyright Jazz Now, February 2003 issue, all rights reserved
jazzinfo@jazznow.com