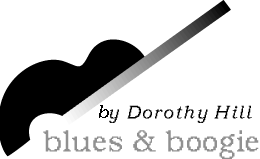 Club Jazz Nouveau
San Francisco is finally getting some good Jazz venues after a long absence and one of the best is the beautiful Club Jazz Nouveau which recently presented two outstanding acts worth special mention.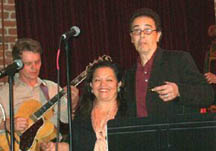 Carlos Zialcita is a proven bluesman who has plied his harmonica and vocal wares for many years with Johnny Otis and Sugar Pie DeSanto and is now sharing his love of Jazz with a new group featuring his wife, vocalist Myrna Del Rio, the fantastic guitarist Eric Swinderman, pianist Marty Williams, Ben Luis on bass and Tony Coleman on drums. On this evening, Zialcita's chromatic harmonica styling was impressive along with his crooning vocals on such tunes as "A Day In the Life Of A Fool" and "Fly Me To The Moon." In a salute to Charles Brown, the group performed a bluesy rendition of "Merry Christmas, Baby," with Eric Swinderman's outstanding grooving guitar solo. Myrna Del Rio's expressive phrasing was exquisite on the tune "What A Difference A Day Makes." This combo is a welcome addition to the scene with a program that encompasses Jazz and blues with some outstanding performers, with a special nod to the wonderful Marty Williams on piano and the incomparable Eric Swinderman on guitar. (photo at right: Eric Swinderman, Myrna Del Rio and Carlos Zialcita.)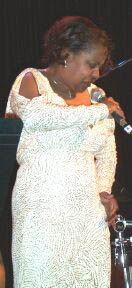 The elegant vocalist Diane Witherspoon (photo at left) celebrated the release of a new CD (L.A. After Dark) at Club Jazz Nouveau featuring Rudi Wongozi on piano, Ron Stallings on tenor sax, Eric Hunt on bass and Myron Cohen on drums. Witherspoon's vocal interpretations are uniquely emotional. On this evening her program included tunes from the new CD such as "Teddy's L.A. After Dark" and "Eddie's Clean Machine" in tribute to the late Teddy Edwards and Eddie "Cleanhead" Vincent with whom Witherspoon often performed. One could not find a more remarkable vocalist these days than Diane Witherspoon who can belt out the blues as well as she can bring the meaning to the most sensitive Jazz ballad.
New Year's Eve
Celebrants at Eli's Mile High Club welcomed 2004 with the Sonny Rhodes Band, the requisite noise makers, sparkly head ornaments and champagne toast at midnight. Rhodes was accompanied by longtime band members Theo Brown on drums, Anthony Mitchell on bass and special guest, Big Bob on guitar. Texas born Rhodes is known as The Disciple of the Blues and he has described his mission as "bringing music to the people." The personable Rhodes does that with a vengeance that is captivating and always up close and personal with the audience.
Sonny Rhodes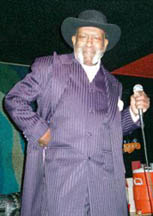 Wading into the audience, Rhodes warmed it up with the blues tune, "Let Your Hair Down." Rhodes soon enthralled the audience with his expertise on the lap steel guitar, moaning and howling along with his gruff vocals. One of the highlights of the evening was the humorous rendition of "Shame On You." with Rhodes on lap steel guitar. The evening was filled with good downhome blues delivered by one of the most impressive bluesmen on the scene and was a propitious start to the New Year. As the saying goes, a good time was had by all!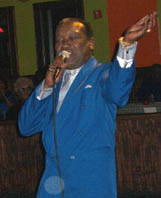 Sunday Blues 'N Jazz Club
The New Year greeted us with a new venue for the group which congregates every Sunday under the banner of the Sunday Blues 'N Jazz Club. It is now located at 2246 Jerrold Avenue in San Francisco, California. Although the club features the best of local blues acts, producer Velma Landers has promised to feature a nationally known blues act once a month. Her promise will be fulfilled when she presents the wonderful Southern Soul of Johnny Rawls in February and guitarist extraordinaire Roy Gaines in March. The new club presented its first act with a performance by vocalist Jackie Payne (photo at right) along with the Steve Edmonson Band. Payne is a favorite of the club members and his show was non-stop blues and soul all night long! Payne's rendition of "That's How Strong My Love Is" was emotionally polished and his groovy take on "Flyiní High" was outstanding. That's the way to christen a new venue!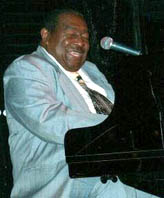 Floyd Dixon
Although Floyd Dixon (photo at left) is hardly a household name in the blues community, more astute blues fans know that Dixon was an innovator in R&B and jump blues influencing such luminaries as Charles Brown and Ray Charles. His compositions of "Hey Bartender" and "Operator 210" have become standards. We were honored with an appearance by this renowned musician at Biscuits & Blues in a show that also featured the incredible guitarist Danny Caron, Tim Wagar on bass and Jeff Ervin on saxophone.
Dixon opened up the show with a Jazzy version of "Route 66" on piano and vocals. Dixon's energetic, aggressive jump blues edge was evident on his composition "Hey Bartender." When rendering a slow soulful ballad, Dixon's half-closed eyes and beautiful smile reflected his warmth of emotion. Reaching into his soul on piano, Dixon performed a medley of tunes including my favorite "After Hours." Dixon's rendition of "Don't Send Me No Flowers In The Graveyard" was outstanding. With his foghorn vocals, Dixon is a true original and this was an evening to savor.
The Holmes Brothers
One of my favorite groups, The Holmes Brothers, returned to the Bay Area to celebrate their new CD (Simple Truths) at both Biscuits & Blues in San Francisco and Moe's Alley in Santa Cruz with a foray in between to Hollywood's House of Blues to open for Bo Diddley. Check out an interview with them and CD review in the latest edition of Living Blues.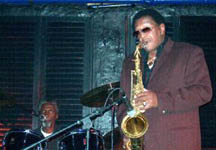 At the show in San Francisco, they were joined by the great local saxophone player, Bobby Webb (photo at right) in the second set. At this show, the focus was mostly on blues tunes with Wendell Holmes on guitar, keyboards and vocals, Sherman Holmes on bass and vocals and Popsy Dixon on drums and vocals. In Santa Cruz, the theme was more gospel blues in a show that was infectious for the extremely appreciative audience who danced most of the evening. Popsy Dixon was especially effective when stepping away from the drums to do a vocal turn on "Precious Lord." The highlight of the evening was a most astonishing three-part harmony on "Amazing Grace." This compelling trio presented another great show!
by Dorothy L. Hill
---
Back to

Jazz Now Interactive February Vol 13 No. 9 - Table of Contents