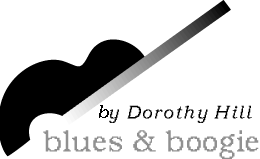 New Year's Eve Jazz Concert
There would be no blues or boogie for me to start the year 2005, but rather a return to my Jazz roots with a wonderful concert at a beautifully restored Victorian mansion featuring pianist George Cables playing an antique Chickering grand piano. Accompanying him were Andy McKee on bass and Chuck McPherson on drums in a magical confluence of artistry.
The producer of the event, longtime Jazz aficionado Jessica Felix, introduced the trio to the small, select audience comfortably seated in a large area encompassing the living and dining rooms.
George Cables is a skilled leader who paid his dues as a sideman with numerous renowned Jazz legends. With his self-effacing, gracious demeanor, Cables is one of the unsung masters of originality on piano. McKee and McPherson proved to be of equal ability as accompanists resulting in a tight collaboration.
Cables masterfully performed his composition of "Helen's Song," an undulating melodic exercise in creative expression. "Spookarella," another Cables original demonstrated his sense of humor on this mid-tempo waltz-inspired tune. Solos by McKee and McPherson showcased their artistry. The tour de force was an extended solo piano interpretation of Monk's "Round Midnight," performed by Cables with brilliant intuition and incisive improvising.
The trio combined standards with original compositions resulting in a memorable evening. This extraordinary trio in an intimate setting was just the ticket and quite a dazzling way to start off a new year!
---
Kenny Neal
Baton Rouge bluesman Kenny Neal is making the Bay Area his second home and it is wonderful to have a musician of his talent and stature on the local scene. At a recent show at Biscuits & Blues, Neal hired some of the best local musicians to back him up.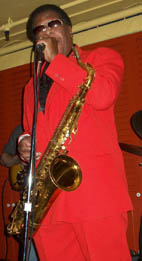 Saxophonist Bobby Webb (photo at left) led the band and kicked off the show with a Jazz-infused opening instrumental and then swung into the blues groove on "Sweet Home Chicago." Band members included the Sweet Horns of Carl Green on tenor saxophone and John Middleton on trumpet, bassist Steven Smith, keyboardist Richard Younger, guitarist Bob Coons and drummer Carter (never got his first name). This was a tight aggregation who worked well together and sensitively supported Neal.
Kenny Neal hit the stage with his infectious enthusiasm and constant smile with "There Is Something On Your Mind." Neal slowed it down on the tune "That's All Right." His medley of swamp blues demonstrated the essence of his Louisiana roots showcasing a searing guitar style. Neal's gritty vocals were filled with raw emotion when paying homage to Jimmy Reed on a medley of covers which included "You Don't Have To Go" and "Bright Lights Big City." Along the way, Neal skillfully played harmonica and stinging slide guitar living up to his reputation as a so-called triple threat.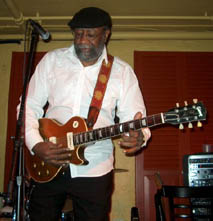 Neal is a generous performer and called upon his old buddy, Patrick Robertson, aka Browneyed Alligator, to sing. Robertson's medical condition and history in the local blues scene were detailed in recent articles in the San Francisco Chronicle which resulted in his being offered a record contract. Robertson did a soulful turn on "Things I Used To Do." The cast of the Berkeley Repertory production of the Zora Neale Hurston play "Polk County" was in the audience and Neal called guitarist and vocalist Bill Sims, Jr. (photo at right) to join him in performing "Red Rooster." Sims is a well-known New York-based bluesman who was featured some years ago with his family in a documentary on PBS television.
The audience could not get enough and called for an encore with Neal accommodating them with a soulful version of "It Hurts Me Too." This evening was permeated with high energy and a festive atmosphere and we are so lucky to have Kenny Neal in our local blues circle.
---
Blues Harmonica Blowout at Cache Creek Resort and Casino
Mark Hummel produces this annual event at various venues in California and it has become hugely successful selling out every show including two nights recently at Yoshi's in Oakland. I caught the show at the Cache Creek Casino outside Sacramento which is an unlikely place for a blues show. Nonetheless, the large showroom was sold out with blues fans eagerly anticipating the performances of harmonica masters including Hummel along with Kim Wilson, Charlie Musselwhite and the legendary James Cotton. Backed up by The Blues Survivors, Hummel gave a demonstration of harmonica blues on "A Hundred Years." His rollicking and entertaining version of "Willie And The Hand Jive" got the audience into the act.
Kim Wilson who made his mark with the group The Fabulous Thunderbirds thrilled the audience with his commanding stage presence and performed a soulful take on the slow-burner, "Early In The Morning." Wilson's harmonica pyrotechnics on a churning, melodically extended solo was outstanding with Marty Dodson assisting on drums with a tom tom backbeat. This got a standing ovation from the audience. Charlie Musselwhite then came on stage proclaiming "blues is in the house tonight." Musselwhite's grainy vocals and melodic harmonica style were well represented on "I'm Just A Bad Boy." He finished off his set with a spicy rendition of "Big Leg Woman." James Cotton, the legendary Chicago harmonica master, charmed the audience with his version of "After Hours." Mark Hummel joined Cotton to do a vocal turn on the tune "Rocket 88." The finale with the whole crew was a spirited performance of "Got My Mojo Working" with Cotton doing a little dance although it is obvious that his health is an issue. It is always a treat to see James Cotton even if it is only for a few minutes!
---
Chris "Kid" Andersen
On two occasions recently, Norwegian guitarist/vocalist Chris "Kid" Andersen (photo at right) has performed at Biscuits & Blues and has demonstrated that he is worthy of special notice. He blends blues into his own style with an intensity that is spellbinding and his shows are a real treat. This "Kid" has guitar chops that belie his age and origin. Catch him in a small club while you can!
by Dorothy L. Hill
---
Jazz Now Interactive February 2004 Vol 14 No. - Table of Contents
Copyright Jazz Now, February 2005 edition, all rights reserved
jazznow@sbcglobal.net