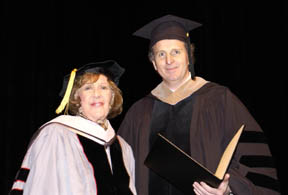 MARIAN MCPARTLAND ­ 86-YEAR-OLD JAZZ RECORDING, PERFORMING ARTIST AND HOSTESS OF 25-YEAR NPR SERIES ­
RECEIVES HONORARY DOCTORATE AT BERKLEE COLLEGE
BOSTON, January 11, 2005 ­ Berklee College of Music President Roger H. Brown today bestowed an honorary doctorate of music degree upon 86-year-old legendary jazz pianist and composer Marian McPartland at the Berklee Performance Center. McPartland, best known as the host of NPR's longest-running cultural series, "Marian McPartland's Piano Jazz," was in town to address faculty at the annual Berklee Teachers on Teaching conference. McPartland told stores about her long life in Jazz, including anecdotes about her friends Louis Armstrong and Duke Ellington. "I know so many people from Berklee that to receive this honor is beyond belief," she said in her acceptance remarks. She followed the award doing what she does every week on her radio show, performing a piano duet, calling to the stage Berklee professor Bob Winter to join her.
Berklee College of Music was founded on the revolutionary principle that the best way to prepare students for careers in music was through the study and practice of contemporary music. For over half a century, the college has evolved constantly to reflect the state of the art of music and the music business. With over a dozen performance and nonperformance majors, a diverse and talented student body representing over 70 countries, and a music industry "who's who" of alumni, Berklee is the world's premier learning lab for the music of today -- and tomorrow.

Press Release, Berklee College of Music

---
Jazz Now Interactive February 2005 Vol 14 No. 10 - Table of Contents
Copyright Jazz Now, February 2005 issue, all rights reserved.
Comments: jazznow@sbcglobal.net