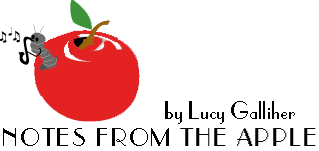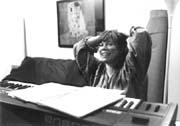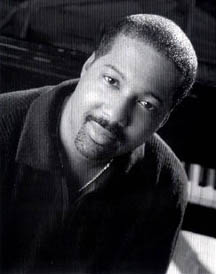 Dizzy's Club Coca-Cola Celebrates the New Year-2005 with the Eric Reed Trio. The new digs of Jazz at Lincoln Center are very impressive. Artistic Director Wynton Marsalis has done a great job putting Dizzy's Club Coca-Cola together, and I went to check it out one foggy Thursday in January. Within Frederick P. Rose Hall at 60th and Broadway, are three performance venues: the Rose Theater (seats about 1200), the Allen Room (seats about 550) and Dizzy's (which seats 140).
The room is spacious but intimate, with a beautiful view of Manhattan through the picture windows. The acoustics are great, and there is plenty of room to stretch out at the tables, or on stools in the back or side bar. Although the cover charge is somewhat steep for the average person ($30), nightly there is a jam session after the last set that only costs $10 per person. There is an extensive wine list, and from the menu one can order, among other things, "Wynton's Gumbo."
That January evening, Eric Reed (photo at right)was on piano, and he featured the magnificent rhythm section of Buster Williams on bass, and Al Foster, drums. Eric started the set out with Benny Golson's tune, "Stablemates." Buster slid his finger down the bass in a glissando at the cadence, to bring in the band for the second chorus. It was so easy to listen to these guys, as they have great ears and huge attention spans. During Eric's piano solo, he played quotes from Bird, smooth licks and fancy runs and patterns. Foster stayed right on top of the beat, placing accents with incredible accuracy to enhance Reedís phrasing. Then he got a little more esoteric: with his left hand playing off-beat, the right hand created intricate patterns. Reed traded sections with the bassist, keeping up a steady stream of eighth notes. Foster masterfully led them back into the head.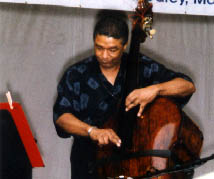 The next tune was Miles Davis/Gil Evans tune, "Miles Ahead." Reed toned the volume down a notch, and Williams played in a 2-beat feel. Every musician seemed so loose and relaxed, but you could tell they were playing really precisely. Reed got the (largely tourist) audience to cheer in loud tones after telling them who Buster Williams (photo at left) and Al Foster were. Then, the bassist and drummer became entertainers, with Foster spinning his sticks and Williams evoking a beautiful tone during a long bass solo. Foster then comped with only his hands, softly on the snare drum and ride cymbal, enjoying the experience.
"Isotope" by Joe Henderson, was played as an up-tempo swinging bebop number. Reed's right hand was so adept, that he played a figure, and then repeated it, starting on a different beat. Jazz musicians do this all the time, but Reed was exceptional, as he was able to keep up this rhythmic feat, delving into it several times, at breakneck speed. The rhythm section had no trouble at all following him. Williams walked the entire time, and Foster put in kicks on the drums, with the whole tune building up to a fury. Reed's feet were keeping time with the music - first one foot, then the other.
The standard "I Fall in Love Too Easily" (Cahn/Styne) was played very slowly, with each note well-placed. The first chorus began with solo piano, with Eric using quotes from "My One and Only Love." When the trio came in, it was so quiet that one could hear a pin drop. Expert brushwork from Foster and intensity of emotion from Williams sent Reed bursting into flourishes on the piano.
A romantic Latin beat ensued with "Deja," a tune written by Buster Williams for his granddaughter. One couple from the audience got up and danced in front of the picture windows.
Cole Porter's "All of You" was recognizable, even though Reed changed the melody somewhat and reharmonized the song. What a great way to end a most memorable set, and an inspiration for those who decided to stay for the jam session. Dizzy's Club Coca-Cola is a classy place to listen and experience great Jazz.
---
Jazz Now Interactive February 2004 Vol 14 No. - Table of Contents
Copyright Jazz Now, February 2005 edition, all rights reserved
jazznow@sbcglobal.net