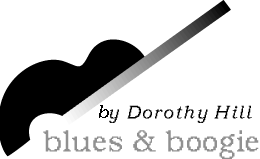 Biscuits & Blues Ninth Year Anniversary Party
Biscuits & Blues over the past nine years has thrived and established itself as one of the premier blues venues on the West Coast. On February 4th, the club and loyal fans celebrated this momentous occasion.
| | | |
| --- | --- | --- |
| Anthony Paule | Francis Clay | Ron Thompson |
| | | |
Kicking off the festivities, dynamic blues guitarist Anthony Paule opened up the program with a wrenching rendition of "Mercy, Mercy, Mercy." Paule is an innovative guitarist and his facial expressions reflect the joy he projects with his music. Joined by bassist/vocalist Johnny Ace, the band delivered a set of soulful up-beat blues standards.
Renowned blues legend and talented poet Francis Clay presented a recitation of his poem "Ode to Martin Luther King" with piano accompaniment of "Amazing Grace." Clay has recently been ailing and is much beloved in local blues circles. His presence is an historical validation of any blues event.
Cathy Lemons joined the house band with her Texas-influenced bawdy vocal style. Lemons projects a moody low-down blues style and effectively nailed it on the tune "Stranger In This Town."
The highlight of the evening was the blistering guitar master, Ron Thompson. There is not another more intense player on the scene and Thompson was hot this night. On guitar and vocals, harmonica rack and high energy slide guitar---Thompson sizzled. A standing ovation from the audience brought Thompson back to perform a soulful rendition on the tune "Bad Luck." He's a monster---watch for him!
It was quite a party and we look forward to many more anniversaries to come for this club.
Sacramento Heritage Festival at the Horsemen's Club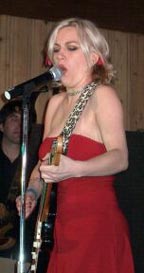 Featuring "Texas, Great Blues-Lousy Presidents," the Horsemen's Club venue was the setting for a Sunday afternoon of blues to benefit the Johnny Heartsman Memorial Fund which supplies musical instruments to local schools. This spot on the outskirts of Sacramento has been consistently presenting some of the best and brightest blues stars in a comfortable, folksy atmosphere.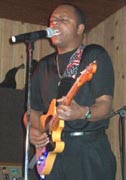 Dallas, Texas was well represented by two of their best. A delightful performer, Cricket Taylor (photo at left), kicked off her version of Texas blues with a terrific set on guitar and vocals. Her gritty style on both guitar and vocals was refreshing and although young in years, it was obvious that Taylor possesses the goods of an authentic blueswoman. Tutu Jones (photo at right) is one of those performers that one hears about but rarely gets to see live. His influences were a result of growing up in a family comprised of Texas blues musicians. On this occasion, Jones proved to be a gifted soul/blues guitarist and vocalist in his set comprised of cover tunes including that old standby "Sweet Home Chicago."
Joe Louis Walker performed a high energy set and although he is a San Francisco native, his style fit right in with the Texas theme. His performance of "Mile Hi Club" was outstanding. Congratulations are in order to Walker who has been nominated for the 2004 W. C. Handy Award for Contemporary Male Artist.
W. C. Clark, The Godfather of Austin Blues, was the featured star of the evening. Clark is a solid guitarist who possesses one of those devastatingly rich, expressive voices that stays on your mind. Perched on a stool, Clark just keeps reeling them off hitting exhalted highs with his rich tenor. His falsetto styling and sincere delivery can send shivers down your spine. Clark's rendition of his tune "Cold Shot" was superb and when he did "Let It Rain," his soulful vocals were as good as it gets.
Believe me, this excursion to Sacramento was a soul-satisfying experience.
Valentine's Day Celebration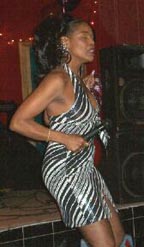 The Sunday Blues 'N Jazz Club presented vocalist Beverly Watson (photo at right) with the Dynamic Four band for a special Aquarian birthday party and celebration of Valentine's Day. Watson is a charismatic performer who delivers rhythm and blues reminiscent of Gladys Knight and deftly switches over to great downhome blues. Guest vocalists joined the fun and Mae Jackson was a show-stopper with her sassy style and incredibly strong vocal delivery. It was a standing room crowd and the Sunday Blues 'N Jazz Club is definitely THE place to be on any given Sunday.
Joe Beard and Ernest Lane
Two stalwarts of the blues recently appeared at Biscuits & Blues. Ernest Lane is another of the unsung heroes of the blues who plied his wares with Ike Turner and Robert Nighthawk. Joe Beard made the journey from his native Mississippi to Rochester, New York where he was a neighbor and jam partner of Son House.
Ernest Lane opened up the show with his incomparable boogie-woogie keyboard technique including the tune "Blues After Hours." Joe Beard then joined the band with his understated no-nonsense stage presence. Beard's well-grounded guitar style fit perfectly with his compelling vocals on the tune 'Back In Love Again." Beard heated it up on "See See Ryder" and "Rock Me Baby." The long first set was a fine offering of blues standards with two masters leading the way. Lane opened up the second set with his tinkling blues keyboard style and raspy vocals. This was an evening of blues substantial enough to satisfy any true blues aficionado.
| | |
| --- | --- |
| Joe Beard | Ernest Lane |
| | |
article and photos by Dorothy L. Hill
---
Back to

Contents Page
Jazz Now Interactive

Copyright Jazz Now, March 2004 issue, all rights reserved
jazzinfo@jazznow.com