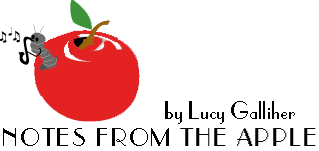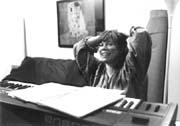 January 2004. Party at Jazz Now Headquarters. Haybert and Stella Houston hosted a party at Jazz Now Headquarters in Oakland, California, and I was the guest of honor! Nina Hodgson, Patricia A. Houston Washington, George Calvert and many other friends were there. Haybert King Houston is Publisher and Editor-in-Chief of Jazz Now Magazine, and Stella Cheung Houston is Production Manager and Contributing Editor. Hats off to both of them!
The ensuing jam session featured the following musicians:
A number of extraordinary pianists, including: myself, Jim Sidey, Roberta Mandell, Leonard Thompson, Andrew Oswald and Glenn Pearson. On bass was Walter Savage and once again, Jim Sidey; Herb Gibson, vibes; Haybert K. Houston, drums; Michael Handler, harmonica and drums; Grace Chueng Schulman, vocals; Afrikahn Davys and Anastacia Goodbeer, percussion; and last, but not least, Carl Sokol and Darrell Goodbeer, on guitar.
Haybert Houston, Lucy Galliher and
Walter Savage

Lucy Galliher, Jim Sidey and Roberta Mandell

Jim Sidey, Lucy Galliher and Herb Gibson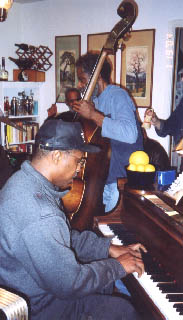 It was wonderful to get away from the icy cold winter in the Northeast, and head for the San Francisco Bay Area. For the most part of our trip, the weather was warm and dry. On this particular January day, however, there was cold misty fog and a threat of rain. That didn't stop people from having food and drinks that were situated outside. The jam session continued for approximately five hours, as the musicians played together in various clusters.
My husband Jim Sidey spent a lot of time at the Steinway piano, pounding out some lively bebop tunes, interspersed with gorgeous ballads. Walter Savage came up and played bass, and Haybert Houston grabbed the drums, while I blew on my flute. Leonard Thompson, Savage's pianist on his CD Soothes the Savage Beast, was there, and he started swinging on the piano. Then Sidey got on the double bass, and Savage whistled and scatted. By that time, Herb Gibson was in the house with his vibes set up. Then I took over the piano and Herb and I played a duet. Glenn Pearson (photo at left by Doutje Schuler) popped in to play a few tunes, wowing everyone with his piano artistry.
| | | |
| --- | --- | --- |
| 8-year-old Anastacia Goodbeer, Jim Sidey, Darrel Goodbeer and Roberta Mandell | Darrel Goodbeer and Michael Handler | Walter Savage, Haybert Houston and Leonard Thompson |
| | | |
The remaining above-mentioned musicians picked up their instruments and jumped in throughout the party. During this time, various drummers played: Houston, Handler, and I even played brushes on one number! The audience had a marvelous time, applauding after every tune. Most of the tunes performed that day were Jazz and blues standards, including: "There is No Greater Love," "Cheek to Cheek," and "You Stepped Out of a Dream." "Pensativa," written by Clare Fischer, is a favorite of mine and of Jim's. By coincidence, the composer was a friend of Roberta Mandel, another pianist at the jam session.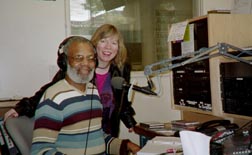 January 21, 2004. I also had the pleasure of appearing on Afrikahn Davys' Radio Show is in Santa Clara, California at KKUP Cupertino, 91.5 FM. Haybert Houston was filling in for Davys as programmer (photo at left of Haybert and Lucy at KKUP). The station is usually eclectic, but this particular show is straight-ahead Jazz. Haybert played music from Miles Davis, as well as excerpts from my CD Springboard, Ryan Kisor's The Usual Suspects, Dennis Mitcheltree's Brooklyn, and Walter Savage's Soothes the Savage Beast. I had a blast talking about the music scene with Haybert and his friend George Calvert (a Jazz aficionado who lived in New York City for years), comparing Jazz on the East and West Coasts.
Back in New York, there were other musicians whose performances I witnessed: Tessa Souter at the 55 Bar, Harold Mabern at Porters, and George Coleman at Smoke.
Tessa Souter is an up-and-coming singer who has rave reviews by such greats as Sheila Jordan and Mark Murphy. The night I saw her perform, the sidemen were John Hart on guitar, and Khalil Kwame Bell on percussion. They entertained the audience with not only Jazz standards, but also a number of Bossa-novas and several Pop tunes, which they remade into a pleasurable Jazz style.
Harold Mabern is a consummate musician, and he played with his own trio at Porters, as well as joining forces with George Coleman at Smoke. His piano playing is very powerful, his left hand is as strong as his right, and I enjoyed hearing him play his own compositions (as well as standards and blues) during the Porters set. I was pleased to catch Mabern again at Smoke. He demonstrated his fine accompaniment skills with saxophonist Coleman. Smoke has a quiet policy, and that is most appreciated when listening to a great artist such as George Coleman. He had the audience mesmerized, with long solos filled with a combination of blues, modal harmony and circular breathing technique!
I thoroughly enjoyed attending the New Year's Celebration at Jazz Now Headquarters in Oakland California this month. Be sure to tune in to more Notes from the Apple for next month's column!
---

Jazz Now Interactive February Vol 13 No. 10 - Table of Contents