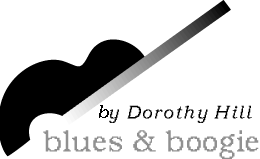 Biscuits & Blues Tenth Anniversary
As the only club consistently presenting blues seven nights a week, Biscuits & Blues celebrated their tenth anniversary with a series of shows and an expansion of the restaurant into space upstairs. The downstairs area received a tasteful paint job and smaller tables resulting in a more intimate atmosphere where the focus will be on the music with a light food menu.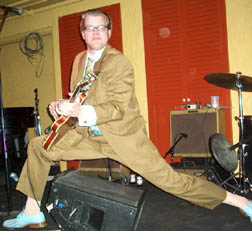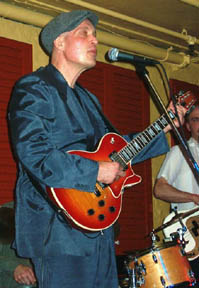 At a party held for the media, the club brought in the talented Chris "Kid" Andersen (photo at right) to entertain the guests. A top-notch group consisting of Kedar Roy on acoustic and electric bass, June Core on drums and Barron Shul on tenor and baritone saxophone supported Andersen, on guitar and vocals. The evening consisted of a mixture of cover tunes and some originals which will be on Andersen's new CD. Andersen sat on the edge of the stage to perform a soulful turn on the Earl Hooker slow-blues composition of "I Wonder Why" with Shul's excellent accompaniment on baritone saxophone. On "Rock Awhile," Andersen dug into the vocals with a soaring style on this jump-blues tune and Core kept pace with a romping drum solo. Andersen is a masterful guitar player and has impeccable taste in selecting material that is not repetitive from show to show.
Several nights later, a special blues showcase presented by the club free of charge was headlined by guitarist/vocalist Steve Freund (photo at left) with Robi Bean on drums and Randy Bermudez on bass. Big Bones hosted the show and kicked off the festivities with a tune entitled "Blues From Sea To Sea" on harmonica and vocals along with Thaddeus Reese on bass. Bones has an extraordinary deep vocal growl on vocals and his harmonica playing is delightfully adventurous with meaty riffs.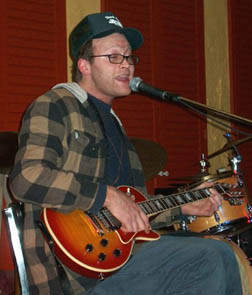 Steve Freund and his group then took over with a repertoire heavy on Chicago blues. Freund's mastery of the Chicago sound earned him stints with numerous legends and as guitarist to the great pianist Sunnyland Slim. His rendering of "County Jail" was delivered with a soulful vocal style and clean guitar lines. "Farther On Up The Road" demonstrated the team effort to great effect on this blues standard.
A jam session ensued with a host of talented performers. Chris Cotton (photo at right) delighted the audience with an outstanding country blues tune, "Morgan City, Mississippi" on vocals and guitar. Ron Thompson turned up the heat with his sizzling guitar styling rendered with demoniac intensity and yet rhythmically intact. Frankie Lee, one of the great soul vocalists and most charismatic performers around, did a rousing turn on "Everyday I Have The Blues."
---
Earl Thomas, Howard Tate and Sherman Robertson
The Sacramento Heritage Festival again presented a dynamite show at the Horsemen's Club on the outskirts of Sacramento. The theme was "Heart & Soul," a Valentine's Eve Showcase of soul and blues and that it was. As I have mentioned before, this venue is outstanding for its casual ambience, good and inexpensive food and appreciative audience participation.
Earl Thomas opened up the show with his charismatic stage presence and constant dancing which got the dancers on the floor almost immediately. Although I caught his show the evening before at the Boom Boom Room, I can't get enough of this performer. His slow and sensual opening tune was followed by the high-energy tune "I'll Love You No Less" on which his vocals showed impeccable timing. Then he got into a 1970's bag, doing the Rolling Stones tune "Brown Sugar Lyrics" ("Brown Sugar, how come you dance so good Brown Sugar, just like a black girl should"). He performed his composition "First And Last Thing On My Mind" which is a lovely slow soul masterpiece. His long set ran the gamut of his compositions and covers of Ray Charles and Ike Turner tunes. Thomas again demonstrated his astonishing ability to put just the right phrasing and textures into the lyrics. Obviously, on this day, the audience shared my high opinion of Earl Thomas!
| | | |
| --- | --- | --- |
| Earl Thomas | Howard Tate | Sherman Robertson |
My friends and I were curious as to what the lineup would be and, sure enough, soul master Howard Tate had to follow this high-energy soul dynamo. Backed up by the big band of "Mighty" Mike Shermer, soul legend Tate was sharp in his white suit and open collar black dress shirt. Secure and confident, it only took a moment for Tate to get the audience into his territory opening up on the tune "Show Me The Man" with his perfect soul phrasing. On "Everyday I Have The Blues," Tate's incredible falsetto voicing shed a whole different light on this standard. He then ran through a medley of his hit tunes. Janis Joplin popularized his composition of "Get It While You Can" but his cover of it this day was fresh and vital. Seemingly leaving the stage, the audience was astounded, but this is a pattern he seems to practice and his immediate return to the stage was met with an enthusiastic audience response. His rendition of "How Blue Can You Get?" was deep blues rendered with great emotion, stretching out the lines for effect. This man knows how to wring out the lyrics with his awesome falsetto and vibrant delivery. At one point, he descended the stage and danced with me smiling and belting his heart out. Tate is definitely a soul survivor who will make a believer out of you!
Sherman Robertson then had to follow Tate which was no mean task and he was up to the job. Fashionably attired in a garish red patterned shirt, red pants and black hat, Robertson was the epitome of the Texas bluesman that he is. Backed up by a local band, Big John and The Chosen Few, Robertson kicked it off on "I Don't Want No Woman" with his hard-swinging guitar style and richly expressive vocals. On "The Things I Used To Do," his soulful vocals soared. His cover of the Bobby "Blue" Bland tune "Members Only" featured a dazzling guitar solo and a splendidly expressive vocal style. He covered a Bobby Rush tune, Texas boogie and downhome blues in this awesome performance and ended the evening with a rousing version of the Ray Charles tune, :"Let The Good Times Roll."
---
Magic Slim and the Teardrops
Mississippi meets Chicago is what you get with Magic Slim (photo at left) and there is no greater exponent of this genre performing today. Looking fit and fettle, Slim seems to have recovered from his recent heath crisis which necessitated his canceling a previous appearance at Biscuits & Blues disappointing his many loyal fans. The Teardrops led by rhythm guitarist, John McDonald, opened up the show with a couple of tunes. Slim hit the stage, taking to a stool in a commanding manner. It was now slash and burn time and Slim did not disappoint. He lit into the Mississippi John Hurt composition "Baby, What's Wrong With You" with fierce guitar styling and growling vocals. On the Howlin' Wolf tune, "Don't Dog Me Around," his vocals were soulful and he unleashed a torrid guitar solo emiting cascades of sound. On "Crazy Woman," Slim was hilarious with his delivery of the lyrics "you got a screw loose." His earthy raw vocals were outstanding on the mid-tempo blues shuffle, "Goiní To Mississippi." "Get Your Business Straight" was tough Chicago blues with Slim's guitar styling taking on more of a rockish bent.
Slim on this evening lent authenticity to the claim by many in the blues world that his is the last real Chicago blues band. This was undoubtedly one of the best shows of the year and for excitement and musical quality, it may well be the best!
Article and photos by Dorothy L. Hill
---
Jazz Now Interactive March 2004 Vol 14 No. 11 - Table of Contents
Copyright Jazz Now, March 2005 edition, all rights reserved
jazznow@sbcglobal.net