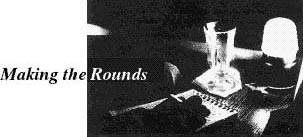 Denise Perrier at the Downtown
Caught Denise Perrier at Broadway Café (photo at right) in Berkeley California in early February 2005. The rhythm section trio was: Tammy Hall, piano; Jack Dorsey, drums; Marcus Shelby, bass.
The trio warmed up on the tune "Little Sunflower." My friend George Calvert, another Jazz activist visiting from Southern California, thought Tammy Hall's phrasing on this was like Ahmad Jamal's. Jack Dorsey (photo below) let us know that he was up to the task of providing the drum assist by interjecting some very tasteful drum rolls in the appropriate places. Marcus Shelby, one of the most dignified musicians since Duke Ellington, demonstrated why he is a world class bass player and musician.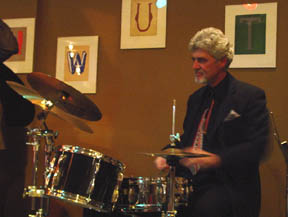 Denise joined the group on "Secret Love." It is easy to see and hear why we call her the "Premier Vocalist." She is so serious about her work. She takes charge of the group and the audience right away and makes you feel that you are in for evening of wonderful music.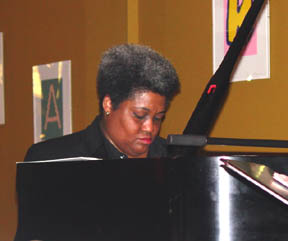 Ned Washington and Victor Young would have been proud of Denise's treatment of their piece "My Foolish Heart." It was presented in a very slow tempo and Tammy Hall's (photo at left) supporting piano work was superb.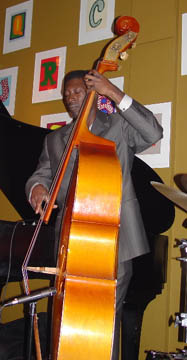 "Honeysuckle Rose" was played in a stride tempo. That made for a very interesting challenge for Denise and, as expected, she rose to the occasion.
Along with her vocal contribution on "Killing Me Softly," Denise provided some percussion touches after her solo by playing the CABASA Shaker.
I am very fond of drum brush work and Jack Dorsey's on "The Nearness of You" was excellent. It had to be in order to support Denise's massaging of those wonderful lyrics that were written by Ned Washington and Hoagy Carmichael. Marcus Shelby's (photo at right) bass lines added the proper tone in the right places. He is wonderful to watch.
One of my favorite pieces by Denise is John Lennon/Paul McCartney's "Fool on the Hill" that she recorded in Russia on her CD East Meets West. I play it on my Jazz Now radio show at K K U P 91.5 FM a lot. The piece is full of tempo changes and tonight, just as on the CD, the changes were seamless.
In the second set Denise ask pianist Dave Matthews to sit in. He joined her on "My Funny Valentine." After Denise's solo, Dave took his solo and was cheered on by the other members of the group.
Harold Arlen and Johnny Mercer's "Old Black Magic" got the band jamming. Dorsey's accents on drums were finger poppin' good and Tammy Hall played the piece like she owned it. Denise seemed liked she did not want the piece to end.
No Jazz set is ever complete without a blues number and Denise's choice tonight was Percy Mayfield's "Please Send Me Someone To Love." Tammy Hall laid some Ray Charles touches on this one while Marcus Shelby laid down a bottom that is a must for a blues number.
The band had a lot of fun backing Denise on "Besame Mucho." This is also on her "East Meets West" CD. Denise danced all over the stage. The Latin tempo was perfect for Jack Dorsey to take the lead on this one.
The last piece of the set was "Squeeze Me," and was Marcus Shelby's vehicle to shine and he was flawless.
It was a very music filled night and the audience at the Downtown seemed thankful to have been there, I know I was.
Article and photos by Haybert K. Houston
---
Benny Golson at the Bach Dancing and Dynamite Society, February 13, 2005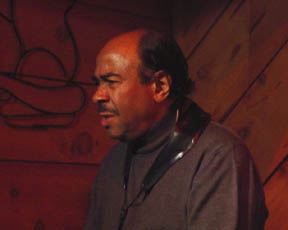 We haven't been to the Bach Dancing and Dynamite Society for a good long time. When we found out that Benny Golson was going to appear there on February 13, and that our friend, George Calvert from Southern California was visiting with us, it was a good opportunity for a Sunday afternoon outing to Half Moon Bay, CA. We drove through San Francisco; took the scenic route and went out to, where I called the edge of the world, Pacifica; down Highway 1 along the Pacific Coast to Half Moon Bay. It was a beautiful day, and we were early. We got there about 1:30 p.m. We packed along sandwiches and wine, grape and cheese and staked our claim at one of the few picnic tables outside the establishment for our picnic. Half Moon Bay is hardly ever "hot," even in the middle of the summer. Therefore, it was not ideal for a picnic in February. Since we dressed accordingly and being in the sun, we were able to enjoy the lunch that we brought along.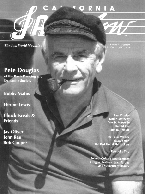 Music was not supposed to start until 4:30 p.m., and there was a note on the door saying that Benny Golson missed his flight and the performance will be late. We didn't care. The Bach Dancing and Dynamite Society is a "hang." So there we were, hanging around. By three o'clock, we were allowed in. We already had our names on our seat in the auditorium (a living room turned into a listening room that holds about 200 guests, quite tightly packed together), so we lounged around by the fire place in the "kitchen" area. We visited with old friends, whom we haven't seen for a long time and met new ones. Finally about 5 p.m., Pete Douglas (Jazz Now October 1993 Vol. 3, No. 6. Cover photo by Bob Hershon), the owner of the establishment, announced that music was about to begin.
We found out the rhythm section was made up of Mark Levine (his CD Que Calor is in Jazz Now Direct CD store) on piano, John Wiitala on bass and Vince Lateano on drums. We know all of them. They are part of the Jazz fixture in the Bay Area. They all have appeared more than a few times in this magazine during our last thirteen years of publication.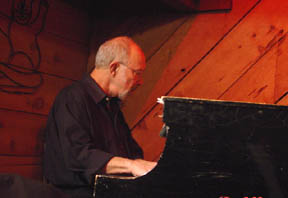 Golson came on stage and passed out a few pieces of music to his sidemen, then rushed right in with "Take the A Train." His sound was smooth and round, soothing as well as exciting. Years of experience showed with every phrase. It all seemed so easy, so fluid, so comfortable. Golson had his program decided, he let the rhythm section know ahead of time which piece he wanted to play next. We were fortunate enough to be sitting at the front row, observing all the interaction.
"Pierre's Moment," a blues in a fast pace. Mark Levine (photo at left) was relax, and looked calm as he tickled the keys with his eyes closed. His descending sequences were articulate and gentle. His comping was right on even if the chords came in between beats. "Along came Betty" was next. Golson told a story about how that tune came about. He joked about writing the song "Along Came Betty" when his wife is named Bobbe. He also joked about his wife who said he talked too much, but she was not here, and that the stories he was telling us are not available at Tower Records. He told us he was 16 when he played with the 18 year old John Coltrane. At this time, he presented to us "Mr. P.C." and "Beautiful Love." The group was grooving now and Wiitala walked beautifully on the bass. Golson was eying him, listening, smiling. It was obvious that he did not know his sidemen. He didn't introduce them during the first set. But the melodies flowed, and you can see that he was impressed with his group.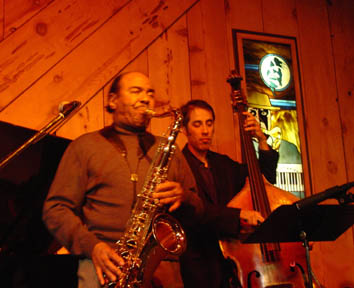 Golson talked about himself playing with Dizzy at Boston's Storyville, where he wrote the now famous "Whisper Not" in twenty minutes; he talked about how he met Tom Hanks and Steven Spielburg and was asked to play and appear in the movie "The Terminal." He also got a speaking roll, even though it was just a line. He was also impressed that the musicians were given a trailer to rest and hang out when they filmed "The Terminal."
During the intermission, Golson didn't have a chance to go downstairs for a rest. He set at the piano bench and greeted whoever wanted to shake his hand or get his autograph. He was pleasant and friendly, always with a smile on his face.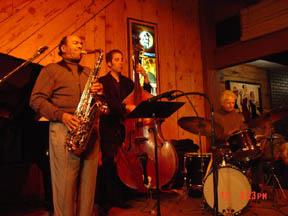 The second set led him to talked about when he wrote the also famous "I Remember Clifford" after Clifford Brown died. It was touchingly performed. The bass line was melodious and wonderfully supported whatever was on top. Golson smiled and teased that Wiitala was showing off. He talked about playing at the Apollo Theater with Dizzy. Then he played "Sweet Georgia Brown." He talked about playing with Art Blakey and the Jazz Messenger, and how he wrote the "Blues March" for Art. At this point he let Vince Lateano show his stuff, which is persistent and repetitious. The group finished the fantastic evening of music with "Now is the Time" and we went home satisfied. It was absolutely fascinating to see and hear a group of musicians who haven't met each other before but can put out such cohesive sounding music. They sounded like they had practiced together for years. This group was grooving, melting together seamlessly. Individually, they also offer creative ideas and beautiful melodies within the confine of the chord structures. It was wonderful to watch them, to see the interaction and understanding. Most of all, they seemed to have fun, and so did we.
Article and photos by Stella Cheung Houston
---
Jazz Now Interactive March 2004 Vol 14 No. 11 - Table of Contents
Copyright Jazz Now, March 2005 edition, all rights reserved
jazznow@sbcglobal.net