IAJE 2005 Recollections
By Kate Kaiser
From January 5 to 9, over 8,000 Jazz educators, musicians, journalists, musicologists and fans from all over the world descended on Long Beach, California, for the 32nd Annual International Association for Jazz Education (IAJE) Conference.
This was my second IAJE conference - after New York City in 2004 - and I loved every minute of it. The wondrous lively spirit of Jazz being created by eager high school and college bands from near and far. Professional musicians conversing, lecturing, sharing publicly in workshops and presentations what makes them tick and the music swing in the second century of its existence. Awards presentations - including the National Endowment for the Arts (NEA) Jazz Masters Awards - drew large audiences and standing ovations for those honored. Exhibitors had signed up galore for the limited space and put their best feet forward to highlight the virtues of their "very own" Jazz studies programs and to showcase all kinds of music-related products. Several U.S. Military Bands were represented, trying to lure new recruits and proudly present the substantial talent already in their ranks. The Conference was an almost around-the-clock spectacle for the senses and nourishment for each Jazz-searching soul. Here are some highlights: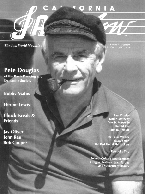 Pete Douglas, (Jazz Now Volume 3, Number 6, October 1993 cover subject) Founder and Concert Manager of the distinguished Bach Dancing & Dynamite Society in Half Moon Bay was there. Together with his Membership Director and Treasurer Linda Goetz and Board Member Tony. They had driven down the rainy California Coast to conduct a grass roots campaign to invite "one more fan at a time" into this whimsical living room-club with an illustrious history. Over the past 40 years everyone who was and is someone in Jazz has played there. The Bach Society team was also very eager to explore ways to sustain their venue into the future. Pete is 76 now but still deep into the swing of things. Like a cat on the prowl, he networked, among others with Tim Jackson (photo at right), General Manager not only of the Monterey Jazz Festival but also Executive Director of Kuumwba Jazz in Santa Cruz. Hopefully, they can work together in the future to keep Jazz alive along California's Central Coast!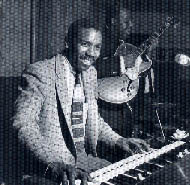 Pianist David Hazeltine from New York presented a workshop "Old Tunes - New Avenues" on how to arrange standard songs with a twist. The meeting room remained filled for the duration of the entire lecture and David was so much in teaching mode, he declined a request to play a full tune for the inquisitive and appreciative audience at the end.
Jimmy Smith (photo at left), this makes my heart heavy, was there. Little did we know he would only live another month. He was vivacious, funny, digging deep into his repertoire of fascinating recollections on an NEA Jazz Master's Panel. One of Smith's hard to believe but true" stories was that for many years his personal automobile was a hearse. The hearse was big enough to carry his organ - and for fellow musicians to take a nap in the back while he was driving to the next gig. But it also drew attention from the police at times. Great to see him honored at the IAJE with the prestigious NEA Jazz Masters Award and enjoying it so much.
Other 2004 Jazz Masters Award recipients were:
Vocalist Shirley Horn unfortunately was not well enough to come to Long Beach to accept her award in person and delivered a moving videotaped acceptance speech.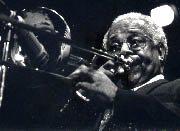 Trombonist, Arranger, Composer and Educator Slide Hampton (photo at right) who in his acceptance statement said "Thank goodness for the NEA for helping keep Jazz alive."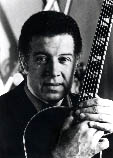 Guitarist, Composer, Educator Kenny Burrell (photo at right) who said "Receiving this prestigious award from the National Endowment for the Arts is one of the highlights of my career."
Saxophonist, Clarinetist, Flutist and Composer Paquito D'Rivera who reminisced "when I was a kid, my father, a classical tenorist who loved Jazz, introduced me to the music of Lionel Hampton, Count Basie, Benny Carter, and Teddy Wilson. Now, 50 years after my first public performance, it feels like an incredible dream to share the NEA Jazz Masters distinction with these giants who gave my life meaning."
Producer and Pianist George Wein, who founded the Newport Jazz Festival, the so-called father of all Jazz festivals, received the NEA Jazz Advocate Award.
Clarinetist, Bandleader, Composer and Arranger Artie Shaw was honored as well. Shaw, who passed away a week before the IAJE Conference, luckily had been informed previously about the award and had been delighted to become an NEA Jazz Master - the highest Honor in Jazz - we were told and he had all intentions to be in Long Beach that evening.
NEA Chairman Dana Gioia (his brother Ted Gioia wrote "The History of Jazz" among other Jazz books) announced a new partnership with Verizon and received a symbolic $100,000 check from the telecommunications giant at the IAJE. The funds will be put towards a new national Jazz education program that includes over 50,000 kits for teachers to be distributed later this year.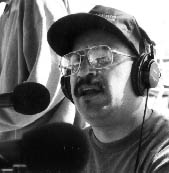 Radioman Scott Hanley of WDUQ presented a three-part Jazz radio workshop. Good news here: Jazz is #3 format for National Public Radio (NPR). And online listener ship was at 30 million a week in 2004. However, no money was made despite these impressive numbers. KCSM Radio was represented by Chuy Varela (photo at right) and Alisa Clancy.
Paolo Jobim, son of legend composer Antonio Carlos Jobim, represented the Rio de Janeiro based Antonio Carlos Jobim Institute. The Institute not only offers access to the artist's manuscripts, photos and arrangements but also is a driving force in sustaining the Brazilian rain forest and other endangered ecologically important areas - a project that was already very much on Jobim's mind in the later years of his life. The Institute can be contacted via email at: iajc@terra.com.br.

Austrian born keyboardist and composer Joe Zawinul was on a panel about "The International Language of Jazz: Cross Cultural Conversations". He considered it unfortunate that the contemporary Jazz studies programs turn out so many students who sound like someone else and not like themselves. That they miss out on the opportunity to create their own styles and legacies.
Vocalist Nancy Wilson (photo at left) was interviewed by also vocalist Kurt Elling (photo at right). Elling proved himself a brilliant conversationalist and gracious host! Wilson mentioned that she has been working with the same manager, John Levy, for over 40 years (since her arrival in New York) and that their business agreement still is "handshake only." No written contract was ever needed.

2004 Grammy Nominee Mark Levine was to be found at the Chuck Sher's exhibitor's booth, autographing his The Jazz Piano Book and greeting old and new friends passing by. After all these years, his book is still the standard work in the field worldwide. Another Bay Area musician making the rounds was tenor saxophonist Anton Schwartz whose recent entirely self-produced and marketed Holiday Time Christmas album was very well received. Schwartz is a master in Jazz music marketing and shares his knowledge in occasional workshops on the subject in and around Berkeley, California.
There were freebies galore at the Conference, not only palm size rhythm instruments and "It's Time to Practice" alarm clocks but some fabulous CDs. Among them the United States Army Field Band's Jazz Ambassadors The Legacy of Benny Carter. The 2-CD Set includes not only Carter's previously unpublished "Peaceful Warrior Suite" but also some of Carter's original arrangements on the same disc - printable directly from any PC. Never heard of that being done before.
Canadian Allan Molnar of Percussionstudio.com introduced "The Final Frontier: Imagination and the Future of Music Technology" aimed at bringing live music performances and instructional presentations into classrooms anywhere at a minimal cost via readily available MAC computers and Web Cams.
Swedish born Annika Larsson was there from the Umbria Jazz Festival, representing the International Jazz Festival Organization, which produces 13 major festivals in 11 countries annually. And Annika had great news: there is one more Jazz festival on the planet. In May 2005 they are presenting - for the first time - "the Melbourne Jazz Festival."

The Airmen of Note, with Special Guest Artist drummer Peter Erskine (photo at left), delivered an impressive big band performance that should have been presented at night rather than in the early afternoon to allow more people to attend.
Festival Promoter George Wein summed up the essence of this IAJE Conference very well in his NEA Jazz Masters Award acceptance statement: "I am very pleased to accept the NEA Jazz Masters Award on behalf of all those Jazz fans who, as a labor of love with little concern for business, have devoted much of their lives to the creation of opportunities for Jazz musicians to appear in cities and towns all over America and the world."
The IAJE is as devoted to Jazz as no other organization in the field. With its lean full-time staff headquartered in Manhattan, Kansas, and an army of capable, delightful and eager volunteers they pulled off a difficult undertaking with impressive results: entertaining more than 8,000 people from all kinds of backgrounds with one common goal, to celebrate and nurture this uniquely American art form called Jazz. Congratulation, IAJE on a job well done. See you in Manhattan, New York, in January 2006!
by Kate Kaiser
---
Jazz Now Interactive March 2004 Vol 14 No. 11 - Table of Contents
Copyright Jazz Now, March 2005 edition, all rights reserved
jazznow@sbcglobal.net