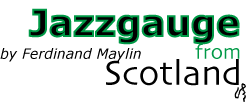 Amina Figarova
Come Escape with Me
BMCD 465
Amina Figarova, piano; Bart Platteau, flute, B-flat flute, wooden flutes; Marcel Reys, trumpet, flugelhorn; Tom Beek, alto and soprano saxophones; Kurt van Herck, tenor saxophone; Wiro Mahieu, acoustic bass; Chris Strik, drums
Some airy, feisty Jazz from Amina Figarova who comes from Azerbaijan and now resides in Holland. She started out as a classical pianist, coming over to Jazz round about 1990. The lady wrote and arranged all the twelve tracks, and with six high-quality Dutch musicians in her band this is good Jazz. There is often a deeper color to her work that may well come from her classical influences. "Come Escape with Me" and "Hot on the Trail" really bite. There is plenty of room given for all the players to stretch out. "Buckshot Blues" gives Tom Beek on saxophone and Bart Platteau on flute something to bite into-and Chris Strik on drums the chance to wear his arms out. Her piano tone is confident, clean and knows where it is going; listen to "Awakening." Her work is thoughtful, fresh, energetic, and above all, very good Jazz.
---
Erik Truffaz
Bending New Corners
522123 2
Erik Truffaz, trumpet; Patrick Muller, piano, Fender Rhodes; Marcello Giuliani, electric and acoustic bass; Marc Erbetta, drums and percussion; Nya, special vocal guest
French trumpeter Erik Truffaz studied at Switzerland's Geneva Conservatoire and has been awarded France's most coveted Jazz award, the 1991 Prix Special. He has a clear, clean tone and his influence is Miles Davis.
The first two tracks, "Sweet Mercy" and "Arroyo," have a mournful feel to them, as does most of the CD. The third track, "More," goes even further, exploring nonassociated sounds with an empty dreamlike atmosphere.
"Bending New Corners" is a piece from an earlier album, The Mask, showing Truffaz at his liquid best and Nya adding the rap vocals. "Betty" is also from The Mask, and is an attractive piece. This is nicely textured sound with a sensitive backing group. Truffaz manages to create a feeling of stillness and elements of despair with his modal style as well as rap and funkiness. An interesting CD.
---
By Ferdinand Maylin
Back to

Contents Page
Jazz Now Interactive

Copyright Jazz Now, March 2006 edition, all rights reserved
jazznow@sbcglobal.net