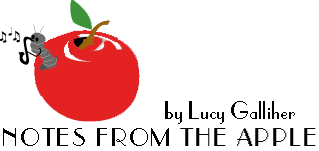 The Heath Brothers at Iridium Jazz Club
The Iridium has moved from its old location across from Lincoln Center, to a spot in midtown on 51st and Broadway. This new club attracts a lot of tourists, as well as world-class musicians. They have a full dinner menu and an extensive wine list. The night I was there in late March, 2002, Cedar Walton, Frank Wess and Steve Johns were in the audience. The Heath Brothers' band included Jimmy Heath on tenor and soprano sax, Jeb Patton on piano, Percy Heath on bass and piccolo bass, and Albert ìTootieî Heath on drums.
Amazingly enough, these brothers (photo below by Teri Bloom) have played together on and off for over fifty years. Their credits, collectively, could fill volumes. The Heath Brothers are so relaxed on stage that they infuse the audience with a sense of ease and camaraderie. The empathy among the brothers was a pleasure to witness. Musical cues were accomplished with intimate graciousness. Mannerisms such as a smile, a nod, or a wink of an eye were full of meaning.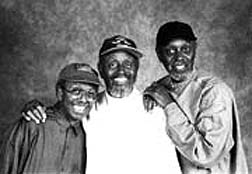 They started off the set with "The Newest One," an appropriately titled Jimmy Heath original that began with Percy setting a groove on bass. The head was a smooth, easy line, yet it contained a lot of rich rhythmic syncopation. Tootie got great pleasure accentuating these rhythms; he groans when he plays; you can hear "aaugh" throughout the set. During the solos, Tootie and Percy enjoyed surprising each other, along with the audience, with rhythmic hits (or accents). This spurred on the soloist, adding excitement to the already swinging groove.
"Invitation" was next, done in the traditional manner of a Latin 6/8. Jimmy played this one on soprano sax, fluidly and flawlessly. Jimmy Heath, the Professor of Music at Queens College, gave a treatise on Jazz throughout his solo, putting in quotes from the bebop repertoire, completely mesmerizing the audience. As the piano solo developed, Tootie again provided some effective drumwork. With just ride cymbal and high hat at the beginning, he listened and responded in a sensitive way, building up the dynamics at the end of the chorus by adding the snare and bass drums.
On "Lover Man," I continued to notice Jimmy's perfect intonation and resemblance in sound to Bird. There is a lot of history here, and I was privileged to have been in the presence of these legendary musicians. After an intelligent, melodic and bluesy solo on tenor, my attention was turned to Jeb Patton, the youngster of the group. Wow, he played a cool two-handed chord solo on Iridium's brand new Steinway!
The next piece was "Century Rag," a composition by the esteemed pianist, Sir Roland Hanna, who was Jebís teacher at Queens College. A duet with piano and bass ensued, bringing forth a complex stride piece that showed off Jeb's technique and endurance. He was in his element during this tune; the audience enthusiastically applauded his improvisation.
Fats Navarro's "Nostalgia" was Percy Heath's feature on piccolo bass. A virtuoso in his own right, Percy tore up this tune that is based on the changes to "Out of Nowhere." A simple swing accompanying him on drums was all he needed to develop a gorgeous, perfect bebop solo. Jimmy decided to show off some of his own chops on tenor, he went into a double-time feel effortlessly, playing arpeggios, trills, growls and licks. Affected perhaps by his brothers' enthusiasm, Tootie launched into a fantastic drum solo. Percy switched to double bass, and played the out-chorus with his brother Jimmy.
Continuing to swing like crazy, Tootie introduced the following tune, "Sleeves," with an extended solo on tambourine (of all things!). Modeled after "Autumn Leaves" with a few substitutions, "Sleeves" was a perfect venue for Jimmy's masterful tenor playing. He does it all; he's a great writer, bandleader and soloist.
As the set wound down, they added their theme song, "On the Dock Blues" and "Django," dedicated to the late John Lewis. Altogether, it was an unforgettable experience, and I would recommend readers to rush to the next "Heath Brothers" concert.
---
Back to

Contents Page
Jazz Now Interactive

Copyright Jazz Now, April 2002 issue, all rights reserved
jazzinfo@jazznow.com