Jazz and Blues Restoration Project Returns Legends to the Quad Cities
Photos and Article by Jimmie Jones
Thanks to promoter Nate Lawrence and Home folks Communication, Storyteller and Poet Shellie Moore Guy and Ebony Expressions, three great home bred Quad Cities musicians were invited to provide workshops and concerts for what was called "Jazz and Blues Restoration Project, March 7 - 9, 2002. The musicians were pianist and educator Bill Bell (JN June '95) now residing in El Cerrito, California, drummer Francis Clay, San Francisco, California and 89 year old tenor saxophonist, Franz Jackson, Chicago, Illinois. Clay was forced to cancel because of illness of a family member. In addition to the three musicians, Jazz historian Donald Mead, an East Molin native now residing in Chicago, participated in the project.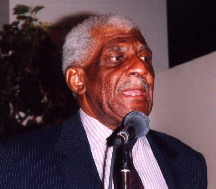 On Thursday, one hour workshops were held at Hawthorne and Grant Elementary Schools in Rock Island. The Workshops began with Donald Mead (photo at left) talking about the importance of rhythm, especially the drums, and the rhythm section in performing Jazz and Blues. After he had each of the musicians explain about and demonstrate his instrument, Donald led the students in hand clapping to the band performing such tunes as Billy Strahorn's "Take the A Train," Horace Silver's "Strollin'" and Hoagy Carmichael's "Stardust."
During the workshops, drummer Manny Lopez III and bassist Ron Wilson, both in their twenties, talked Franz Jackson (photo at right),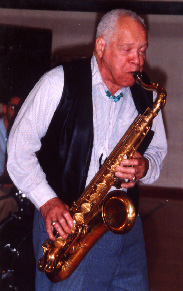 who will be 90 on November 1, 2002, into making a 50 mile trip that evening to Galesburg, Illinois to attend the Rutabaga Jazz Festival and Jam Session afterwards where Franz blew the crow away when he sat in on both tenor sax and vocals on "Sunny Side of the Street" and "Stardust."
Concerts were held before standing room only crowds at the Quad City Arts Center in Rock Island on Friday and Black Hawk College in Moline on Saturday. Music at both Concerts began with Bill Bell and his trio performing Duke Ellington's "Cotton Tail," Horace Silver's "Strollin'" and his own composition "Charisma." Franz Jackson was then featured with his huge sound on tenor saxophone performing "Take the A Train" and "St Louis Blues."
After intermission at the Quad City Arts Center Shellie Moore Guy (photoed below with Franz Jackson) recited a poem she had composed for Franz which she had first recited for Franz at the 1997 Mississippi Valley Blues Festival at which time Franz was awarded the Key to the city by both the Rock Island and Davenport mayors and the president of the Mississippi Valley Blues Society presented Franz with the society's River Road Lifetime Achievement Award.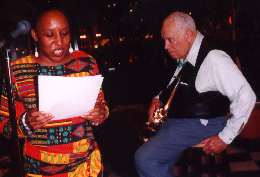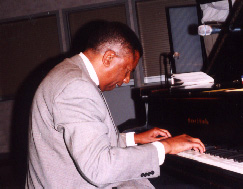 Music began after intermission with Bill Bell (photo at right) performing solo on his composition "Tribute to Fallen Comrade" which is included on Bell's latest CD, Just Swing Baby. Louis Allison was called to sing "Teach Me Tonight" and T. Bone Walker's "Stormy Monday Blues." Bassist Ron Wilson was next featured on Ellington's "Don't Get Around Much Any More." The two concerts closed with Franz's biggest crowd pleaser "Sunny Side of the Street" on both tenor sax and vocals and finally "C Jam Blues" with Bill Bell singing the lyrics to "Duke's Place."
Article and photos by Jimmie Jones
---
Back to

Contents Page
Jazz Now Interactive

Copyright Jazz Now, April 2002 issue, all rights reserved
jazzinfo@jazznow.com