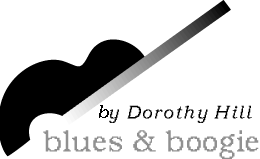 "Philadelphia" Jerry Ricks
At his recent appearance in San Francisco, Jerry Ricks performed a solo acoustic set which evolved into a blues history and life lesson. Ricks migrated to Europe and remained for almost two decades recording and performing. Prior to that, he honed his craft alongside such blues legends as Mississippi John Hurt, Lightnin' Hopkins and Brownie McGhee, to name a few. Ricks is now celebrating the release of his second American recording Many Miles of Blues. Ricks is a consummate artist whose performance embodied the blues as a living art form making the audience part of the show with his genial repertoire of stories.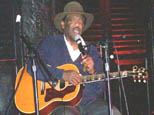 Ricks (photo at right) played acoustic guitar and with smooth vocals imparting a subtle message throughout. Chicago-style blues was represented in a sensitive rendering of "Sitting on Top of the World." a tune associated with Robert Jr. Lockwood. Ricks payed homage to Bessie Smith on the tune, "Down and Out."
This was an evening of great interplay with the audience and at one point, Ricks did a rhythm routine where he slapped his face and body to generate percussive sounds. Ricks proved to be one of the most charismatic performers recently seen in these parts and those of us who were lucky enough to be a part of it await his return with great anticipation.
Smokin' Joe Kubek and Bnois King

Smokin' Joe Kubek and Bnois King (photo at right) arrived at Biscuits & Blues in San Francisco after a long road trip from Yucca Valley in the desert at about show starting time and within half an hour, the drums and equipment were set up. The band was ready to go and they hit the stage performing like they had had a full nightís rest! Recently signed by Blind Pig Records, the group was celebrating the release of their first CD Roadhouse Research on the label which consists of all original tunes.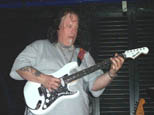 With his blazing blues/rock style Kubek (photo at left) is an awesome guitarist balanced by King's smooth Jazz guitar stylings and soul-tinged vocals. The first set consisted of tunes from the new CD starting off with an intense "Better Be Getting It On." King slowed the pace down on "Runniní Blind" with his emotional vocal styling. Kubeck's stoic demeanor belies his frenzied effects and technique on guitar while King is expressive and exuberant on stage even at one point playing the guitar with his teeth.
Although constantly touring, this was the group's first trip to San Francisco in about two years and it was great to once again see these incredible artists perform their craft.
Mae Jackson
Blues vocalist Mae Jackson (photo at left) recently appeared at the Sunday Blues & Jazz Club with her band in what turned out to be a jammin' session. Jackson's vocal style is rough and ready and this lady has some pipes! On "Kansas City," Jackson got in some spirited shouting. This was a solid blues show with fellow blues performers Willie G, Barbara Gainer, Beverly Watson and Lisa Carr (photo below) joining in on a medley starting with "Stormy Monday." Ms. Jackson will be performing at this year's Monterey Bay Blues Festival and if you are there, be sure to catch this talented lady.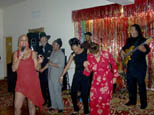 photos and article by Dorothy L. Hill, Blues Editor
---
Back to

Contents Page
Jazz Now Interactive

Copyright Jazz Now, April 2003 issue, all rights reserved
jazzinfo@jazznow.com