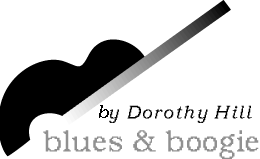 Chicago Blues Legends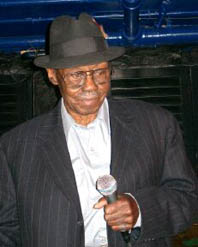 There are not many of them left, but three genuine Chicago legends recently appeared in a two-night stint at Biscuits & Blues. Willie "Big Eyes" Smith (photo below) and Pinetop Perkins (photo at left) worked in the band of the greatest of them all, Muddy Waters. One of the most highly acclaimed bassists in the blues world, Bob Stroger, is an alumnus of the Otis Rush Band and performed with Sunnyland Slim and Jimmy Rogers. These three bluesmen have quite a pedigree when it comes to traditional Chicago blues.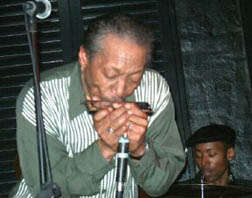 Although Smith is known for his shuffle-style drumming, he has recently embarked on a career focusing on vocals and featuring his formidable hamonica skills. He was proud to have his son, Kenny Smith, backing him up on these gigs on drums.
Bob Stroger opened up the show displaying a sweet vocal style on "Don't Lie To Me" and holding steady on bass. The evening was filled with traditional blues standards featuring Smith's astringent vocals and harmonica. Smith's approach to the music spanned the gamut of Chicago blues and his chromatic harmonica skill was impressive.
Although Pinetop Perkins was not on the first night's bill, he showed up with his arm in a cast as a result of a recent bout with a train. Everyone was astounded to hear about his adventure one night on his way to McDonald's to get a burger when he inexplicitly decided he could not wait for the train and decided to outrun it crossing around the bar. At 91 years of age, this man suffered only minor injuries! Even though he could not play piano, he sang several tunes including "Chicken Shack."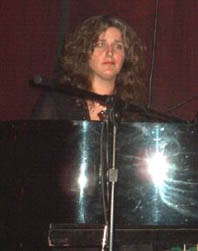 The second evening, Lisa Otley (photo at right) joined the band on piano. Perkins remarked that Otley plays just like him and she certainly demonstrated that on this evening playing with the heavy cats.
---
Johnny Rawls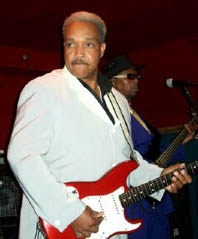 Southern soul vocalist and guitarist Johnny Rawls (photo at left) returned to the Bay Area to perform at Biscuits & Blues and the Sunday Blues & Jazz Club. Rawls is a hard working bluesman who showcases other musicians on his record label and constantly travels the world with his own band. He honed his skills with some legendary figures such as O. V. Wright and Z.Z. Hill on the chitlin circuit.
At the Sunday Blues & Jazz Club, Rawls was meeting a new audience of fans who enthusiastically embraced him. His longtime bassist, James Carter, assisted him on backup vocals at times, Harvey Westmoreland was on drums and Billy Dunn, a local keyboard player, joined the band on this occasion. The evening was a mix of Southern down home blues and soul with a little R&B thrown in. One of the highlights was his performance of a slow, soulful tune "It's All In The Game." Rawls is the master of the double entendre which he amply displayed on "Strokin' " and "Walkin' The Dog." Rawls knows how to connect with his listeners and on both evenings, they loved every minute of it!
---
Earl Thomas
In one of the best shows of the year, soul man Earl Thomas (photo at right) performed at the Boom Boom Room recently sustaining a mesmerizing intensity throughout the evening. Thomas is a songwriter of note, whose tunes have been covered by none other than Etta James and Solomon Burke among others. His style of merging rhythm and blues and gospel into the modern blues sound is uncanny. But, his presentation on stage and gritty, soulful vocal style is unusually effective as he dances and moves constantly exuding confidence.
Thomas hit the stage running and never looked back while delivering some fantastic songs from his new CD entitled "Soul' d!," which I promptly bought and have played non-stop since! The highlight of the evening was his soulful take on a gospel-influenced tune entitled "First And Last thing On My Mind." Thomas did it all on this evening, easily segueing from rhythm and blues to rockish blues to swamp blues---it was just an exhilarating performance!
---
Ladies Sing The Blues!
Yoshi's recently presented a hot show featuring Kim Nalley, Frankye Kelly and Denise Perrier. They have been playing to standing room audiences at various venues and if the show at Yoshi's is any indication, the quality of this dynamic trio performance demands that Broadway take a look at this showcase of talent. Each of the ladies held to a theme focusing on the music of Billie Holliday, Peggy Lee, Albert Collins and Bessie Smith among others. Tammy Hall accompanied the group on piano with sensitivity and great flair on solos which further enhanced the program---this lady has chops.
Kim Nalley, with her sultry delivery of blues, was striking. Frankye Kelly is a soulful vocalist with strong pipes which she displayed with humor and grace and her choice of material was eclectic. Denise Perrier was extraordinary with her Bessie Smith inspired style and attitude. If you did not catch these ladies the first time around, let's hope they keep this production alive. Their performance together on the last tune of the evening said it all--"Movin' On Up".
(Denise Perrier's CD can be purchased here from Jazz Now Direct)
---
Big Jack Johnson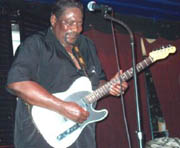 Straight out of Clarksdale, Mississippi, the incredible Big Jack Johnson (photo at left) is a sight to hear and see. At Biscuits & Blues, his two-night stand was filled with some of the most exciting guitar work seen in these parts in a long time. Johnson had an excellent supporting cast of June Core on drums, Randy Bermudez on bass, Frank Goldwasser (aka Paris Slim) on rhythm guitar and Steve Utstein on keyboards and Hammond B3. All these guys are some of the best in the business, but Johnson put them to the task.
A commanding figure on stage, with huge hands sliding over the guitar with incredible intensity, Johnson was enthralling. Johnson's soulful vocal styling on "Since I Met You Baby" was emphasized by his raw original guitar phrasing. Johnson displayed an imaginative way of slipping little riffs into tunes. Johnson delivered a mischievous segue on "Baby Please Don't Go" into "Goin' Around The Mountain." The capper to the evening's performance was when Johnson picked up the electric mandolin to perform on "Cherry Tree," with its somewhat suggestive lyrics---"every time I see her cherry pie, sure looks good to me."
Mojo Buford, harmonica player known for his work in the Muddy Waters band, put on a great performance the second night but as far as the audience was concerned, it was all about Big Jack!
by Dorothy L. Hill
---
Jazz Now Interactive April 2004 Vol 13 No. 11 - Table of Contents
contact: Jazz Now Interactive