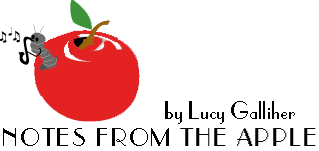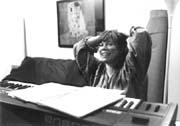 MARCH 2004:
"PARLOURJAZZ," IN BROOKLYN
Jim Morehand (interior designer) and Dave Polazzo (high school teacher) started ParlourJazz music in their home back in 2002, and it has taken off. It is wonderful that there is more demand for this kind of music venue in the city. Although they only have performances on alternate Saturday nights, ParlourJazz is going into their second year, and have a nice set-up with a grand piano in the living room, and a PA system. There are framed photos and posters from previous performances on the walls, as well as decorations of African sculptures.
There is a warm feeling without pretension, and a diverse audience, as well as an extensive musicians roster. The night I went, the Charles Carrington Quintet was playing. He's a pianist from Brooklyn who plays in a number of churches in the area, more often than in Jazz clubs. The other musicians in the band were: Jeff King, tenor sax; Richard "Rasheed" Howard, trumpet; Bob Anderson, bass, and Andrei Strobert on drums.
An unexpected surprise was when the trumpet player picked up two trumpets and played them simultaneously! There was high energy on their first number, which was a swinging minor blues written by the saxophonist. Strobert took an extended solo on the drums, staying inside the range of the piece without going too far out. They played standards as well as originals, including "Softly, As In a Morning Sunrise," "That's All" and "Moanin'."
On "Softly," Carrington took the music to another place, using chromatics and various rhythms to control the dynamics and the structure. Tenor and trumpet traded ideas at the end of the tune, which was followed by "That's All," a feature for King on tenor sax. This was where he showed what a beautiful tone he gets out of his axe.
Some of the people who have performed at ParlourJazz are: Victor Jones, Tessa Souter, Anthony Wonsey, and Harry Whitaker, among many others.
---
HARRY WHITAKER PROJECT AT THE BLUE NOTE.
The Harry Whitaker Project featured himself on piano, with Gary Bartz - alto and soprano sax, and Joe Magnarelli, trumpet. In the rhythm section were: Inbar Friedman on guitar Noriko Ueda on bass and Eric McPherson on drums. In addition were the special guests, Patmore Lewis - violin, and singers Marion Cowings, Susan Giles and Andy Bey (photo below).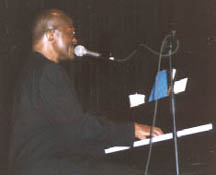 The house was surprisingly full at the Blue Note on a cold Monday night in February. Whitaker started out with a medley of standards, playing solo on the Bosendorfer grand piano. "I Didn't Know What Time it was," "Laura" and " 'Round Midnight" had clean transitions and clear harmonies. Whitaker played nice chords, tremolos and arpeggios, using all the elements of piano technique. He reharmonized Dizzy Gillespie's ending to Monk's " 'Round Midnight." I was already thinking that this pianist is a fabulous arranger, orchestrater, accompanist and soloist.
Harry's composition "The Children and the Warlock" was a feature for Gary Bartz (photo below) on alto. This was a modal tune interlaced with a series of descending chords (the Warlock?). Harry's solo had little bursts of energy, with flourishes (the Children?).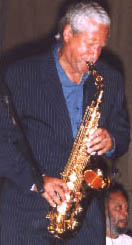 "Love Goes Out the Window" is another Harry Whitaker original, and featured lyrics by vocalist Susan Giles. The imaginative lyrics included the lines, "It's sunny today, 'lonely blues' wrapped in the memory of you." That's the first time it was performed, and you can be sure that Susan will be putting that on her own CD.
Basie's tune, "Shiny Stockings" was sung in a swing style by Susan Giles. This time the bass player, Ueda got a chance to solo. She's young, but has a lot of soul.
Marion Cowings was next to the stage. He wrote the lyrics to "Along Came Betty" and sang it in duet with Susan. He also sang the beautiful and haunting theme song to the TV show, "Naked City," and "Freddie the Freeloader," which gave all the musicians a chance to stretch out. The gorgeous solo by Gary Bartz made everyone forget where we were for a minute.
The encore had a special surprise guest, Andy Bey! He sang "A Night in Tunisia,î substituting Dizzyís trumpet solo with vocal scatting. With his fingers snapping, the swing was infectious. After some amazing solos by Bartz on alto and McPherson on drums, Cowings came up on stage to scat with Bey. It was a perfect evening!
---
INTERVIEW WITH HARRY WHITAKER
I had a chance to interview Harry Whitaker at Arturo's Restaurant, where he has been the house pianist for 10 years. I asked him about the gig at the Blue Note, and how he selected the personnel. He responded, "Well, Gary and I go way back and I asked him to do it with me. The other members of the band, I play with most of the time, they were: Eric McPherson on drums, Noriko on bass, and the guitar player Inbar (from Israel). On Friday and Saturday nights, Inbar (the guitarist) and I do a duo at One if By Land, Two if By Sea (a famous restaurant on Barrow Street in Greenwich Village). The trumpet player, Joe Magnarelli, is also a regular."
Harry said the following about his surprise guests: "Susan is a good friend of mine, and she does booking too. Marion is also a good friend, and he was a guest artist." Marion Cowings has worked with Harry a number of times. Harry said, "I always ask Marion to do "Freddie the Freeloader," because he remembers all these solos from the Miles Davis album, "Kind of Blue." It's kind of a spectacular thing. Marion wanted to do "Along Came Betty" (as a duet with Susan). She learned (the piece) within three or four days. Susan took it home - she's really quick." He informed me Andy Bey and the violinist were brought in by the producer, Jill Newman.
Harry Whitaker was born in Florida, grew up in Detriot, and worked as a "musician's musician" until he hooked up with the likes of Blood, Sweat and Tears, Roy Ayers ("Ubiquity") and Roberta Flack. He said, "I was Roberta Flack's musical director. "Feel Like Makin' Love" and all of that stuff was me. We were together for about 8 years. When she called me four years later, I didn't really want to go (to Japan). She told me that Miles Davis was the other band (going on tour). I said "Where's my ticket?" We had a parting of the ways; it was more about music than anything else. In the long run it doesn't matter. We're still friends: Whenever she's at the Blue Note, she asks me to come up and play.
"I like to do a variety of things, besides playing my own music. When I was growing up, it was Ella Fitzgerald & Sarah Vaughn, and you have a tap dancer, then a horn player and a big band. The people appreciate it.
"I'm really saving to go into the studio to do my next CD. I have a trio CD and something I did years ago, called "Black Renaissance." It was something I did in 1976 with Woody Shaw, Azar Lawrence, Buster Williams, Billy Hart and Mtume. I'm dealing with independent record labels, I'm not dealing with any big companies."
Harry Whitaker is getting ready to do some more of his original music. His band will be at the Zinc Bar (on Houston Street in the Village) on April 6th and 7th. I'm sure it will be a great performance!
---
LISA SOKOLOV AT JOE'S PUB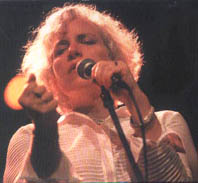 On another Monday, this time in March, I went to Joe's Pub to Lisa Sokolov's CD Release concert for Laughing Horse Records, entitled "Presence." I heard the same players who are on her CD. They are: Lisa Sokolov on vocals and keyboard; John DiMartino - piano; Mark Helias - bass and Gerry Hemingway, drums.
Joe's Pub is located at the Public Theater (Lafayette Street on Astor Place). I listened to the musicians and the vocalist play off of each other in such tunes as "Oh, What a Beautiful Morning," "Chain of Fools," "And When I Die," and the title cut, "Presence." The latter song is the most interesting and original piece, as it combines Jazz and popular techniques, while Lisa (photo at left) gets a chance to do poetry, scatting and expressive vocalizations.
Thanks for reading this month's Notes from the Apple. My recommendation is: go out and hear some live Jazz! And keep listening.
by Lucy Galliher
---
Jazz Now Interactive April 2004 Vol 13 No. 11 - Table of Contents
contact: Jazz Now Interactive