Scoops & Pix from the Southern Jazz & Blues Scene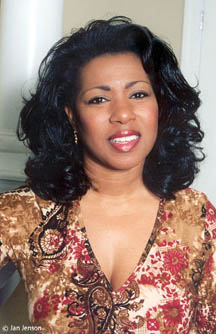 What a pleasant shock I had hearing Sibyl Lee-English for the first time in Feb. 2004 at the Wadsworth House in Charlotte, North Carolina!! With 10 years of national touring and off-broadway experience to her credit, Sibyl's lively presentation will make her upcoming one-woman tour for her new album, "Every Song is A Woman" a nation-wide hit!! Watch out Nora Roberts, Diana Krall and Diane Reeves ....! Sibyl's out of retirement and fast becoming an (inter)national treasure!
Sibyl's March 19 CD release party premiered her first song, "Lady in Waiting" on a single autographed CD. Chosen from her unique and self-written album, "Every Song is A Women" (due out in the Fall of 2004), this song and other old Jazz standards were performed for a select group of family, friends and local supporters. Sibyl has an engaging and unique way of getting the entire audience involved in her performance, so everyone enthusiastically applauded and cheered throughout the whole show, including the theater staff, who often dashed in so they wouldn't miss anything...!
Sibyl's performances are totally professional, consistently extra-high quality, upbeat and FUNNY, no matter how large or small the audience!
She is now in the studio recording her complete album "Every Song is A Woman," which will be released this fall, followed by a national tour to major cities throughout the U.S. Every song on the album was written by Sibyl and arranged and performed with local musicians.
by Jan Jenson
---
Jazz Now Interactive April 2004 Vol 13 No. 11 - Table of Contents
contact: Jazz Now Interactive