Singapore Encore
It was a welcoming "encore" for us. Singapore has a special place in our hearts since our visit there in 2001. When Albert Fong of Panache Communications, LLC invited us to "Singapore Encore," we were excited.
"Singapore Encore" was an event, organized and sponsored by the Singapore International Foundation, to showcase what Singapore has to offer to the world. Its "Friends of Singapore" program is a networking group to connect Singaporean with the people around the world and visa versa. These people include world leaders, academics, and journalists. It tries to build relationships through cultural exchanges, fellowship and visits. "Showcase Singapore," is a cultural networking program initiated by Singapore International Foundation, and "Singapore Encore" is its inaugural event which was held at the Mark Hopkins Hotel on top of Nob Hill in San Francisco on March 24, 2004. The program was repeated in Los Angeles on March 26, 2004.
We arrived early for an interview with the Director of the Singapore International Foundation, Gerald Yeo, and Goh Ching Lee, Director of Programs and International Development of the Singapore's National Arts Council, to get an insight into the event.
| | |
| --- | --- |
| Gerald Yeo, Director of the Friends of Singapore program, Singapore International Foundation | Goh Ching Lee, Director of Programs and International Developement of the Singapore National Arts Council |
Mr. Yeo told us that the event is used to promote Singapore, which is almost as diverse in her population as the San Francisco Bay Area. Therefore, the Foundation thinks that San Francisco is the perfect place for the event. Singapore is a financial hub, it is high-tech, and it is centrally located in Southeast Asia. This evening, the Foundation wants to showcase its culture and its cuisine, thus its creativity. It brought along the Huqin Quartet, which plays Chinese string instruments, and Jacintha, their most well-known and popular Jazz singer, showing that Singapore can embrace the traditional and the new, the east and the west.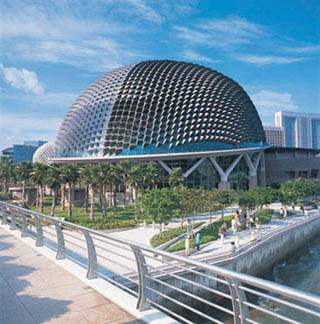 We were, of course, particularly interested in knowing if Singapore has any future plans in reproducing the Singapore Jazz Festival, or that Singapore intended to get into the Asian Jazz circuit. These questions were directed to Ms. Goh Ching Lee, director of the Singapore's National Art Council. She said that even though there is no definite plan as yet, they are thinking along that line. Since our last visit, Singapore has built the Esplanade (photo at right), an auditorium that can hold 2,500 people, and sits beautifully by the water. They sure would like another Jazz Festival in the Esplanade.
After a short mixer period with appetizers of Peking Duck on toast and grill salmon, the event started with the Consul-General of Singapore, Mr. Jai Sohan Singh, addressing the audience. He talked about the relationship between Singapore and the United States, and hope that this event and others like it will build our understanding and friendship even more.
The Huqin Quartet, consists of Chiang Kum Mun on gaohu, Ling Hock Siang on erhu, Cheng Chung Hsien on zhonghu and Poh Yee Luh on gehu. These are Chinese string instruments of different sizes. It is equivalent to a string quartet. The gaohu is like the first violin; the erhu the second violin; the zhonghu as the viola; and the gehu the cello. This is a group of fantastic musicians. The first piece they played, "Thunder Storm and Drought" written by Phoon Yew Tien, showed off their impeccable technique. Thunder was like thunder, rain was like rain. The scenery was described by the sounds of these instruments. When it came to "Birds Chat in the Silent Mountain" by Liu Tian Hua, the likeness of the birds' chirps was unmistakable. "Spring Blossoms" by Ho Chee Kong was expressive, and allowed some solo moments for each musician. Our world has become so small that our cultures mix together. I for one, of Chinese heritage, learned to play the piano, and obtained a degree in music, but I play western European music predominantly. I appreciate the fact that this group of gentlemen play the traditional tunes on traditional Chinese string instruments. They truly let us taste the Chinese culture, which is one of the many prevailing cultures in Singapore.
| | |
| --- | --- |
| Jacintha | Jacintha, her group and the Huqin Quartet |
Jacintha, Jazz vocalist, was accompanied by Iskandar Ismail on piano, Joshua Wan on electric bass, Teo Boon Chye on saxophone and Tan Boon Gee on drums. We were a little apprehensive since Teo Boon Chye was introduced as the Kenny G of Singapore. They opened the set with "Gone with the Wind," followed by "Something Cool," "Waters of March" by Jobim, all standard Jazz tunes. Jacintha, who has a sultry voice with clear diction, sang "Lush Life" by Billy Strayhorn expressively. "Penny's from Heaven" allowed the instrumentalists to trade fours. Thank goodness Teo Boon Chye didn't sound like the unimaginative Kenny G, neither was the whole group nor their selection of songs, and Iskandar Ismail was exciting on piano. I would like to have heard more from the instrumentalists. They were given four or eight or sixteen bars solos, but not a whole chorus so they could spread out. "Danny Boy" closed out the set with Jacintha singing the first section in a capella, and landed perfectly back with the instruments. That was nicely done.
The finale of the evening's performance had the Huqin Quartet joining Jacintha and her group, playing "Summertime" arranged by Bill Cunliff. What a mixture of sound! It was innovative and interesting. Came to find out from Jacintha that when Singapore Encore goes to Los Angeles, she will be doing a recording with Bill Cunliff. Well, the finale was a success.
In fact the evening was a success. After the performances, we were served with a buffet dinner of Singapore cuisine: seafood, Singapore noodles, and curried chicken, etc., flavors of the region.
We had a great time. We were even given a care package as we left, with material about Singapore and the Singapore International Foundation, two jars of Kaya (a spread made of eggs and coconut milk) and a box Singapore curry!
We hope to keep our readers informed of the development, if any, of a Singapore Jazz Festival. Hopefully, we can all be there when it happens.
by Stella Cheung Houston
---
Jazz Now Interactive April Vol 13 No. 11 - Table of Contents