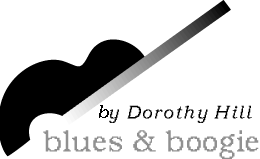 Soul-Jazz/Funk Legends
At the Boom Boom Room in late February, a group of top-notch musicians performed at what was billed as a legendary alliance. Mike Clark on drums and Paul Jackson on bass both served in Herbie Hancock's band in his funk years. Fred Wesley on trombone played with Count Basie and then moved into funk with James Brown and others; Mike Wolff on keyboards and Charles McNeal on saxophone have played with numerous Jazz luminaries.
The group finally hit the stage at 10:17 pm to a jam-packed audience. They got what they came for! Opening up with a funky Jazz-fusion piece, the redeeming feature was the incredible saxophonist McNeal who supplied color and intensity behind the vocals of Jackson. Fred Wesley's pungent trumbone solo complemented Wolff's high jinks on keyboards on a tune entitled "Everything You Want." The intensity heightened on "Funky Fingers" which consisted of the title repeated over and over by vocalist Jackson and the band maintaining the momentum with frenzied funky riffs. It was definitely an evening of funkadelic fun (no blues or boogie here).
---
Guy Davis
Despite the fact that his father, the incomparable Ossie Davis, had passed on only a short time before, Guy Davis demonstrated that the show must go on at Biscuits & Blues on March 2nd. Although he is the off-spring of two remarkable parents, Davis has made his own mark in the blues world as a member of the new generation of country blues artists.
Davis is one of the best, too. He is a charismatic figure on stage and the rose tucked into the top of his guitar was a refreshing touch. He occasionally prefaced tunes with a personal story. Opening up with the tune "Payday," Davis displayed an earthy vocal style. On "Step It Up And Go," his slide guitar styling was inventive along with humorous lyrics on this snappy tune. His version of "Highway 61" was highlighted by a delightful story about Pancake Annie. Davis said "let's try a song by America's favorite skinny white boy, Bob Dylan," and put the harmonica rack over his head for the tune "Sweetheart Like You." His instrumental on the slow melodic "Honeydew Melon Rag" was dedicated to the Harlem Hellfighters who fought in French uniforms. The tune "Shorten' Bread" was performed on the banjo and Davis related that his father bought him a banjo in 1960. Davis displayed the range of his versatility on harmonica with an interpretation of trains, a pig farm, chickens, and dogs on a chain gang.
The evening was filled with original material and covers of some of the great blues masters including Robert Johnson and Sleepy John Estes. Most poignant was the tune "If You Love Somebody, You Better Tell 'Em Right Now" which Davis performed on slide guitar with heartfelt lyrics in the encore demanded by the audience.
Guy Davis is one of the most entertaining traditional acoustic bluesmen on the scene and his performance on this evening was a culturally enriching experience.
---
Terry Hanck
It is always a good time when Terry Hanck (photo at left) hits the stage with his tenor saxophone as he did recently at Biscuits & Blues. His playing has an emotional wallop that is reminiscent of King Curtis. He was accompanied by June Core on drums, Jimmy Pugh on keyboards and Johnny Cat on guitar. This was an amazing assemblage of first-rate musicians.
Opening up on the tune "Have Mercy On Me," Hanck propelled the intensity with his raucous vocal styling and grinding tension on saxophone. On the Chuck Willis tune, "Whatcha' Gonna Do When Your Baby Leaves You," Hanck infused the tune with an R&B feel shouting out his rough vocals. A highlight of the evening was the cover of Eddie "Cleanhead" Vinson's "Kidney Stew." Pugh, renowned for his work in the Robert Cray Band, embraced the melody on keyboards with precision and Core's drumming was right in the pocket with Hanck's incomparable honking and moaning on saxophone. Hanck's cover of Louisiana legend Eddie Bo's tune "Where's My Baby" was an exhilarating excursion in house-rocking New Orleans funk.
On this evening Hanck spun out a repertoire of soul, blues and R&B paying tribute along the way to Jr. Walker and Freddie King. Hanck's vocal style is passionate and he possesses a really great voice along with a virtuosity on saxophone that is a joy to behold. This was definitely an evening to remember!
---
Chris Cotton at Café Du Nord
Chris Cotton (photo at right) celebrated his new CD I Watched The Devil Die recorded in Clarksdale, Mississippi) at Café Du Nord accompanied by slide guitarist Ian Lamson, bassist Randy Bermudes and drummer Justin Markovits.
Cotton opened up on a solo acoustic number "Was It low?" from the CD demonstrating a gravelly baritone vocal style and a country blues interpretation on guitar. Cotton's original tune "Black Night" was done in a rowdy foot-stomping mode with Lamsonís tasty slide guitar driving the beat. I love Cotton's tune "Morgan City, Mississippi" and his personal storytelling on this one was delightful. "Dying Crapshooter's Blues" featured a loping melody and Cotton's colorfully descriptive vocal rendering.
Chris Cotton is one of the outstanding performers who blend traditional blues into their personal experiences. He has led an eventful life despite his youth and his ability to portray those experiences in an original manner provided us with an interesting adventure.
---
Local Pub Crawl
On a recent Tuesday night, I decided to check out a couple of the smaller blues venues in San Francisco. First caught the Daniel Castro Band at Lou's Pier 47 on Fishermans Wharf. Since the tourists are not yet in town in droves, the scene was mellow and mostly consisted of local fans.
Castro was seated on a chair throughout the evening playing his guitar and singing. The supporting cast consisted of the wonderfully talented keyboardist, Mike Emerson, Steve Evans on bass and Randy Hayes on drums. Although Castro is better known for his scorching guitar technique, on this evening he leaned more heavily on blues standards. His long rendering of an instrumental which he referred to as "Bo Diddley's Groove" was full of inventive guitar styling and a brilliant improvision by Emerson on keyboards.
The Saloon was next on the list and this, the oldest bar in San Francisco, is still going strong, presenting blues seven nights a week. It is funky and friendly and dancing is encouraged. On this evening, Lisa Kindred was holding forth with a band which included Chris Burns on keyboards, Dennis Geyer on guitar, Willie Riser on bass and Dick McDonough on drums. This stellar group of musicians kept the place hopping and Lisa's earthy blues vocals were delightfully real.
Next time you feel the need for some outstanding downhome blues in an unpretentious setting one of these venues would be an excellent choice.
| | | |
| --- | --- | --- |
| Daniel Castro | Lisa Kindred | Chris Burns |
---
Patricia Wilder
Celebrating her new CD Sweet Love, guitarist/vocalist Patricia Wilder (photo at left) put on a dynamite show at Biscuits & Blues. She was accompanied by Tony Saunders (son of Meryl Saunders) on bass, David Rokeach on drums, Bill Hampton on rhythm guitar, Alex Murzyn on saxophone, Mike Emerson on keyboards and backup vocalists Lissa Patterson and Avaun Price.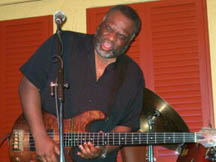 Wilder opened up the show with "Give Me Some Good Reason" from the CD demonstrating a soulful vocal style on this R&B tune. The evening consisted of a blend of funky R&B and bluesy tunes which concentrated on selections from the CD. Tony Saunders (photo at right) kept the groove going with an aggressive bass style and showmanship. This outstanding band created a fun atmosphere and Wilder's enthusiasm was infectious.
---
Sonny Rhodes
It is always a treat to have Sonny Rhodes return to town and his sold-out show at Biscuits & Blues was highly anticipated by his many fans. Hailing from Smithville, Texas, Rhodes is truly a legendary bluesman. On this occasion, he was assisted by David "Stix" Boyette on drums, Anthony Mitchell on bass and Randall Davis on rhythm guitar.
With Rhodes, you get gritty emotional vocals accompanied by inventive guitar styling and he did not disappoint. His rendering of the standard blues ballad "Since I Met You Baby" was soulfully delightful. On lap steel guitar, Rhodes demonstrated his breathtaking technique on the tune "Meet Me At The 10th Street Inn," with orgiastic contortions that sizzled. Rhodes cried and growled on lap steel on the tune "Standing On Shaky Ground." Drummer Stix enthralled the audience with a solo which featured a trip around the room playing out the melody on the table tops. This was an awesome evening by a master who encompasses every element of the blues tradition with a style of his own.
Photos and article by Dorothy L. Hill
---
Back to

Contents Page
Jazz Now Interactive

Copyright Jazz Now, April 2005 edition, all rights reserved
jazznow@sbcglobal.net