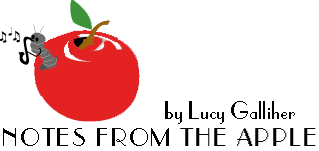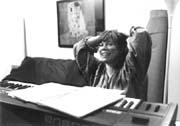 So many musicians travel in and out of New York City, that it has always been known as a "hub." This month I'd like to highlight some of the International Jazz musicians who have performed in March, 2005 in Manhattan.
"JAZZITALIANO," IN NEW YORK CITY
This event stretched for an entire week, with Italian Jazz musicians performing at five or six different Jazz clubs in New York. I went to Smoke one night to hear the band, Le Trombe del Re. The group consists of: Fabrizio Bosso-trumpet & flügelhorn, Flavio Boltro-trumpet, Gianluca Mannutza-piano, Luca Bulgarelli-bass, and Lorenzo Tucci-drums.
Flavio and Fabrizio started the set with a hip arrangement in harmony of an up-tempo minor blues. Right away one could sense the difference in style between the two trumpets. They are both ace virtuosos, Fabrizio was intense and bright, and as a contrast Flavio was mellower and softer, though no less talented. The band-members played together very well, and I especially liked the piano player's comping.
Gianluca, the pianist, started the next tune as a slow bossa-nova, though before long Fabrizio had it in a double-time feel. In most of the tunes, one trumpeter played the melody while the other one improvised underneath.
I recognized but one standard during the set - "There is No Greater Love." During this tune, they pulled out all the stops, using quotes, call and response, punctuations, fast runs, and other musical devices. I liked how the bass player kept walking while the drummer took a solo.
These guys are young, capable and have a lot of energy. It was exciting to see and hear these Italian musicians following in the footsteps of Jazz greats Dizzy Gillespie, Clifford Brown, Lee Morgan, and Freddie Hubbard, to name a few.
DAFNIS PIETRO BAND AT THE JAZZ GALLERY
A native of Santa Clara, Cuba, drummer Dafnis Pietro has played with such greats as Eddie Palmieri, Chico O'Farrill and Michel Camilo. A composer, he's created music extensively for dance projects, as well as instrumental music. His new CD, About the Monks was the focus of his performance at the Jazz Gallery. In the band were: himself on drums, Yosvany Terry on tenor and soprano sax, Hans Glawishnig on bass, and Venezuela-born pianist Luis Perdomo. Brian Lynch added extra excitement on trumpet.
The Jazz Gallery was filled up on this cold wintry night in the lower West Village. They have Jazz artwork displayed, and the Steinway piano used to belong to the owner of Bradley's Jazz Club (on University St.). The first tune had an interesting structure, and a lot of syncopation. Pietro has a sense of humor, and is not afraid to allow his band members to experiment with different sounds and rhythms. After each solo, the audience burst into applause. What a festive atmosphere!
SAXOPHONIST HAROLD OUSLEY
Originally from Chicago, Harold Ousley started working professionally in the late 1940s. In the 1950's, he played with such people as Joe Williams, Gene Ammons, Billie Holiday, Bud Powell, Clark Terry and Dinah Washington (where he appeared with her at the 1958 Newport Jazz Festival). Later, he appeared with Count Basie, Duke Ellington, and Lionel Hampton.
I met him recently, as we're playing together in a tribute to Dinah Washington. He has his own cable TV show, and continues to wow audiences with his love of Jazz and Blues.
This tenor titan has a lot to talk about. He's written an essay a few years ago entitled The Importance of Jazz in Our Daily Lives, and it contains some of the following:
"Jazz can be a benefit to our health, which gives Jazz a therapeutic value. It can help us feel better, when we are feeling bad inside, and need consolation or inspiration.
"Jazz was created in this country. Therefore, it's an important part of the American culture. Jazz today has become an international music, played in many places, by many races throughout the world. Which is as it should be, because the essence of the music has the potential in its quality that can nourish and fulfill our inner emotional, mental, and spiritual needs. Once a person allows themselves the opportunity to really listen to the various aspects of the music, they begin to understand and appreciate it. They will realize the music provides a satisfying and beneficial experience in their life.
"Jazz has a special historical importance. The music was created by Black artists out of the Black experience - the trials, tribulations, hopes, aspirations, and determination. The roots of the music go back into the African civilization. (This music has become) the foundation and trend-setter for the music industry in this country: Gospel, Blues, Dixieland, Ragtime, Boogie-Woogie, Swing, Bebop, Bossa-nova, Avant-garde, Soul-funk, Rock 'n Roll, Cross-over ballads, Pop, Top-40, etc.
"Jazz has a spiritual significance. Music is an important part of the very foundation of life. It is generally realized and accepted now that everything in life vibrates (has rhythm). We as people function to rhythm and sound. We walk and talk in rhythm, and our voice is our sound.
"This is why music can appeal, satisfy, and nourish each one of us. Jazz is an important part of music because it can also satisfy our inner needs. So, let's embrace the music and become embraced by the music."
Harold continued to expound on his ideas during a conversation I had with him. He said, "The spiritual importance of Jazz is from a lot of different levels, because we need music for everything we do. Health is (an example of) cooperation, a harmony. Ill-health is when things in the body are not cooperating. Everything in life depends on togetherness."
I asked if there were certain styles of music which don't fit that definition. He responded, "Music is that which people can be nourished by. If it destroys people, or puts them in a mood that's not conducive to health, then it really isn't music. It can be sound. Sound can reflect many things. Sound can also be used to destroy. Anger is a sound, but it's not music.
"When you find people function from that standpoint, they're trying to find things that can do that. Sometimes a musician might say, "This is what I do. Take it or leave it, like it or don't like it." But that's not coming from love, that's coming from self expression. The motivation has to come out of love. If it's coming out of love, the musicians want people to enjoy the music. Music is love, harmony and togetherness.
"So, what I do can be beneficial. I'm trying to enhance a performance, out of love and respect and support. But once it comes from a place of love, it's truly music. (Consequently, the musicians) benefit themselves, but also benefit the people they're with or playing for. Jazz brings people together, it's a blend. Duke Ellington's motto was "I Love You Madly."
As a member of Ellington's band at one time, Harold Ousley knows what he's talking about. See you next month for more Notes from the Apple.
by Lucy Galliher
---
Back to

Contents Page
Jazz Now Interactive

Copyright Jazz Now, April 2005 edition, all rights reserved
jazznow@sbcglobal.net