Way Down Upon the Truckee River: E.J.'s Jazz Café
At EJ's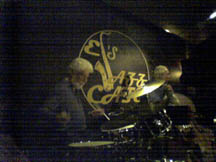 Think of Reno and you think of garish lights, slot machines, wedding chapels, and unsophisticated music. Jazz just never enters the picture until now. About a year ago, a new venue popped up on the scene: E.J.'s Jazz Café located in a renovated 1920s-era building (now known as the Riverside Artist Lofts) overlooking the Truckee River in downtown Reno.
The signs says Jazz and there are photos of Ella and Diz on the stylish walls and it sure looks promising, but, seeing as how the word is thrown down and danced upon these days, does that mean they really play Jazz here?
Yes, happily, they do full-bodied, tight, no-kidding, improvising Jazz with oak leaf cluster. No Dixieland, no smooth Jazz, no world music just Jazz in its finest incarnation.
| | |
| --- | --- |
| Ron Starr | Gerry Genuario, Chuck Di Laura and Ron Starr |
The Friday night quartet (Kevin Stuart on piano, Chuck Di Laura on bass, Gerry Genuario on drums, Ron Starr on tenor) won us over immediately with their intense interaction. Playing a cross-section of standards ranging from "Moanin" to "Polka Dots and Moonbeams", they held a conversation with themselves and with us.
On Saturday night there were over two hundred years of playing experience on the bandstand. The members of this larger but pianoless ensemble (Chuck Di Laura on bass again, Gerry Genuario on drums again, Gary Allen on guitar, Bob Barnes on tenor, Dale Hampton on trombone, and Dickie Mills on flugelhorn) have been playing on the Nevada circuit since the sixties. Again, the cohesion of this larger group is amazing, and their choice of material, "Killer Joe," "Stella by Starlight," and "Blue Monk" was perfect to show off their chops.
One more thing. E.J.'s is really a supper club featuring Cajun cuisine and a long zinc bar. In fact, the best way to get in to hear the music, seeing that there is no cover, is to make a dinner reservation, eat, and listen.
No place can truly call itself a city unless it also has the sophistication of Jazz. Looks like the biggest little city has arrived.
By Nina J. Hodgson
---
West Coast Favorite Makes Good on East Coast. Lemuel West's February 22, 2005, gig in Washington DC
Lemuel West, Bay area Jazz baritone, traveled to the East Coast in February to perform at Twins Jazz, one of Washington D.C.'s top Jazz clubs. The gig was very successful, despite frigid weather that kept some folks indoors. Backing West were young Mainstream pianist Caleb Mason and DC-area bass legend John Previti, a 2005 WAMMIE (Washington Area Music Association) nominee for best jazz instrumentalist of the year. This was West's second recent East Coast gig.
by Gary Bohl
---
Back to

Contents Page
Jazz Now Interactive

Copyright Jazz Now, April 2005 edition, all rights reserved
jazznow@sbcglobal.net