Jazz Auction Sets Precedent
by Kate Kaiser

On February 20, 2005, Guernsey's auctioneers made history by hosting it's first auction of Jazz-related memorabilia ever - in a guest performance at New York's posh Jazz at Lincoln Center facility. After the sale, in light of its apparent success, Guernsey's called the event "The Definitive Auction of Jazz". T.S. Monk (photo at right), Thelonious Monk's musician son, captured the spirit in his introductory remarks on auction day: "Jazz has flourished and grown and profoundly influenced those touched by it. We are at a point today where history and its perceived value join hands." Monk proceeded to say "we are all keepers of history in the 20th Century and that "this [auction] is a rare opportunity today to become wind in the sail."
Pre-auction Excitment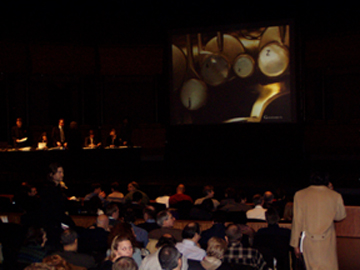 The beautifully produced 400 lot auction catalogue sold for 36 Dollars per copy - money well spent for those dedicated researchers among us who get satisfaction out of examining anything that sheds light on the private individual behind the public persona we adore. And there were documents galore: musician contracts and union cards, passports, original handwritten compositions, musical arrangements and private letters. These items were showcased along with musical instruments, stage wardrobe and photographs. For those without unlimited resources, the auction catalogue was the second best thing to actually buying a lot at auction as it captures each piece in minute detail with transcriptions, background stories and crisp images. (Note: there are still catalogues available at www.guernseys.com) World-renowned Jazz researchers, including Dan Morgenstern and Phil Schaap, were brought in as consultants during the cataloging process. But even professional research on a matter of cultural importance, would not be much of a public draw or incentive to open up wallets in a tight economy, weren't it for the Jazz icons featured in this sale: John Coltrane, Charlie Parker, Thelonious Monk, Louis Armstrong, Lionel Hampton, just to name a few. On this wintery day, the general public was presented with an "once-in-a-lifetime opportunity" to bid for a piece of Jazz history online (through eBay), on the phone, or in person. Even Guernsey's was at some level caught off guard by the extensive interest in this auction: due to a larger than expected number of registered bidders, the auction was moved from Fredrick P. Rose Hall to the larger Allen Room at the last moment.
The public previews were well attended, a steady flow of curious fans moved through the exhibit and mixed and mingled with surviving relatives of long-deceased stars of Jazz. I spotted T.S. Monk who graciously spoke with anyone who approached him, giving explaining some background to property of his father's estate. There were exciting discoveries to be made that went beyond even the thorough catalogue descriptions. For example, Preview Worker Holden Toplin pointed out that John Coltrane's "fair condition" upright piano - on which he composed tunes for his very first album - sported faded pen-marks on some of the keys. Comments like "out of tune" and "sticky" were still clearly visible. Another item that captured much attention was Thelonious Monk's

1932/33 Stuyvesant High School (NYC) notebook in which he revealed that his favorite magazine was Boy's Life. Monk was fifteen then and his penmanship remarkable. By all standards, he would have been impressed that this adolescent writings would be worth $70,800 at auction.
Altogether, over 460 lots were on the auction block. Another fifty consigned lots were added to the sale after the auction catalogue had been printed. These last minute additions were a reflection of the intense pre-auction press coverage and also a showing of trust from Jazz musicians' surviving relatives and friends that there IS a viable market for Jazz memorabilia. The added lots contained, amongst others, several drum sets from recently passed Elvin Jones, a pair of Bill "Bojangles" Robinson's tap shoes, an electric piano that belonged to Gil Evans, and several paintings by Miles Davis. While many of the items were consigned by relatives of musicians, and their estates, others were put up for sale by Jazz-focused non-profit foundations. One of them, The John Coltrane Foundation, entered a variety of John Coltrane items to raise funds to "further the Foundations mission" - which hopefully entails the support of talented, aspiring Jazz musicians.
Auction highlights included:
--A 32-page letter from Louis Armstrong (to Oscar Cohen) that brought $29,500.
--One of Charlie Parker's alto saxophones that sold for $261,750.
--Lionel Hampton's "King George" vibraphone, sold for $59,000.
--Gerry Mulligan's Conn Baritone Saxophone which realized $112,100.
But there were also plenty of more affordable items for the dedicated Jazz fan on a "regular budget." Alan Green from New York, for example, was successful bidder on three lots of John Coltrane manuscripts. Green drove home after the auction, in a blinding snowstorm, and was still on a natural high from the auction event upon arrival. "I stayed up until 5:AM, playing everything I bought and it is amazing," he said. "Prior to this auction, anything in Coltrane's hand, aside from a few signatures, was pretty much unavailable." The gentleman sitting to my right in the auction room kept a running tally of which bidder purchased the most and, according to his unverified calculations, the unidentified bidder with paddle #944 came in at around $200,000. There were, of course, several bidders buying on behalf of larger private collections and public museums and it may well be that some of the pieces sold through Guernsey's will soon be available for permanent public viewing in one or the other place dedicated to the preservation of Jazz.
| | |
| --- | --- |
| Examining Benny Goodman's Shoes | Thelonius Monk's Gold Smoking Jacket Fetched $5,605 |
As often in "unprecedented sales" - the auctioneer lingo for "we are in uncharted waters, not knowing what these items could be possibly worth," most lots did not have pre-auction estimates and neither were protected by the owners through so-called reserves. Only those accessing the sale through online auctioneer eBay saw what is called "generic reserves" for many of the lots, giving a broad arbitrary range of $1,000-$10,000. Having no estimates encourages bidding in the auction room and that is what happened in the auction room at Lincoln Center. The excitement of two bidders against each other, in person or on the phone, raising the price by increments of thousands of Dollars each time a bid was called, generated many "ohms" and "ahs" and even rounds of applause in the auction room. Items that did not sell on auction day carried large reserves - to protect the owner who may either be greedy and living in dreamland or not actually be willing to part with the perceived treasure of historic value in his or her possession. A Selmer Mark VI Tenor Saxophone owned by John Coltrane fell victim to a $500,000 reserve by its owner. The buyers attending were educated and discriminatory, wanting authentic property. In light of this justifiable purism, Wes Montgomery's completely rebuilt Gibson L-5C - partially destroyed in a fire and further damaged by furniture stripper - remained unsold as well.
Soul of a Musician
Closeup of a Letter from Benny Goodman to a Friend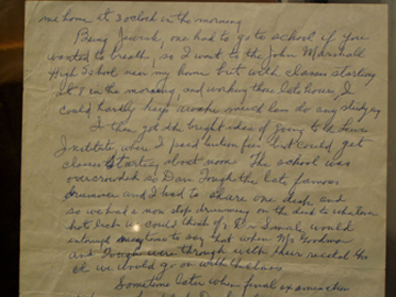 It is realistic to say that the Guernsey's auction of Jazz memorabilia was a glowing success. At the very least, it showed beyond any doubt, that there is a collector's category for Jazz memorabilia with growing interest in this field. The auction also established the baseline values for Jazz memorabilia - subsequent auctions will set their pre-auction estimates using the prices realized from this sale. And I am sure that some major museums and other institutions and private collections housing irreplaceable Jazz-related property will now carefully reassess their property and re-adjust their insurance coverage upward, way upward.
Wes Montgomery's Fully Restored Gibson L-5C Guitar Didn't Sell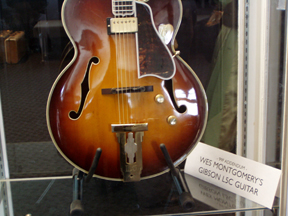 But there were also voices of concern. Tenor saxophonist Harry Allen (photo at left)was sorry to see these historically important items offered at auction, passing from private into private hands. Allen feels, and he is not the only one, that pieces like Stan Getz's tenor saxophone should be in a museum, accessible to the Jazz-loving public and preserved as a national treasure. Guernsey's owner, Arlan Ettinger showed a lot of sensitivity for this sentiment - unusual in the auction field by all standards. Ettinger noted, just before the first lot went on the block and audible to all bidders that every buyer would receive, along with his or her purchase, a letter from the Smithsonian Institution, advising on options for future donations of the piece to them -- to keep the legacy of Jazz alive and preserve its historic foundation for generations to come.
By Kate Kaiser
March 15, 2005
Editor: See the Christie's Auction of Bird's Memorabilia in the Volume 4, Number 8, December 1994/January 1995 edition of the print issue of Jazz Now.
---
Back to

Contents Page
Jazz Now Interactive

Copyright Jazz Now, April 2005 edition, all rights reserved
jazznow@sbcglobal.net