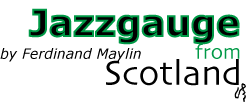 Jay Thomas and Wataru Hamasaki
Accidentally Yours
MCVCD 8270
Seattle native Jay Thomas hits the spot immediately with the opening track of this CD, "For a Change" written by his young Japanese sideman for this set, Wataru Hamasaki M.D., who prefers the tenor saxophone to medicine.
Jay plays mostly trumpet, with a track on flugelhorn and another on soprano sax. Both Wataru and Jay share a clean and beautiful sound. The classic combination of trumpet and tenor saxophone can be a sound made in heaven, and Jay's trumpet is melodic, warm, and inventive. "A Whole New You" features a blistering duo part between the pair. In support of the front line there is the first-rate Geoffrey Keezer Trio, with Geoffrey on piano, Matt Clohesy on bass, and Jon Wikan on drums.
All of the band get a go at writing a track. Bass player Matt Clohesy contributes "No Fun Intended," though there is something that sounds very much like fun as a free-for-all turns into a lively ending.
Drummer Jon Wikan offers "Tony's Town," and "Time out of Time" is another piece by Wataru Hamasaki sensitively executed by Wataru with a full and tender tone caressed by the piano of Geoffrey Keezer.
"Accidentally Yours" is by Geoffrey Keezer and "Kinnickinick" by Jay Thomas has Becca Duran singing wordlessly and adding another instrument to the front line. "Joy" is driven with technical dexterity at lightning speed, but always kept upbeat. To finish, "Please Don't Talk about Me When I'm Gone" is given the sentimental touch played by a muted trumpet and piano. A fine Jazz CD played by musicians who are always in touch.
---
Johnny Maddox
Dixieland Blues
CO 010
Johnny Maddox, piano; Matty Matlock, clarinet; Mannie Klein, trumpet; Moe Schneider, trombone; Nappy LaMare, banjo; Nick Fatool, drums; Red Callender, tuba; Bobby Hammack, piano
A snorter of a CD this one-fat, deep, uplifting in spirit, and driven with large swinging sound. Johnny Maddox has been around a long time, and a consummate artist of ragtime and Dixieland he most certainly is, but at no point does he hog the limelight of his lively fellow artists.
Twelve famous blues, with full historic back-up in the liner notes and on the CD-something that Johnny always seems to do-and great credit to him for bringing the past so clearly to the present and enriching us all. Nearly all the players are now dead, but what a lineup. The trombone of Moe Schneider is broad and fulsome, and his glissandos you could slide down. The driving trumpet of Mannie Klein is completely thrilling. Master tuba player Red Callender delightfully thickens the bass line, and ex Bob Cat arranger and player Matty Matlock wings it on clarinet.
Nappy (Hilton Napoleon) LaMare of Bob Crosby's band on banjo, Nick Fatool, splendid on drums and late of Benny Goodman and Artie Shaw. Indeed the CVs of these men are long and famous, and their names read from a list when all was good and beautiful (I'm talking music). Nostalgic, energetic, flawless-as close to perfect as this music can be.
---
Lazy Bird
Feelin' It
Mike Fein, alto and tenor saxophone, flute; Chris Finnegan, bass; James Gibb III, trumpet; Lim Lapidus, piano, organ, Rhodes, clavinet, synthesizer, and acoustic guitar; Rich Pierson, drums; Isai Acevedo, electric guitar; Isaac Gutwilik, percussion
Jim Lapidus has put together a personable CD with some solid performances from all band members. Thirteen tracks of which eight are his own doing. Starting with his own composition "Feelin' It," a nicely rounded piece, as is "Chill Out."
Mike Fein has a fine tone on saxophones, and trumpeter James Gibb III is very assured. "Red Tape" is enhanced by an excellent harmonic content and a fine laid-back feel with worthwhile solos from trumpet and saxophone. Through excellent pieces like "Red Tape" with it's Latin rhythm and "Saying Goodbye," Lapidus displays a solid arranging technique and a creative flare that is worth noticing. He has a liking for the Latin rhythm and plays a variety of instruments throughout the set. An enjoyable CD.
By Ferdinand Maylin
Back to

Contents Page
Jazz Now Interactive

Copyright Jazz Now, April 2006 edition, all rights reserved
jazznow@sbcglobal.net