The evening was billed as an "ExtravORGANza," part of the Pittsburgh Jazz Society's three-day Winterfest held each February and a tribute to veteran Jazz organist Gene Ludwig. With him at the Rhythm House Café that night were guest organists Tony Monaco from Columbus, Ohio, Mike LeDonne from New York City, guitarist Randy Johnston, also from New York City, and Pittsburgh drummer Tom Wendt.
Intermission began with Ludwig's induction into the PJS's Hall of Fame, a most worthy award for this master organist. The B3 cognoscenti have always known that Gene had the goods. After a forty-plus year career, and with the Jazz public's renewed interest in the Hammond organ sound, Gene is enjoying some long-overdue and much deserved props. In recent years, he has recorded a number of CDs, most recently his Live in Las Vegas, and just days before had returned from playing the Allen Room at the Lincoln Center on an engagement that featured the music of Stanley Turrentine.
Gene Ludwig. Photo by George Jones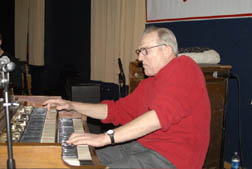 As a PJS Hall of Famer, Gene is in good company. The PJS Hall of Fame boasts some of the biggest names in Jazz-hometown heroes like Ray Brown, George Benson, Erroll Garner, Mary Lou Williams, Kenny Clarke, to name but a very few. Pittsburgh has produced an impressive roster of Jazz talent over the years, and Pittsburgh players are known the world over for their strong work ethic, grit, and taste, qualities Gene brings to the bandstand each and every time he plays.
At the break, the organists decided they would play two tunes apiece and close out the evening with a grand finale. There were two organs set up on the stage, a Hammond B3 and C3, both belonging to Gene.
LeDonne played his "One for Don," and Monaco played his "I Remember Jimmy" in recognition of Jazz organ legends Don Patterson and Jimmy Smith respectively. Guitarist Randy Johnston and drummer Tom Wendt kept the fire burning hot throughout. Gene once again demonstrated his awesome chops on a rousing blues that rocked the house.
The show ended in the tradition of all great organ jams, with both LeDonne and Ludwig at the each of the organs and Monaco acting as "agitator," walking back and forth between the organs, playing the higher registers, and generally whipping the crowd into a frenzy. All three organists evoked plenty of grit, sweat, and fire out of the "beast," in an exciting evening of Soul-Jazz.