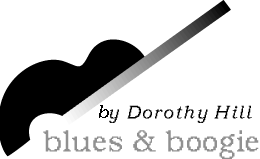 Blue Eyed Devils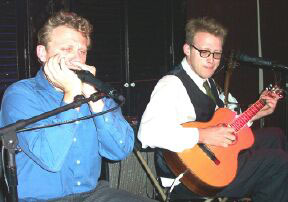 This quartet appeared at Biscuits & Blues in San Francisco with their country-styled blues to an appreciative sold-out audience. The members of the band are Chris Cotton on acoustic guitar and vocals, Brett Klynn on upright and electric bass, Justin Markovits on drums and Brendan Wheatley on harmonica and vocals.
They first covered Sonny Boy Williamson and Big Bill Broonzy tunes. Their original composition, "Lone Mountain," was punctuated by intriguing incessant drum beats accompanying the innovative guitar styling of Cotton and growling vocals. The fast tempo of "Trouble" got the dancers on the floor.
These young men did a great job of blending the traditional country blues with the bass and drums interpreting a more contemporary approach. This is a group to watch for in the future. Their musical integrity is intact and with the right exposure, they will go places. They have been booked for this year's San Francisco Blues Festival and looks like they are on their way!
---
Finis Tasby
Finis Tasby is one of the few blues acts still being booked at the Boom Boom Room and on his visit in April 2003, he was in top form having just returned from a tour in Italy. His band consisted of Jan Garfinkle on keyboards, Stanley Butler on bass, Angelo Rossi on guitar and Sly Hearn on drums.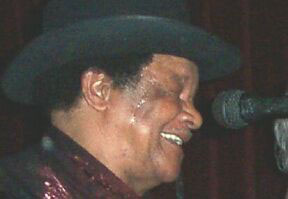 The band warmed up the crowd with Butler on vocals on several tunes. Butler had a strong vocal style on "C. C. Rider." Butler is an exuberant bassist who has been accompanying Tasby on his recent visits to the Bay Area and is a great addition to the band. Rossi's slide guitar work was outstanding. Jan Garfinkle (photo below) who also manages the band is a talented player who gets down and dirty on the keys as he did this night especially on the tune "Boogie Children."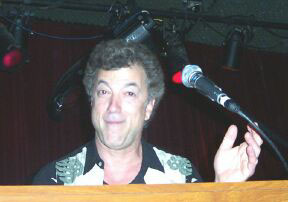 Tasby spent most of his life playing bass behind all the greats including John Lee Hooker and his sense of timing and phrasing is undoubtedly a result of those experiences. This evening that style was well represented on "Kansas City." He performed "Little Red Rooster" which is always a crowd-pleaser. Finis Tasby is a talent not to be missed and one of those unsung heroes of the blues.
---
Sugar Pie DeSanto
The Sunday Blues & Jazz Club presented the dynamic Sugar Pie DeSanto and The Sugar Cubes in a rousing show of raunchy good fun. Sugar Pie was just as dynamic as ever at 69 years old and just recently recovered from a broken collarbone. The Sugar Cubes included some of the Bay Area's best blues performers--Carlos Zialcita on harmonica, Larry James on bass, Sugar G Robinson on keyboards and Steve Gannon on guitar.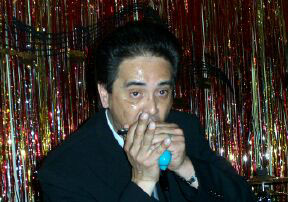 Zialcita (photo above) performed "Baby, Scratch My Back" on harmonica and vocals and Larry James did "Pride and Joy." When Sugar Pie hit the stage, the energy level really pumped up. She exhibits raw sex appeal packed into a tiny frame who kicks off her shoes and gets down. At one point, Sugar Pie grabbed a male from the audience and winding her legs around his waist proceeded to wow the crowd with her aerobatics. On this occasion, Sugar Pie boogied and sang her heart out and there is no one better at belting out those good old bluesy R&B sounds.
by Dorothy L. Hill
---
Back to

Contents Page
Jazz Now Interactive

Copyright Jazz Now, May 2003 issue, all rights reserved
jazzinfo@jazznow.com