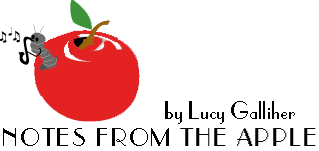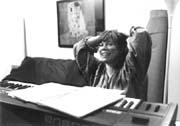 Roy Haynes Quartet at the Blue Note
Roy Haynes turned 78 years old this March of 2003, and celebrated his birthday with a weeklong engagement at the Blue Note. The band consisted of himself on drums, Joshua Redman on tenor and soprano sax, Dave Kikoski on piano and Scott Colley on bass.
Roy came onstage and hit a large Chinese gong, calming down the excited audience with the peaceful reverberations. He was in good spirits and completely at ease, jive talking with the people and generally exuding good feelings. They started the set off with "Blues on the Corner," and Joshua took the first solo on tenor. Everything was smooth and easy, gliding along in a groove. Gradually, this simple blues became more complicated, with Roy throwing in all kinds of rhythmic responses on the drums, and Joshua stretching out, using the entire range of his sax.
Roy's depth of experience was apparent by the way he came way down in volume on the drumset, as soon as the pianist started his solo. Kikoski's approach to the piano was breathtaking, showing the strength of his chops and knowledge of theory. Dave has played with Haynes for more than 15 years, and they have a great deal of musical rapport. Joshua was sitting off to the side of the stage, digging the music and smiling at Roy.
Colley has a light touch on the bass, dancing with it. Haynes smiled and said, "Right on, go ahead" when Scott hit double-stops. After a comfortable length of time for the bass solo, Roy led the band in expertly to a new section of the piece, using his drums almost like sentences. The tenor and piano began trading fours, playing way outside the normal range of a blues. It was unbelievable!
"Blues on the Corner" was followed by a straight 8th-note tune that had almost a folk-rock feel. Everyone stayed closer to the melody and chord changes here, although with so much collective experience they each added something. For example, Roy used some incredible syncopation at one point, and Joshua played 16th-note triplets followed by repeated notes. During the bass solo, Haynes kept the groove going with some tasty background rhythms.
"Easy Living" was next, a featured tune on Roy Haynes' 2002 CD, When it Haynes it Roars (on Dreyfus Records). This number gave Roy a chance to show off his brushwork, giving me the feeling that all the rhythms were coexisting and complimenting each other. Josh Redman's solo was all emotion, and when the audience had appreciated that, the pianist segued into a beautiful rendition of "Never Let Me Go."
"Uno Mas" started cooking with Roy playing mallets on a loosened snare drum. He then added the bass drum, and tom-toms for flavor. To top it off, he scat-sang a fast bebop lick, and the band repeated it note for note.
Joshua picked up the soprano sax on "All Blues." While he was soloing with great gusto, Dave comped behind him with an intuitive thoughtfulness. Roy held down the beat on the drums, as solid as a rock. Joshua played the soprano completely in tune, taking it beyond the norm with fantastic phrasing and accents. During the ending vamp, Roy had the band and audience follow him, by hitting random loud accents.
The audience went nuts, and so they had to play several encores, including "If I Should Lose You," "Star Eyes" and "Anniversary Waltz." "Anniversary" is also featured on the recent album, and this has become a theme song. Roy got the audience to participate and let go of their inhibitions, by singing along with him. In all, hearing the Roy Haynes Quartet was a delightful way to spend an evening.
by Lucy Galliher
---
Back to

Contents Page
Jazz Now Interactive

Copyright Jazz Now, May 2003 issue, all rights reserved
jazzinfo@jazznow.com