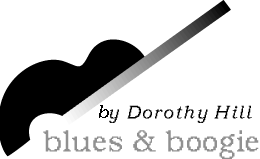 Chick Willis
"Stoop Down Baby" Chick Willis was backed up by the Bay Area Blues Society Caravan of Allstars at a recent show at Biscuits & Blues. The Caravan of Allstars featured Ronnie Stewart (right in photo with Chick Willis) on rhythm guitar and Wylie Trass on vocals to open the set with a tasty offering of Oakland blues. Willis then went way back in the alley with his engaging stage presence and electrifying guitar playing. He knows how to play the audience with his crowd walking and downhome charisma. Willis and Stewart were especially effective playing off each other with their dueling guitars.
Willis covered standards "Tin Pan Alley" and "Hoochie Coochie Man" and his soulful vocals soared over his sizzling guitar. Of course, his raunchy rendering of his hit "Stoop Down Baby" was the highlight of the evening. Willis puts on a great show and is still at the top of his form.
---
Big Bones and Earl Thomas
It was a double treat to have Big Bones do the opening show for Earl Thomas at the Boom Boom Room. Big Bones is a harmonica player of uncommon sensitivity and style. His funky gruff rap-blues vocal style was compelling whether he was covering standards or his own compositions which featured more urban ghetto-influenced lyrics.
| | |
| --- | --- |
| Big Bone | Earl Thomas |
The featured act of the evening, Earl Thomas, is one of the best soul singers I have heard in a long time and his show on this occasion was another demonstration that this young man has great stage magnetism and a polished voice. His compelling delivery and supreme vocal control were in evidence this evening where he covered more standards than on his previous visit. When Big Bones joined the band to jam, the audience got a real treat which lasted well past closing time to the delight of the still attentive audience ending with a call and response by Thomas on "Bo Diddley."
---
Joyce Lawson
Los Angeles Diva Queen Joyce Lawson (photo at left) kicked off a great evening of fun at the Sunday Blues & Jazz Club to celebrate an Aries birthday party. Lawson is an original stylist who makes every song her own, investing it with a powerful soul rendering. Her intimate relationship with the audience was much on display at this venue and the audience loved every minute of it!
Lawson belted it out on "I Can Do Bad By Myself" and her medley of tunes including "Steal Away" segueing into "Send Me Someone To Love" then into "Bring It On Home To Me," demonstrated her versatility and deep soul style. A highlight of the evening was a "Happy Birthday" medley leading the audience to join in. Lawson accompanied herself on keyboards at the end of the evening proving that her vocal prowess is not her only talent. If you plan to be at the Monterey Bay Blues Festival, this is an act not to miss.
---
Al Von Johnson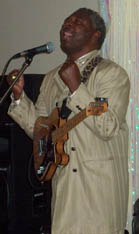 Al Von Johnson (photo at right) and his All Stars graced the stage at the Rhythm & Blues Club with a show that was a winner and just a warm-up to what we can expect when he opens up the Monterey Bay Blues Festival on Friday night on the main stage. Al Von is undoubtedly one of the most riveting performers alive. On this occasion, Alvin Sykes took over the vocals for a good part of the evening with Al Von doing background and sizzling on guitar. Sykes has a distinctive vocal style and his high falsetto is amazing. Although he is better known as a drummer/vocalist, Sykes has recently stepped away from the drums into the spotlight and on this evening proved that he can take the heat and wow the audience with his intense vocals. His vocal rendition of "Misty" was superb! Al Von then took over the vocals with his usual humorous delivery of R&B and blues standards and red-hot guitar. Another good evening of solid music in a fun-filled package---that's what we got with this dynamite group.
---
Ron Thompson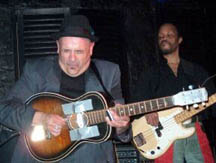 Ron Thompson (photo at left with Leonard Gill) is not a household name but in blues circles he is known for his work with many legends including John Lee Hooker. At Biscuits & Blues, the show consisted of Thompson on guitar, vocals, keyboards and harmonica rack, Leonard Gill on bass and Larry Vann on drums.
Thompson is a musical virtuoso whose energy appears boundless and on this evening he built the energy to high octane while delivering passionate guitar licks that enthralled the audience. Thompson eschewed the microphone for many of the tunes and his vocal style was soulful and wonderfully melodic on slow tunes, especially on the tune "Fever." Thompson's interpretation of "Red Top" was splendid with some scatting vocalese thrown in. His boogie instrumental medley incorporating the John Lee Hooker tune, "Boogie Chillen" had everyone dancing in their chairs. Thompson's method of putting down layer after layer of intense guitar sounds cascaded throughout the club. Leonard Gill is one of the best blues bassists on the scene and his accompaniment was flawless. Larry Vann's satisfying solos on drums and vocals were Jazz-influenced. This was a unique showcase of musicianship.
---
Eli's Mile High Club
It was good while it lasted but unfortunately a lack of support combined with a series of unfortunate circumstances is forcing Eli's to close its doors as a blues club. But before they close the doors on May 20th with a big party, the club is presenting a few rare performances.
Coco Montoya was featured at a recent show with his contemporary blues-rock guitar style and passionate vocals. Joining him was Benny Yee who is a ferocious keyboard player and the best thing about this band. Steve Evans was rock steady on bass. They opened the show with "Talkin' Woman Blues" with Montoya's aggressive and soulful vocals and an intense solo by Yee on keyboards. Montoya's rendering of the Albert Collins tune, "Get Your Business Straight," was a highlight since Collins was his mentor during the time he was a drummer with Collins. Montoya and the band gave us a good blues-rocking ride this evening.
Joe Louis Walker has been a mainstay at Eli's since its opening last June and in his last show at this historic spot he opened the show with some poignant remarks about the loss of the club. Walker opened with a great T-Bone shuffle tune, moving on to "Who's Loving You Tonight" with his high-pitched bluesy vocals. He performed his tribute tune to Eli's, "Mile High Club." Walker's well-honed guitar skills and a personable attitude were on display this evening and it was one of those events to savor.
James Cotton, "Mr. Super Harp," expressed his delight at being able to perform at Eli's for the last time to his legion of fans who came out to see this master at work. He arrived at the club early and spent the evening talking with everyone, signing autographs and just having a good time. This Chicago legend was backed up by a local band fronted by Jon Lawton on guitar and vocals who did an outstanding job---Cotton continually smiled and nodded his approval. Cotton's hard-driving robust harmonica performance was thrilling---he is still the greatest with punctuated riffs all the while rolling his eyes and stomping his feet. He cut the evening short when his old cohort, the legendary drummer Francis Clay walked in the door. Even though the second set was short, Cotton quenched our blues quest.
| | |
| --- | --- |
| Coco Montoya | Joe Louie Walker |
---
Carlos Guitarlos
Carlos Guitarlos along with his songwriter partner, Marcy Levy, performed at Biscuits & Blues opening with a tune penned by Levy, "Save A Dance For Me Before I Die," which had a rockish-folk style. This merging of two unusually gifted songwriters has resulted in a collaboration which is evident in their live performances. Levy's vocals and guitar style are solid and Guitarlos drives the vocals with relentless guitar---he kept the sound on high all night. Before beginning each tune, Guitarlos gave a little run-through to the new drummer, Asmus, and then pronounced "rehearsal's over."
The evening included covers of blues standards as well as some of their newly penned tunes. "Dust My Broom" featured Levy on harmonica and Guitarlos on slide guitar. They rocked with their version of "Shake Rattle and Roll." Guitarlos made use of his admiration of Robert Johnson performing "Ramblin' On My Mind" with sensitive vocal and guitar work. Guitarlos performed his composition of "Straight From The Heart" which is the title of his latest CD in a soulful expressive manner. He then invited a young (five years old) fan and friend by the name of Elizabeth to sing back-up on his composition, "Ain't That Lovin' You." Bill, the bass player, touchingly leaned down and sang with her. The evening was capped off by a medley of rousing furious guitar work by Guitarlos who flaunts his genius with a folksy stage presence. There is no other more eccentric bluesman around who has lived the life and lived to write about it!
by Dorothy L. Hill
---

Jazz Now Interactive May 2004 Vol 14 No. 1 - Table of Contents