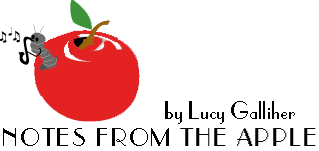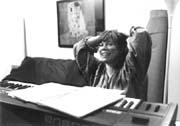 April 2004 Kurt Elling at Birdland
Vocalist extraordinaire Kurt Elling (photo by Jimmie Jones) appeared at New York City's famous Birdland one night in April 2004. The band consisted of: Laurence Hobgood (photo by Jimmie Jones) on piano, Rob Amster on bass and Frank Parker on drums.
| | |
| --- | --- |
| Kurt Elling | Laurence Hobgood |
To start the set, Hobgood played "Blue in Green" very quietly on solo piano. He is thoughtful and deliberate in his playing, and has a well-developed harmonic sense. He smoothly switched to background comping when the bass player came in with an expressive melody. After the head, once again the pianist switched moods, this time with double-time feel on his solo. Parker, the drummer provided colors to enhance the solo. Towards the end, Hobgood played thick two-handed chords influenced by the composer and pianist, Bill Evans.
Kurt Elling came out smiling, and singing, "Over and Over Again," with a joyful and passionate attitute. It was good to hear "My Foolish Heart," which is one of his signature songs on the Kurt Elling CD, This Time It's Love. The verse starts out with the words, "The stage is set for dreaming," and when it kicked into swing, everyone in the band and the audience relaxed. Elling has great gestures and microphone technique, in addition to his magnificent voice. In the middle of the piece, there was an improvisation - a poem over a Bb pedal. Then, there was a crescendo as the pianist and bassist built up different chords underneath the vocals- magnificent! What creativity.
The beautiful ballad, "You Don't Know What Love Is" was interpreted on this occasion as a bossa-nova. During the singing, the pianist was very sparse in his background playing, listening and responding to the other band members. After a bass solo, Kurt came in using the falsetto part of his voice, merging smoothly with the rest of his range. He stretched out on a tag, repeating the words, "what love is" repeatedly and scatting.
"Never My Love" is featured on Kurts's newest CD, Man in the Air. This was originally done as a pop tune, but is rearranged to fit the Jazz genre. Kurt Elling also wrote the lyrics to Wayne Shorter's solo on Joe Zawinul's tune "A Remark You Made"- he calls it "Time to Say Goodbye."
My favorite part of the evening was when Kurt sang a vocalese rendition (in the style of Eddie Jefferson) of John Coltrane's "A Love Supreme"- Ba beeeee, bop be doo ba dop, sha weeee. In a show of political fervency, Elling announced the names of people who are currently bringing peace to the world. Frank Parker played a great drum solo, letting out all his feelings with a huge range of dynamics.
I thoroughly enjoyed my visit to Birdland. The wait staff is efficient, the ambience is relaxed, and there's room for everyone in this large club on 44th Street. Birdland has been through a lot of changes, and this is its third location, but it remains a mainstay of modern Jazz history. From the regular bands on Monday and Tuesday nights (Chico and Arturo O'Farrill, and the Duke Ellington Orchestra, respectively), to the headliners on weekends, there's always something happening.
by Lucy Galliher
---

Jazz Now Interactive May 2004 Vol 14 No. 1 - Table of Contents
Contact: jazznow@sbcglobal.net