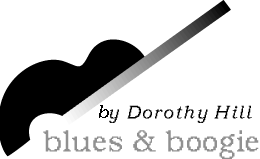 Sacramento Heritage Festival
The last show of the season at the Horsemen's Club in Sacramento featured "The Father, The Son & The Blues" with Lucky Peterson and his father, James. Also on the bill was "blue-eyed soul singer" Curtis Salgado, who hails from Portland and played a mean harmonica in a rock-infused set. A surprise addition was Joe Louis Walker, just returned from France where he is now living. Walker's powerful high-energy blues guitar and passionate vocals were distinctively on display. He was soon joined by Lucky Peterson on guitar resulting in an incendiary showdown. The Peterson show was a real treat. Father James is known for his wild on-stage antics that have obviously influenced Lucky's showmanship style and on this occasion, James was fashionably attired in a bright red leather suit. With father and son trading solos, this was a blowout performance of blues covers with Lucky playing organ and James on vocals and gritty guitar.
| | |
| --- | --- |
| Lucky and James Peterson | Joe Louis Walker |
This was another great day of electrifying music and good vibes all around. The shows will resume in the fall when the weather is more amenable to the indoor non-air conditioned room and outdoor seating. This is one of the best venues for musical events and the appreciative audiences and dedicated volunteers are what make it so special. Hurry back!
---
Mike Wheeler
Southside Chicago blues was well represented at a recent Biscuit & Blues show with vocalist/guitarist Mike Wheeler backed up by a local band led by vocalist/guitarist J.C. Smith and featuring Jake Sampson on bass.
Smith and his aggregation warmed up the crowd with several rockish blues tunes and then Wheeler hit the stage with a genuine Chicago style blues set. Wheeler's guitar style has a heavy punch and his vocal delivery was crisp and clean, which was especially effective when performing several of his compositions including "I'm A Lucky Man" dedicated to his wife. He covered "Killing Floor" with distinction and paid homage with a repertoire that included tributes to Jimmy Rogers, Bobby "Blue" Bland and Buddy Guy. His vocal rendering of the B. B. King tune, "The Thrill is Gone" was appealing with an exquisite guitar interpretation.
This evening proved that the blues is in good hands with Mike Wheeler, a young man who is sticking to the roots with his own distinctive style.
| | |
| --- | --- |
| Mike Wheeler | J. C. Smith |
---
Corey Harris
Corey Harris (photo at left) was prominently featured in the Martin Scorsese blues series broadcast by PBS chronicling his collaboration with Malian master, Ali Farka Toure, known as the king of African blues. Harris has been in the forefront of fusing those sounds with the essence of the Delta.

This kind of performance begs for intimacy and Biscuits & Blues was the perfect setting. Opening up with a Delta blues tune, Harris exhibited a strong baritone vocal style and inventive acoustic rendering on guitar. His version of an African-inspired tune was haunting with soulful voicing. His delivery on a Howlin' Wolf inspired tune was done with a percussive guitar style and wailing, moaning vocals. On the Blind Lemon Jefferson tune "Jack O' Diamonds," a simple strumming on guitar accompanied his raw vocals in this lament about playing cards. His vocal approach to the blues ballad "Just A Dream" was soulful accompanied by an inventive guitar expression. On "Mama Africa," Harris sang with an utter conviction that was stunning.

Harris crossed the boundaries and infused this show with world music, reggae and blues in his own unique style. He displayed majesty on stage and a diversity of vocal voicing that revealed an old soul. Corey Harris definitely forged a fresh perspective into the celebration of the music on this evening.
---
California Malibus
The Sunday Blues & Jazz Club presented an evening of Motown soul with the California Malibus consisting of the Tarkington family, namely Ronnie, Keith, and Richard Tarkington and Don Carter. They were backed by the Layce Baker Black Diamond Blues Band with guest guitarist, Gabriel Lamberth, who was amazingly proficient for a twelve-year-old. The band warmed up the crowd with a medley of funk and soul goodies.
The California Malibus launched into "Everyday People" and the charisma flowed from this group nattily attired in white suits. They explored the Bobby Rush raunchy tune, "You You You" ("you got what I need") with abandon. On "Just My Imagination" the group displayed stylish phrasing and sophisticated coolness. Covering the Temptations tune, "You're My Everything," Richard's soprano vocals were exquisite.
The California Malibus covered blues and soul with equal aplomb and were harmonically adventurous. The audience was enthralled by the dramatic flair and groovy momentum displayed by this dynamic ensemble.
---
Rich Kirch's 50th Birthday Celebration
Guitarist Rich Kirch commented that he was always the youngest guy in the band and on his 50th he said he is still the youngest! Kirch was the white guy with the long hair on stage with John Lee Hooker from 1988 until Hooker's death. So, I picked up my old blues buddy, Francis Clay renowned Chicago drummer, to head out to 19 Broadway in Fairfax to celebrate with Kirch and his musician pals. Kirch was ebullient in greeting his many friends and showing off his vintage Thunderbird parked in front of the club which Hooker gifted him many years ago.
The first set was devoted to rock blues with Kirch sitting in on rhythm guitar with the house band and then after intermission, Kirch and special guests took over to deliver some delightful surprises opening up with a rousing rendition of "Hideaway." Freddie Roulette, virtuoso lap steel guitarist, joined the group and mesmerized the audience on an Hawaiian-inspired solo of intense moaning and screeching brilliance. The band jammed on the Rufus Thomas tune "Walkin' the Dog," and the old crowd-pleaser, "Mustang Sally." Freddie Hughes, soul vocalist extraordinaire, was a highlight of the evening. Hughes delivered an infectious take on "Don't Let The Green Grass Fool You" with exquisite vocal dexterity while his "Heartbreak (It's Hurtin' Me)" was an upbeat dazzler. On the Sam Cooke tune, "Change Is Gonna Come," Hughes demonstrated an incredible falsetto vocal range and soulful sensibility on this lyrical expression of hopefulness. Craig Horton, Chicago-style guitarist and vocalist, closed out the evening in style with a bang-up performance of great blues, including a beautiful rendition of the slow ballad "Sweet Little Angel." Kirch obviously enjoyed his birthday by doing what he loves best, playing with his friends all night long!
| | |
| --- | --- |
| Freddie Hughes | Rich Kirch and Freddie Roulette |
---
Roy Gaines
Roy Gaines

Duke Jethro

Bernard Anderson


Bluesman Roy Gaines was joined at Biscuits & Blues by Hammond B-3 master Duke Jethro, Bernard Anderson on tenor saxophone and Robi Bean on drums. On this evening, vocalist/guitarist Gaines returned to an earlier phase of his career, "Rock-A-Billy," which is the title of his newest CD featuring jump-blues boogie woogie. Gaines set the mood with a tasty romp on "Loud Mouth Lucy." Jethro's organ improvisation on "Isabella" was filled with rhythmic complexity along with Anderson's well-crafted saxophone support behind Gaines' riff dominated vocals. When Gaines got into the blues, his Texas influenced guitar sizzled with spellbinding intensity, especially on the tune "Lula Mae." It was a rare treat to see Gaines stretching out his repertoire backed by this group of stellar musicians.
---
Phillip Walker
| | |
| --- | --- |
| | One of my favorite bands made another visit to Biscuits & Blues and was greeted by a full and enthusiastic house. Phillip Walker and his band is a tight collaboration consisting of Aaron Tucker on drums, Jimmy "Broadway" Thomas on bass, Joe Campbell on trumpet and Carl Vickers on tenor saxophone. After hitting the stage with a hard Texas-influenced instrumental, Walker launched into "Honky Tonk" with Tucker driving the beat on drums and Broadway steady on electric bass while entertaining the audience with his showy stage presence. On "'Breaking Up Somebody's Home," the punchy rhythm of the saxophone and trumpet was exceptionally catchy along with Walker's expressive vocals and unique Texas style guitar rendering. The absolute highlight of the evening was "Driftin' Blues," which featured the horns doing background riffs and Walker's velvety soulful lyrics and precise guitar phrasing. Walker's subtle approach to this tune was astoundingly beautiful. What more can one say other than, catch this band when they return! |
photos and article by Dorothy L. Hill
---
Back to

Contents Page
Jazz Now Interactive

Copyright Jazz Now, May 2005 edition, all rights reserved
jazznow@sbcglobal.net