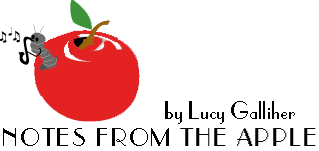 The Month of April and May in Manhattan, 2002.
It's possible to hear Jazz at expensive nightclubs in New York City. However, I've found that there are less expensive and more relaxing ways to enjoy the music. For instance, I heard Dennis Mitcheltree perform at Carnegie's Weill Hall on April 20th. Also, there's a weekly Monday jam session at the Up Over Jazz Café that continues to feature such greats as Vincent Herring, Russell Malone and Anthony Wonsey. Finally, I got a chance to catch Lou Donaldson at the renowned Village Vanguard on May 5th.
Weill Recital Hall at Carnegie Hall is a beautiful setting for a Jazz concert. It has magnificent chandeliers and great acoustics. The concert was dedicated to the works of saxophonist and composer Joe Henderson, which was an interesting theme. Dennis Mitcheltree's band included himself (photo at left by Wendy Gordon)on tenor and soprano sax; Howard Johnson on tuba, bari sax and bass clarinet; Johannes Wallmann on piano; Jesse Crawford on bass, and Jeff Hirshfield on drums.
The first tune by the Dennis Mitcheltree Quintet was "Out of the Night," a slow swinging tune, that featured Howard Johnson tearing it up on bari sax. Mitcheltree took the first solo, playing smooth patterns on the tenor sax with a crisp, clear intonation. HoJo put some soul into this minor blues, adding long intricate lines, and very involved phrasing. This immediately reminded me of the work he did with Charles Mingus back in the 60's.
"Our Thing" is an up-tempo swing tune that the horns played in unison. There's a section where it switches into half-time, and the drummer listened well and helped the soloists with the transitions. In Mitcheltree's tune "911," the bassist started with a pedal-point, followed by the drummer playing mallets and the pianist entered with suspended chords and tremolos. I liked the orchestration by Mitcheltree, especially the effective use of bass clarinet by HoJo.
"Serenity" and "Inner Urge" made up the balance of the set. The latter tune had a really nice solo by pianist Wallmann, where he built up his ideas over several choruses. Once again, Howard Johnson, switched instruments, this time to tuba. He is a consummate musician, soloing as easily here as anywhere else.
------------------------------------------------------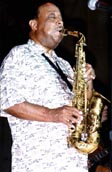 The Lou Donaldson's band I heard at the Village Vanguard consisted of: Lou Donaldson (photo at right) on alto sax, Dr. Lonnie Smith on organ, Randy Johnston on guitar and Fukushi Tainaka on drums. Dr. Smith was wearing a turban and playing a Hammond B3. My drummer friend Fuku said hello to me, then the group went onstage and began the set with a bossa-nova. Donaldson played alto with a relaxed but precise feel, reminiscent of Bird. He's got a beautiful tone, and bursts into runs and bebop licks with a raw style and freedom reserved for virtuosos from his generation.
"Autumn in New York" featured the guitar and organ. Johnston has chops and emotion, and allowed his solo on guitar to unfold in a bluesy manner, without overdoing it. Dr. Smith smiled and mumbled along with his solos on organ, and used a huge range of dynamics, bringing things way down to a ballad, then changed the stops and built up quickly, creating excitement. This was a lot of fun, and the audience let the band know how much they appreciated it, with applause and yells.
Donaldson played a tune he recorded with George Benson, called "Alligator Boogaloo." This was the perfect time to play this funky tune, as he had the audience's attention. Donaldson urged Johnston to tear it up on this one, swinging like crazy while the organist and drummer provided a fabulous groove. Fuku got a chance to shine later in the tune; not only does he have an impeccable sense of time and can change things up instantly, but he also really "locked in" on his drum solos.
The rest of the set was made up of: "East of the Sun," featuring vocalist Antoinette St. Joan; "Secret Love," where they pulled out all the stops; a Blues in Bb called "I Had a Dream, Baby," and "Cherokee." St. Joan brought her own organist, and Donaldson accompanied with some tasteful fills on alto. "Secret Love" was again a guitar feature, topped by another surprising organ solo, with Dr. Smith thinking up humorous musical anecdotes. This funny-bone must have rubbed off on Lou Donaldson, because he had the audience in stitches when he sang the Blues a few minutes later. It was about a dream he had each night, and when he woke up, life was back to the same old sorry state.
To finish off the evening, as if it was the easiest thing in the world, they tossed off "Cherokee" at breakneck speed. I don't think any of them were aware that they were all virtuosos; they were humble enough to just enjoy each other's company, playing music together on the final night of a two-week engagement at the Village Vanguard.
by Lucy Galliher
---
Back to

Contents Page
Jazz Now Interactive

Copyright Jazz Now, June 2002 issue, all rights reserved
jazzinfo@jazznow.com