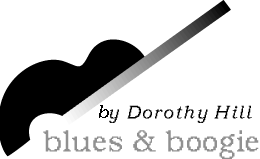 Johnny Rawls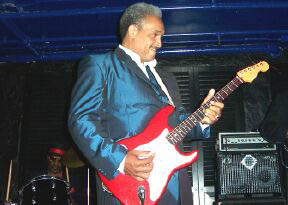 Johnny Rawls (photo at left) brought his sweet southern soul and deep blues grooves back to San Francisco, this time to Biscuits & Blues. Rawls is pure entertainer through and through and one of my favorites. This Mississippi native cut his teeth on the chitlin' circuit playing with giants like O. V. Wright and Little Johnny Taylor, along the way producing and composing but his love of performing keeps him on the road and it is a tough one these days. The band on this evening included his longtime bassist, James Carson, Harvey Westmoreland on drums and Danny Eisenburg on keyboards.
Rawls invited the audience to "show what you got" and several dancers took up the suggestion to get things warmed up. Rawls covered his compositions including "Don't Lose Your Good Thing," and one he just finished, "How Long You Going To Do Me Wrong." His version of "Let's Get It On" was down and dirty. Rawls is a soulful vocalist and sensitive guitarist. He and bassist Carter play off each other as only longtime band mates can. This was an appreciative audience and for most of them it was their first experience seeing Rawls. It appeared that Rawls gained some new fans this night with his unique soul style and stage charisma.
The Sunday Blues & Jazz Club members make it a grand affair when they celebrate birthdays and on a recent Sunday, there could not have been a better group to help in that effort than Jackie Payne and the Steve Edmonson Band. The extraordinary vocalist Payne and his longtime guitarist, Edmondson, have one of the tightest bands in this area. Their new CD soon to be released on a major label says it all--"Partners In The Blues." Carl Green on tenor saxophone and John Middleton on trumpet are undoubtedly the most gifted horn players on the local scene and know how to grab the audience with their special dance moves while the solid bassist Ted Wysinger lays down the beat with total authority. Payne is a sharp dresser and on this day styled in his red suit while crooning to the ladies with his soul-infused vocals. Payne put his soul into the lyrics on the tune "Flyin' High" which really got the dancers grooving. This band is the real deal and a better party could not have been had.
| | |
| --- | --- |
| Jackie Payne | Carl Green and John Middleton |
The Saturday lineup for this festival was a killer: Michael Burks, Lucky Peterson with Rico McFarland, Howard Tate and Ray Charles. M.C. Brett Taylor opened the show right on time under a cloudy sky. The sell-out crowd of three thousand was hot to trot and the sun would soon come out to make a perfect setting in beautiful Aptos Village Park.
| | | |
| --- | --- | --- |
| Howard Tate | Michael Burks | Rico McFarland and Lucky Peterson |
Michael Burks started off the festivities with his powerfully raw and passionate vocals and blazing guitar style. Many compare his style to Albert King but he has said that his influence was more from the other Albert--Collins, that is. He certainly demonstrated that sting on this occasion. His heartfelt intensity makes him an intriguing figure on stage and on this day it was all there with his eyes half-closed and pouring out those blistering guitar notes. Burks pleased the audience with the tune "Make It Rain" which is the title of his well-received CD. Of the three times I have seen Burks, this was his best performance and others voiced the same opinion. This young man seems to be hitting the right circuits these days and those experiences are reflected in his stage presence.
The multi-talented Lucky Peterson ran on stage exuding star power. He is a triple threat performer, excelling on vocals, guitar, and keyboards including the Hammond B-3. Peterson alternated between the organ and guitar on this day in seamless style. He and McFarland got into a duel on guitars on occasion. Rico McFarland is a powerhouse player and his blazing guitar style is not to be reckoned with! Peterson then disappeared into the vast sea of people while ripping off a stunning guitar solo and singing his way through the crowd. This is a tradition with Peterson and always anticipated by the audience. The highlight of his performance was on the tune "Is It Because I'm Black." Peterson's high energy show was super and just reinforced his status as a blues prodigy.
Howard Tate was supported by the Mighty Mike Schermer Band on this day with a great contingent of horns. Tate's amazing vocal and emotional range belie the fact that he was off the scene for many years and his return to the music scene is attributable only to the efforts of producer, Jerry Ragovoy, who made a brief stage appearance at the end of the show. Tate seems to be enjoying his newly gained fame and his girth since his last appearance in this area was apparent. Nonetheless, he was stylish in his light green suit and in good vocal form. He wowed the crowd with his soul-infused vocals on such tunes as "Mama Was Right" and his treatment of "She's A Burglar" was captivating. Of course, he performed his composition which ultimately became the signature tune for Janis Joplin, "Get It While You Can."
Headliner Ray Charles brought along his 17-piece band and the five member Raelettes in a fully orchestrated performance. This legendary 73 year old is still an awesome presence. It was actually a more sedate program than I thought was fitting for a blues festival but it was a balance to all the energetic preceding performances.
article and photos by Dorothy L. Hill
---
Back to

Contents Page
Jazz Now Interactive

Copyright Jazz Now, June 2003 issue, all rights reserved
jazzinfo@jazznow.com