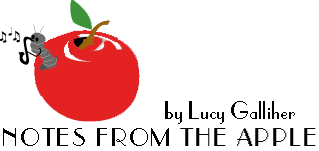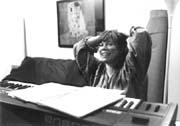 April 2003, A Day for Dexter
Dexter Gordon Celebration at Columbia University. This event took place on a beautiful spring day in the new Lerner Hall building at Columbia. There were film clips, performances, testimonials to Dexter's greatness, and an all-round tribute to the tenor saxophonist. His wife Maxine should be proud. I was only able to stay for a short time, but the list of people on the symposium was impressive. They included: Herman Leonard, Sam Pollard, Ira Gitler, Stanley Crouch, and many others. A concert with the Barry Harris Trio, Frank Wess and Salim Washington's Harlem Art Ensemble topped off the evening.
Dexter Gordon / Barry Harris

| | |
| --- | --- |
| | |
April at the Knitting Factory
I also went to the Knitting Factory in the Soho/Tribeca area one night in April 2003. Featuring interesting Jazz acts and avant-garde groups, this particular evening guitarist Bern Nix was on the bill, along with the Andrew Lamb Trio.
The Andrew Lamb Trio at the Knitting Factory was made up of: Andrew on tenor sax and flute, Tom Adams on bass and tuba, and Andrei Strobert on drums. Strobert is a friend of mine - he owns a recording studio (that has reasonable rates!) and plays drums with a lot of different groups. I enjoyed hearing him play, as he set the mood of the evening with a long introduction. The bass eventually came in, again with a very long and subjective solo. After awhile, Andrew Lamb made his entrance on tenor. Using a definitive rhythm, he played random thoughts that increased and decreased in volume. For instance, he would build up phrases that ended in a trill, followed by quiet melodic whispers. The bassist countered with tremolos, trills and slides.
Tom Adams was refreshingly good on bass. On the second tune, he again played an extended introduction, going up and down the bass in major third intervals. Strobert entered the groove with a great samba beat. Lamb played the tenor in half - step intervals, mixing up the groove by deliberately coming in off the beat. He developed his solo based on this motif, and eventually when Lamb got in sync rhythmically with the rhythm section, it was really exciting.
The next piece was a catchy tune with a funky rock beat. Lamb called this one "Transition A-1,"and it's on his new recording. He played his best solo of the evening on this number. After this, he and the bassist picked up their second instruments: flute and tuba, respectively. Hearing the tuba was a refreshing change, as one doesn't hear it played that often in Jazz anymore. The tuba was the precursor to the double bass in early Jazz history. Adams kept the groove going on the tuba, while Lamb showed off his great tone with an interesting solo on flute. Later on in the set, Andrew Lamb picked up such instruments as conch shell and pan flutes (everything but the kitchen sink!).
May 2003 - McCoy Tyner and Bobby Hutcherson Quartet at Iridium
Now, this was one concert worth waiting for! Everyone knows that McCoy plays piano, most notably with John Coltrane, and Bobby plays vibes (numerous Blue Note recordings from the 1960's and 1970's). A pleasant surprise was the rhythm section: Charnett Moffett on bass and Al Foster on drums.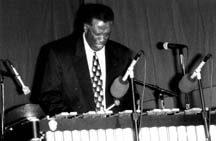 The band members played great, and in case anyone is interested, they also dressed well. McCoy wore a white shirt with no collar and an expensive black suit; Charnett had on a bright yellow shirt with a flowering tie and a black vest; Bobby had a gray suit with a black shirt and striped tie, and Al wore black leather pants. The club was crowded for a weeknight, and there were some celebrities in the audience (e.g., Russell Malone and Kareem Abdul Jabar).
They started off with a tune that is on their new CD Land of Giants (on the Telarc Jazz label), called "Serra Do Mar." This is a McCoy original, having a Latin beat to start, changing to swing. Bobby took the first solo on vibes, tearing it up with sixteenth-note triplets, while the drummer played polyrhythms. McCoy took control by letting his fingers fly. Halfway through his solo, he started playing the piano with a series of accents. He then led the band into a composed figure that all of them played, and the audience burst into applause! Later in the tune, building on a vamp, he brought the music to a climax.
The next piece was entitled "Mellow Minor." These guys were all in the same groove, having perfect timing on the head. This time McCoy took the first solo. His right hand was gliding lightly over the keys, while his left hand comped strongly. This went on for quite awhile, followed by glissandos, two-handed chords and figures in a dotted-quarter-note rhythm. Bobby jumped in to play a fantastic solo. Playing fantastically seemed to be contagious, for on cue, Moffett played an exciting solo on the bass, building as he went along.
Hutcherson played the melody on "My Foolish Heart," and Tyner provided harmonic support. The vibraphonist played in a sensitive way, and with a sense of humor. Bobby casually threw in some amazing cadenzas between phrases. This feature was so beautiful: whenever Bobby would sustain a note, he'd look over at McCoy, and the piano would ring with some gorgeous chord voicing.
The evening wouldn't be complete without some reference to Coltrane. The next composition was McCoy's "Trane-Like," a piece that showed off the pianist's virtuosity. McCoy Tyner has a signature way of playing that all the younger players aspire to. When he plays in a modal style, his use of the entire keyboard always gives me the image that there's a "wall of sound" emanating from the stage.
Moffett, the bass player, also has mastery of his instrument. On this occasion, he played fast triplets first pizzicato, then with arco, followed by a show of classical technique, playing harmonics (overtones) and interesting lines. Charnett also worked with a group of foot-switches, similar to those that guitarists use. He looked over toward the drum set, and Al Foster finally got a solo, where he really let loose! He made it sound so easy. Al lit a fire under McCoy on the last head, accenting all the kicks with perfect musicianship.
The all-star band finished up the set with a favorite blues, Thelonious' "Blue Monk." They had the audience clamoring for more. (See Jazz Now Magazine from July 1999 for a previous article on McCoy Tyner at Iridium and an interview with Bobby Hutcherson).
by Lucy Galliher