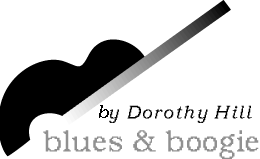 Magic Slim and The Teardrops
Morris "Magic Slim" Holt is often referred to as the last of the original Chicago blues musicians and he certainly represents the Mississippi-to-Chicago style as he proved on his recent visit to Biscuits & Blues in San Francisco. When this imposing figure hit the stage we knew we were in for a good dose of authentic blues. Although the band arrived very late for the gig driving in from Las Vegas, the audience was patient because they knew they were in for a momentous experience.
The Teardrops consisted of Jon McDonald on rhythm guitar, Vernal Taylor on drums and Bernard Reed on bass. After the trio did the obligatory opening, Magic Slim strode to the stage sporting his trademark black cowboy hat and taking to the stool placed in the middle of the stage. He immediately lit into Chicago blues with his masterful guitar playing and booming growl of a voice on the tune "Honey Bee" and the Sonny Boy Williamson tune, "Help Me." On "Linda Lou," Magic Slim's steadfast vocals and ferocious guitar work were captivating. "Get Your Business Straight" was rendered so fast and furious that he broke a string on the guitar taking the opportunity to take a break. He apologized to the audience for not having any CDs to sell and announced "my road manager gave them all away to the girls."
On the second set, Magic Slim opened with his raw, earthy vocal style on "Bad Boy" and dueling with McDonald and Reed while prowling the stage. He displayed his soulful side on the mid-tempo tune "Angel Child." The show ended with a rollicking version of "The Blues Is Alright" with Magic Slim inviting the audience to participate.
A Magic Slim performance is about as good as it gets in the blues and he remains true to the roots.
---
Willie Nelson & Friends - "Outlaws and Angels"
Now I know everyone is wondering how I would find myself in Los Angeles for this show! Well, even though I am definitely not a country music fan, this was a unique opportunity to attend a television taping of Willie Nelson's third annual extravaganza featuring an eclectic blend of rhythm and blues, soul, reggae, and rockabilly. The show was taped to be shown on the USA Network on May 31st and repeated on June 5th and 6th. The show was held at the beautifully restored Wiltern Theatre in Los Angeles. The all-star lineup included Bob Dylan, Jerry Lee Lewis, Keith Richards, Kid Rock, Merle Haggard, Ben Harper, Lucinda Williams, Al Green, Shelby Lynne, Rickie Lee Jones, Toots Hibbert, Lee Ann Womack, Toby Keith, Carole King, Los Lonely Boys and The Holmes Brothers. Actor James Caan handled the M.C. role and appeared delighted to be in the company of such musical luminaries.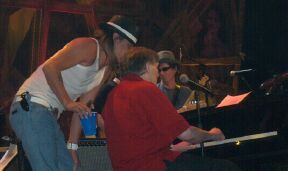 The rehearsals began early in the day and from about 1 pm until almost show time at 7:45 pm, performers ran through a series of stage antics and familiarizing themselves with the stage settings and each other. The house band was colossal and the noted New Orleans family was represented by Ivan Neville who plays Hammond B-3 and keyboards in Nelson's band. Throughout this long process, Willie Nelson was present almost the entire time showing great patience and hospitality to each performer. There was some consternation when Bob Dylan did not show up on time but, lo and behold, he appeared about 5 pm almost unrecognizable in a knit cap. Jerry Lee Lewis was earthy and funny while rehearsing with Kid Rock (photo at left)who leaned over singing close to Lewis during their run-through. When the tune, "Honky Tonk Women" was called, Lewis said he didn't know the song so that was quickly discarded. Lewis was natty in some great red boots but he is not the fashion plate of his youth!
Soul star Al Green was resplendent in a flowing caftan gown outfit and he and Nelson did a dynamite duo on "Raining In My Heart" with Green also playing guitar. Keith Richards appeared to be having more fun than anyone on stage. The Holmes Brothers blew everyone away with their performance of Nelson's "Opportunity To Cry" with Nelson joining them on guitar, Wendell Holmes on piano, Sherman Holmes on bass and Popsy Dixon on drums. They were invited to be part of the show after a band member played their new CD Simple Truths for Nelson and he was taken with their version of his tune. Although they were probably the least known of all the stars on stage, Willie Nelson endorsed them with his introduction stating "I'm honored they've recorded one of my songs on their new CD, Simple Truths, which is quite simply one of the best albums of the year."
Everyone was in great spirits throughout the long day and the show staff was at their beck and call to attend to every minor detail or need--this was a first class operation. I was impressed with the lack of "star" attitude by all concerned and the spirit of camaraderie was commendable.
The theatre filled up quickly with fans and a sprinkling of movie stars. I spent the evening alternating from the Green Room and the theatre. At the end of the almost three hour show, the finale featured the all-star cast of musicians crowding on stage to sing along with Willie on his composition "On The Road Again."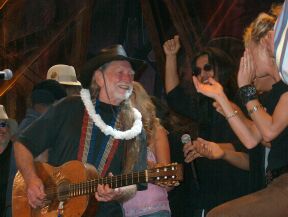 ---
Phillip Walker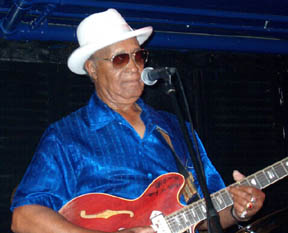 The great Texas guitarist Phillip Walker (photo at left) recently graced the stage at Biscuits & Blues accompanied by Joe Campbell (photo at right) on trumpet, Bobby Lester on tenor saxophone, Aaron Tucker on drums and Jimmy "Broadway" Thomas on bass. He recorded a well-received CD at the club in 2002. Guitar Magazine described Walker's technique as "Big Texas blues meets West Coast cool."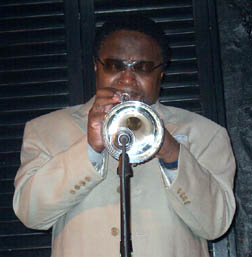 The show started off with "Honky Tonk" featuring Lester who layered down some fantastic meaty riffs with his saxophone style. On the tune, "Mary Ann," Walker's soulful, anguished vocals and sensitive guitar styling was embellished by an incredible trumpet solo by Campbell who was especially effective this evening hitting those high notes to perfection. On "Cleanup Man," the lyrics were playful and suggestive. Walker's rendition of "Hello Central" was powered by his razor-edged guitar and silky smooth vocals. With the hard-driving rhythmic drum style of Tucker and solid swaggering bass of Thomas, this group delivered an evening of no-nonsense straight ahead blues.
Article and photos by Dorothy L. Hill
---
Jazz Now Interactive June 2004 Vol 14 No. 2 - Table of Contents
Back to

Your comments: jazznow@scbglobal.net