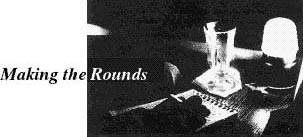 Tierney Sutton at Yoshi's, Jack London Square, Oakland, California, May 18, 2004
There isn't any doubt in my mind that the show on May 18, 2004 at Yoshi's, in Oakland, California, when Tierney Sutton performed was filled to capacity. We were able to get a table at the back to the far right side of the stage. There was no sound problems and we saw her well, but we were not able to see the drummer, Ray Brinker at all. That is what you get when you go to Yoshi's after 6 p.m. for a seat for the 8 p.m. show.
Beside Ray, Tierney was accompanied by another one of her long time accompanist, and magnificent piano player, Christine Jacob. The only person who is not on any of her CDs was bassist, Kevin Axt, who is by no means a slouch in his performance.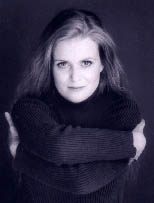 Tierney started with an a capella introduction of "Softly as the Morning Sunrise" in the sound of a Fugue, a classical touch. Her tone is accurate and her vocal range is wide. Her tribute to Frank Sinatra, "I'll be Around," was done at parts in unison with the piano. It was exact, as if they were reading each other's mind. "East of the Sun, West of the Moon" introduced very fast pace improvisations. The piano was fiery, clear, and crisp. Ray's drumming was tasteful, and unobtrusive. The bass was right there, phrasing wonderfully, negotiating with the piano.
Like the last time she came to Yoshi's, when we first experienced her performance, Tierney performed three pieces from the musical,"My Fair Lady." They were "Wouldn't It Be Lovely," "I've Grown Accustomed to Her Face," and "Show Me." The arrangements were still fresh, interesting and fun.
"The Peacock" had difficult intervals, but she hit them right on the head with ease and gently, with emotions that were touching. "Day In, Day Out" was made a duet which she performed with the drums only - something that she does very well. Her voice is her instrument which she learns to manipulate at will. It can sound like a trombone, or a sax. Her rhythm is impeccable. The piano can come in at any time and finds her right on the pitch. The collaboration between Ray Brinker and Tierney was fun, interesting, and wonderfully refreshing.
I enjoyed hearing Tierney Sutton and her group again. I think she is one of the finer, and more innovative vocalists on the Jazz scene today.
by Stella Cheung Houston
---
Jazz Now Interactive June 2004 Vol 14 No. 2 - Table of Contents
Back to

Your comments: jazznow@scbglobal.net