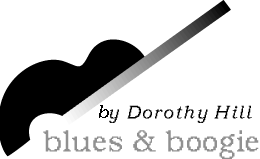 Willie G
Willie G is a down-home blues performer as he proved on his recent visit to the Sunday Blues & Jazz Club. His band included the excellent horn section of Carl Green on tenor saxophone and John Middleton on trumpet and outstanding drummer Michael Skinner, who did a great vocal solo on "Mustang Sally." Willie G covered tunes such as "Little Red Rooster," "Further On Up The Road" and a sultry turn on "Fever." His vocal style is emotional and his exuberance on stage is unequaled, especially when he and the horn section paraded through the crowd. This is a Bay Area performer who deserves more recognition and venues at which he can display his considerable talent.
| | |
| --- | --- |
| Willie G. | Michael Skinner |
Sacramento Blues Society Bash
The Torch Club in Sacramento recently hosted a Saturday afternoon of great blues presented by the newly energized Sacramento Blues Society. Sacramento has long been a hotbed for blues and many of our regional blues performers such as Frankie Lee and Fillmore Slim have in recent years moved there. This event presented a fantastic blues show, featuring the transplanted Frankie Lee, Fillmore Slim along with Oakland policeman Junior Morrow.
| | | |
| --- | --- | --- |
| Filmore Slim | Frankie Lee | Junior Morrow |
A very impressive blues band headlined by vocalist/guitarist Jeff Watson warmed up the audience. Keyboardist Larry Davis played with his tenor saxophone slung around his neck.
This was the second time I had the opportunity to catch Junior Morrow and he is a bluesman to watch. He has developed his own style with a stinging guitar and excellent vocals.
The outstanding Frankie Lee performed his high-energy show -- soul and blues vocals. Lee sat on a stool while doing his stirring version of "Cry Me A River" while relating that his rendition of this tune earned him the title as the Frank Sinatra of the blues bestowed in the Los Angeles Times. Fillmore Slim announced that he had just returned from Russia. He launched into a hard and fast blues show covering everything from Jimmy Reed to Bobby "Blue" Bland tunes.
Congratulations to the Sacramento Blues Society for a well produced show and a fun day.
Eli's Mile High Club Reopening
A more auspicious occasion for blues fans in the Bay Area could not be imagined. Eli's is a juke joint unlike any other. It was self-dubbed "West Coast Home of the Blues" when Troyce Key operated the club and after his death, went steadily downhill until it finally closed. Some club devotees were actively encouraging its reopening and were overjoyed when Frank Klein decided to take the risk and reopen this venerable blues spot. Klein has a track record of success at the club he operated in San Francisco, Biscuits & Blues.
Joe Louis Walker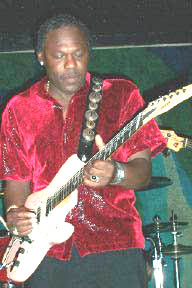 Joe Louis Walker was the featured performer on June 6th and what an evening it was! Over 400 people swarmed into the club, some waiting for hours outside for others to leave so they could get their chance to share in this historic occasion. Political and musical dignitaries shared their Eli's stories with each other. After Klein made a short announcement and introduced the developers of the club who had selected Klein to operate the room, it was all about the music. Walker was a good choice to perform since he wrote a song about the club and was a fixture at the club during its heyday. Walker dedicated "Where Jesus Leads" to Klein (who stated he loves this song). Walker's gospel-infused blues filled the club and he wowed everyone with his slide guitar stylings. The keyboard player for the evening was none other than the great Jazz piano player, Percy Scott who proved he has the blues.
Klein is dedicated to making Eli's a destination for blues lovers and we applaud his gutsy move to take this risk in the face of economic obstacles which threaten the future of all musical venues. Right on, Frank!
The Holmes Brothers
For blues lovers who savor gospel-drenched soul music, the Holmes Brothers are the ultimate high. The band consists of brothers Wendell Holmes, Sherman Holmes and Willie "Popsy" Dixon who joined them in 1980. These phenomenal performers cover a breadth of musical styles which they shared with the audience on their recent visit to Biscuits & Blues. Since this group is extremely popular in Europe, we rarely see them on the West Coast and their numerous awards and appearances on television keep them on the move.
| | | |
| --- | --- | --- |
| Willie "popsy" Dixon | Wendell Holmes | Sherman Holmes |
This was an evening of spiritually uplifting music with a good dose of funky blues. The band started off the show with Wendell playing piano who then switched to guitar. Wendell's vocal version of the blues tune "Big Boss Man" was funky and his guitar styling was inventive. Willie "Popsy" Dixon put the spirit into the audience on his vocal turn of "Precious Lord," stepping away from his usual spot on drums. Dixon performed a riveting vocal version of "Love Train" while playing drums. The band did a rollicking version of the rock and roll tune "Fannie Mae." On the tune "And I Love Her," Dixon's falsetto vocals were downright astounding. Wendell's guitar styling and inspiring vocals on "Speaking in Tongues" was a highlight of the evening with Sherman steady on bass and the three-part vocal harmony pushing the melody on this high-energy gospel tune.
All I can say about this group is when are they coming back!
by Dorothy L. Hill
---
Back to

Contents Page
Jazz Now Interactive

Copyright Jazz Now, July 2003 issue, all rights reserved
jazzinfo@jazznow.com